The Sun Joe TJ601E Electric Garden Tiller fits in perfectly to suit the needs of small to medium sized gardens. Compared to other popular garden tillers and cultivators in this category, this tiller is quite lightweight and durable. Also, it can be mainly used for trimming a wider width of ground, and requires very less effort for starting the motor and its maintenance.
A major change in the design of the blades of this tiller by Sun Joe is that they are not detachable, which brings in a concern among users that the cleaning of these blades would be quite hard after tilling, but it's quite the opposite in its practical application.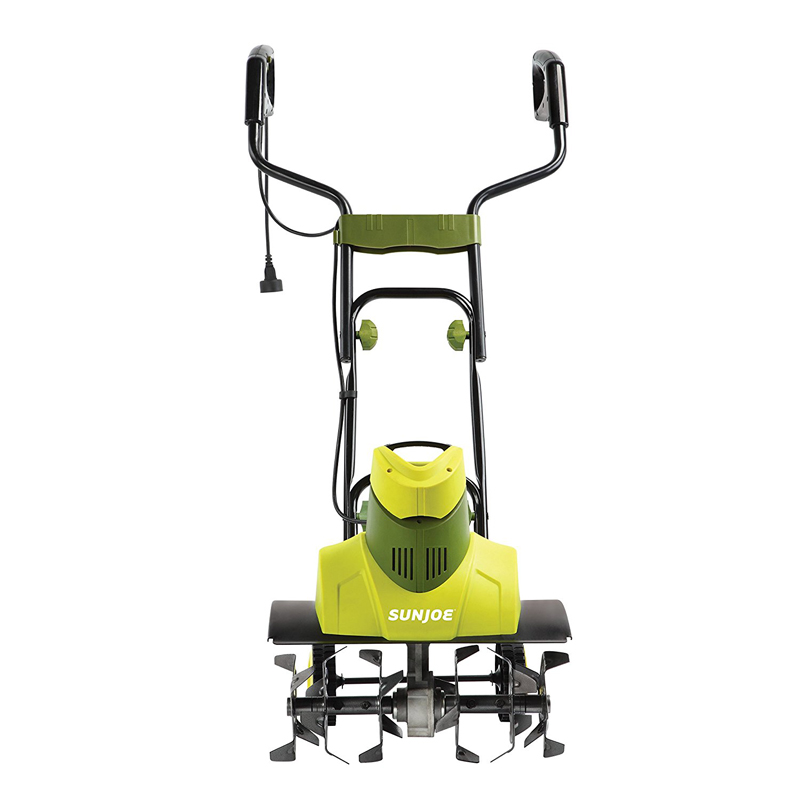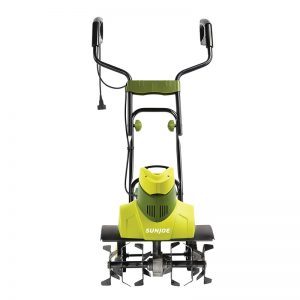 Main Features:
The unpacking and assembly of this electric tiller is pretty simple, and is advertised as three main steps, i.e. "Twist", "Plug" and "Squeeze". Anyone can easily assemble the parts of this tiller, as the instructions for doing so is quite easy.
An important aspect in the case of this tiller is the amount of width and depth that it provides. Although in the case of this tiller, the depth provided is 7 inches which may seem to be less when compared to other products of its class, it catches up on the competition by providing a better tilling width than other tillers in this category. This tiller provides a width of 18 inches, which is quite helpful in covering a larger area in the tilling process.
This tiller is approved by ETL, which is a proof that the product is compliant with North American safety standards, and is an indicator for an elevated level of quality and reliability for a product.
This product comes with a warranty of 2 years, and for the ease of carrying around the machine, an handle is provided over the tiller motor. There are a set of 6 steel blades provided in this tiller, which together provide enough power to cut through hard pieces of land and rotates at a speed of 400 rotations per minute (rpm).
Also, for easily controlling the operation of this tiller, a switch is provided on the right handle of the tiller. A very unique aspect of this trigger switch provided on this handle is its alignment along with the sides of the right handle, which makes operating the switch pretty easier while using the tiller.
Advantages:
An obvious advantage that you get from this tiller is that there is no need for a fuel or oil mix for powering it, since it makes use of electricity for powering the motors.
Another important advantage in this type of electric tiller is the low cost of maintenance required for this tiller. The entire compartment in which the motor is kept is well concealed from dust, mud, etc. There is no extra cost required for operating this tiller, other than the cost required for electricity, and unlike fuel-operated tillers, it does not need frequent maintenance.
The most important benefit that you get from this tiller is the less amount of space that it occupies in your storage unit. The product that you receive when you order this tiller contains the motor, wheels and the blades as one particular unit, and the rest of the parts have to attached by the user. Now, after every single use of this tiller, it can be brought back to this same state. This is made possible due to the set of adjustable screws provided on the rods. These screws are provided at three different points in the rods connecting the handle and the motor.
Like mentioned earlier, this tiller comes with a set of wheels attached behind the motor compartment, which provide easy transport and means for adjusting the depth provided by the blades. There are more than seven different positions for adjusting the height of the wheel, which is also quite helpful for tilling an uneven terrain.
Tips for Easy Handling:
This tiller contains a 9-amp motor, which provides sufficient power in order to produce efficient results in tilling and other gardening needs. Also, due to its lightweight design, keeping this tiller down is quite difficult for any user, because it often tends to cause extra amount of outward force while you are tilling the ground. A simple solution for this is keeping an extra weight in between the rods and the motor compartment, which can provide just enough weight to keep the tiller down.
Also, depending on the length of your garden, carrying this tiller to every corner can be a challenge, since the tiller's reach would be restricted by the cord length. Therefore, it is advisable to buy an additional extension cord of length suiting the dimensions of your garden for ensuring easy operation of the tiller.
Price/Cost Considerations:
This electric tiller comes in a price range of $130 to $230, and is sold on many online shopping websites and retail shops. Also, it has a rating of more than 4 out of 5 in most of these online websites, which indicates the positive feedback and the satisfaction of the users. Also, there are many online websites, in which you can opt for a 3-year or a 4-year protection scheme for this tiller, by paying an additional amount of $22 and $15 respectively.
Here are Some More Tillers: