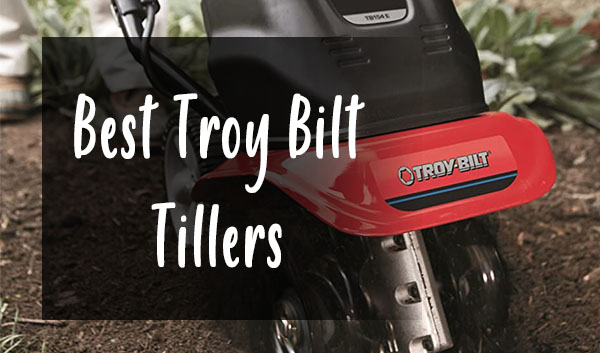 Troy Bilt has made a name for itself in the tiller industry. Their tillers are known for superior quality and performance. They are one of the oldest tiller manufacturers in the garden equipment industry, beginning operation in the 1930s.
Today they are mainly known for their state of the art tillers, and we will be comparing the best Troy Bilt Tillers in the market.

Top Troy Bilt Tiller Reviews In 2021
---
---
---
---
---
---
---
About the Troy-Bilt Brand
Troy-Bilt came into existence in 1937 with the world's first rototiller, which was considered a remarkable innovation for American people at that time. Since then, they have come a long way and expanded their product line into a vast array of magnificent garden tools. Tillers, cultivators, trimmers, leaf blowers and tractors are some of their products. Based in Cleveland, Ohio, they have established themselves to be a complete solution provider when it comes to gardening problems.
Throughout their history, they have displayed their affection continuously for outdoors. Troy-Bilt, as a company, believes in protecting this planet and preserving its resources. This has motivated them to design eco-friendly machines such as electric tillers. Their partnership with Keep America Beautiful`s Great American Cleanup has provided an opportunity to rejuvenate more than 32,000 communities nationwide, year after year.
FAQs: Troy Bilt Tillers
1. Which type of tiller is best for a small garden?
Front-tine tillers are better for maintaining gardens that are less than 5,000 square feet in size. This is because smaller gardens have tight spaces that only front tine tillers can access. These tillers are also called mini tillers. From the list, the TB225 and Troy-Bilt TB154E are perfect for small gardens.
2. Which soil is best suited for front tine tillers?
Front tine tillers are usually smaller than rear tine tillers and are perfect for small gardens. Their tines are smaller as well which makes it easier for them to get into tight spaces.
3. Which soil is ideal for rear tine tiller?
Rear tine tillers are bigger and bulkier than their front tined counterparts. They are particularly designed to work on hard clay or rocky soils. They are perfectly suited for breaking this hard soil into smaller chunks that can be cultivated.
4. How can I maximise the longevity of the tines?
The tines come with a lifetime guarantee, but if you take good care of them, you can ensure maximum performance. It is advisable to clean then every once in a while. Also, you should also keep your garden clean and remove debris, rocks and hazardous items from the path of the tiller.
5. What are the benefits of tilling?
Tilling is a critical process if you want to cultivate a piece of land. It opens up the soil bed and prepares it for seeding. Furthermore, it also helps the soil to breathe due to aeration. Tilling can also prevent weed prevention and balancing. Not many
6. How many times should you till during the year?
Although tilling is a necessary process that improves the efficiency of the soil, there is always a danger of overworking the soil. Excessive tilling can degrade the soil and harden it overtime.
Conclusion
Finally, we have to say that Troy-Bilt has a tiller for every type of gardener. Small or big, they have a tiller for you. Not only that, each of their machines is designed to do a specific job, which they do brilliantly.
From the tiny TB225 to the humongous Big Red, Troy-Bilt has everything that you need. Buying their products is a contract of quality; you can expect it to last for years to come.