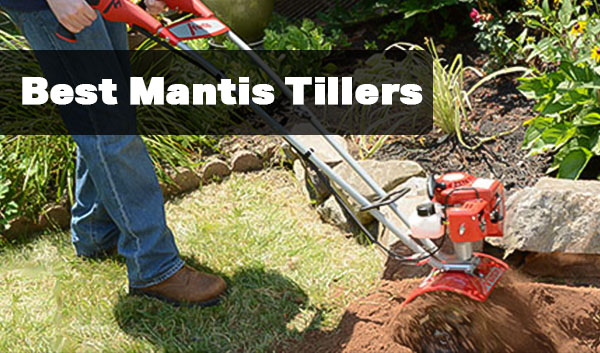 Gardening is an attractive hobby for many of us. A well-maintained garden can dramatically beautify your house.
Mantis is the leading brand when it comes to manufacturing garden equipment. They have been in the business for more than 40 years now. From tillers to composters, they make everything.
Mantis is a household name particularly in the tiller business. They make sure their products are torture-tested, which makes them highly durable and reliable.
We have shortlisted the six best Mantis Tillers of the year 2021 below. All of them are great in their own rights and have some unique advantages that make them perfect for certain tasks. Check out this list to find out the tiller that is suited for your needs.
Top Mantis Tiller Reviews in 2021
---
---
---
---
---
---
About the Mantis Brand
Mantis is an American company based in Pennsylvania that manufactures gardening equipment. They have been in this business for more than 40 years and have made quite a name for themselves. Tillers were the first gardening equipment they produced.
Now their product line includes a wide array of garden tools including composter, blowers and trimmers. The company was set up with an aim to provide state of the art machinery to gardening enthusiasts.
Even if you are new to gardening, the company will guide you on how to use their products and get the most out of them.
Mantis is one of the most trusted names by gardeners—the reason being the efficiency and durability of their products. After years of innovation, Mantis has come out with a modern range of tillers that are not only efficient but also easy to operate.
The company runs its products through rigorous torture tests to avoid compromise in quality. They also make sure that most of their products are user-friendly. Lately, they have been working on a range of zero-carbon emission machines.
FAQs About Mantis Tillers
1. Should I buy an electric-powered tiller or a fuel-powered tiller?
It depends on your requirements. While the fuel-powered tiller might be slightly more powerful than its electric counterpart, it can cause pollution and can be noisy. Also, most fuel powered tillers have recoil start, which can be a daunting task for a few people. So, in a nutshell, if you require more power, then fuel tiller is a better option. On the other hand, if being environment-friendly is your priority, then go for the electric tiller.
2. How much does an electric tiller cost?
Electric tillers can be a little costly than fuel-powered tillers although there are some tillers like the Mantis 3550, which cost a little more than 100 dollars. However, there are other options like the 7250, which can cost almost 350 dollars. So, the price can be anywhere, from low to high. The lesser priced tillers will fall short on some of the features of the higher-priced ones.
3. What should I do to maintain the quality of tines?
Tines are the most crucial component of any tiller. Although Mantis provides a lifetime guarantee on its tines, taking care of them wouldn't do you much harm.
For best performance, remove and clean the tines after every use. You can also spray them with any light lubricant to prevent rusting.
4. What are some tips a best performing tiller?
Tillers perform differently in different types of soil. For best performance, you should first analyse the type of soil you'd be tilling and set the tiller accordingly. Most Mantis tillers are incredibly versatile and can work on any kind of soil. Check the type of soil and configure your tiller accordingly.
5. Single-speed tiller or multi-speed tiller - Which is better?
On paper, multi-speed tiller sounds better. A multi-speed tiller's speed can be adjusted as per the user's choice and the soil type. However, most fuel-powered tillers are single-speed and are relatively faster than their electric counterparts.
Conclusion
Mantis is a household name when it comes to garden tillers. They have a plethora of tillers, each with its benefits and downsides. Every garden is different and requires a special kind of tiller.
Mantis has released several products that can fulfil most gardening needs. Some are more powerful than others, while others are easier to transport and less noisy. There is a trade-off between power and comfort.
However, it all boils down to what you want from a tiller.