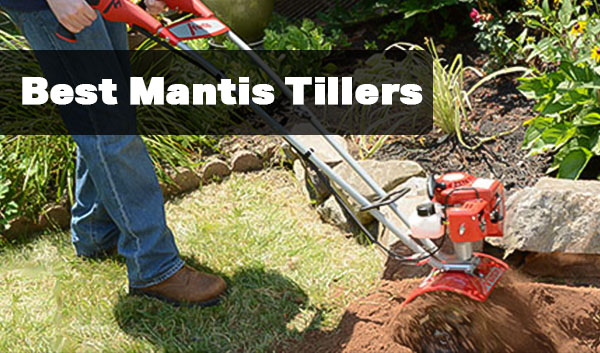 Gardening is an attractive hobby for many of us. A well-maintained garden can dramatically beautify your house.
Mantis is the leading brand when it comes to manufacturing garden equipment. They have been in the business for more than 40 years now. From tillers to composters, they make everything.
Mantis is a household name particularly in the tiller business. They make sure their products are torture-tested, which makes them highly durable and reliable.
We have shortlisted the six best Mantis Tillers of the year 2022 below. All of them are great in their own rights and have some unique advantages that make them perfect for certain tasks. Check out this list to find out the tiller that is suited for your needs.
Top Mantis Tiller Reviews in 2022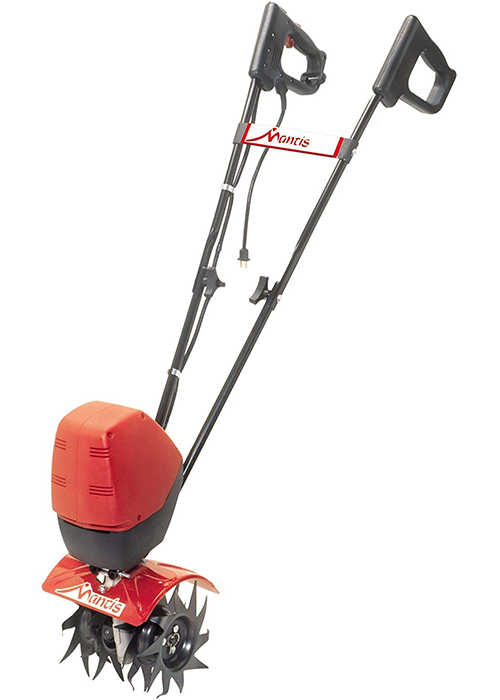 The first entry in this list is the Mantis 7250 Electric Tiller. It is relatively small but quite powerful compared to its size. The 7250 comes with a 3-speed 540-watt motor that has no carbon footprint.
Mantis has designed this product for gardens with tight spaces. It is only 9 inches wide, which allows the 7250 to get into smaller areas where larger tillers cannot reach. Its versatility is 7250's biggest strength.
You can use it during any season, and with a few accessories, it can work on all types of soil. The tines can move at 240 RPM which makes it easy to till the hard soil surface. The maximum tilling depth is 10 inches, or you can reverse the tines to cultivate the top 2-3 inches of soil.
Your neighbours can also take a sigh of relief as the 7250 has a silent start feature. For protection against overload, the company has provided a built-in circuit breaker.
Mantis has crafted this tool to be a complete package. It weighs only 21 pounds and is foldable which makes it effortless to carry around.
Specifications
Engine/Motor: 540 Watts, 9-volt
Speeds: 3-speed
Starting System: Push Button
Tine Diameter: 8 Inches
Depth Adjustments: 3 Positions
Tine RPM (Max): 240
Tilling Width Max: 9 Inches
Tilling Depth Max: 10 Inches
Weight: 21 Pounds
Consumer Warranty: 5 Years
Pros
Lightweight and foldable, which makes it easier to carry.
Produces low sound while operating.
Five years consumer warranty (2 years commercial).
Perfect for tight and narrow spaces.
3-speed operation.
Cons
Priced at over 300 dollars, it might be a little expensive.
Can only operate within the reach of a power cord.
Might not be suitable for larger areas.
Despite being an electric tiller, Mantis 7250 is incredibly powerful and versatile. It is one of the few tillers in the market with 3-speed operation.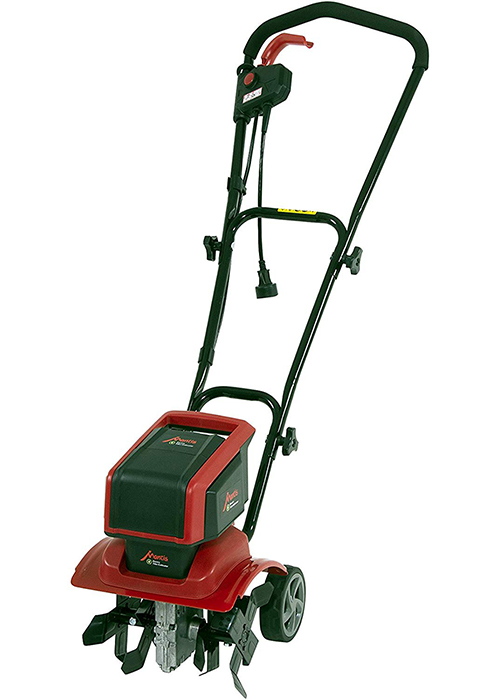 Mantis 3550 is one of the most cost-effective tillers in the market. Despite the low cost, this tiller can solve all of your gardening problems. There might be fewer features in this model than the rest, but if you are on a tight budget – this is the perfect choice for you.
The 3550 is also an electric tiller with a powerful 120 V, 9 amp motor and forward rotating tines. This device comes in 2 speeds for cultivating or tilling purposes. First speed has an RPM of 260 and the second speed has an RPM of 310.
Unlike the 7250, the tine width is slightly more at 12 inches, and max tilling depth is 8 inches. It has 16 steel tines that deliver unmatched performance in any gardening activity, be it tilling, cultivating or weeding. Weighing almost 24 pounds, the 3550 is another lightweight and compact option for you.
The wheels are retractable and can be adjusted to 3 positions, depending upon the type of work to be done. Also, the ergonomic design of the handlebar, which has padded grips, makes operating the 3550 a walk in the park. Despite being modestly priced, the Mantis 3550 competes with the more costlier tillers in the market.
If you are inexperienced with garden equipment and don't want to invest too much, then the Mantis 3550 is the perfect choice for you.
Specifications
Engine: Electric 9 amp, 120V / 60 Hz double-insulated, No fuel required
Depth Adjustments: 3 Positions
Tine RPM: 260 (speed 1), 310 (speed 2)
Tilling Width Max: 12 Inches
Tilling Depth Max: 8 Inches
Speeds: 2 Speeds
Transmission: Gear
Weight: 24 Pounds
Consumer Warranty: 1 Year limited
Required extension cord rating: 14 gauge
Pros
Pocket-friendly
The foldable handle makes it easy to transport
Dual speed for cultivation and tilling
Zero emissions
Cons
Limited warranty
Movement restricted by the length of the electric cord
Mantis 3550 is one of the cheapest yet reliable tillers in the market. Its modest price and 2 speed operation are the reason for inclusion in the list.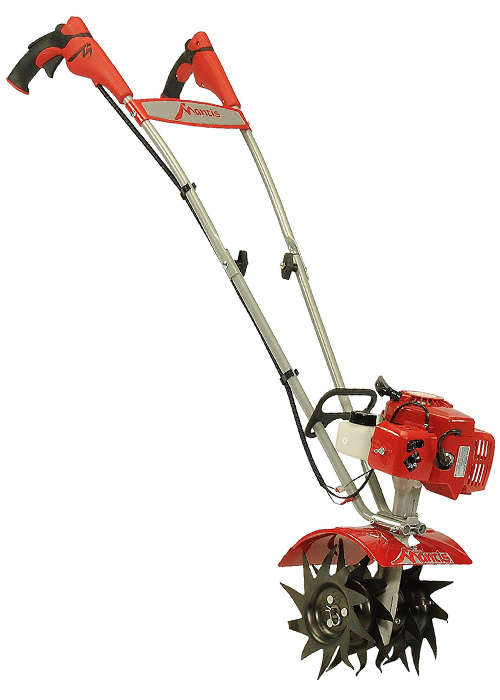 The Mantis 7920 is a multipurpose device that can perform a wide range of gardening activities including tilling, cultivating, weeding and digging. It is one of the lightweight tillers in the market, with a weight of only 20 pounds.
This is an extremely powerful tiller due to the presence of the two-cycle commercial engine which is placed directly over the tines. The placement of the engine is critical for the superb performance of 7290. The engine is 21 cc with a fuel tank of 0.15 gallons. The design is brilliant as it enables the device to deliver maximum power despite the smaller size.
The 7920 can effortlessly break down hard soil and clay, and can also turn clumps of dirt into cultivable soil.
An impressive feature is the Throttle-Activated Centrifugal Clutch, which means the tines will engage only when the throttle is squeezed. This feature prevents the tiller from running away during operation.
The company has worked hard on making this one of the most comfortable tillers to operate. The 7920 comes with Soft Sure-Grip handles, which provide wrist-comfort and fatigue-free operation.
The tines can rotate at 240 RPM, and a 30 x 40 garden can be tilled in as little as 20 minutes. It is one of the most highly efficient and fast working tillers out there.
Mantis also offers several accessories that further expand the scope of 7920. These include lawn aerator, lawn dethatcher, border edger and plough. These accessories can be installed within minutes and must be bought separately.
Specifications
Starting System: Recoil Start
Engine Cycle: 2-Cycle
Engine capacity: 21.2 CCs
Fuel Tank Size: 0.15 Gallons or 0.56 litres
Engine Cylinders: 1 Cylinder
Fuel Mix: 50 :1
Tine RPM: 240
Tilling Width Max: 9 Inches
Tilling Depth Max: 10 Inches
Forward Speeds: 1 Forward
Transmission: Gear
Weight: 20 Pounds
Consumer Warranty: 2 Years
Pros
Durable and versatile
Extremely powerful
Ultra-light and compact.
Easy to carry due to foldable handles and lightweight
Comfortable to use due to ergonomic design
Cons
Uses fuel, which means it is not environment-friendly
Recoil start can be tough for some people
Despite being incredibly tough and durable, Mantis 7920 is lightweight and compact. Also, it is one of the fastest tillers in the market.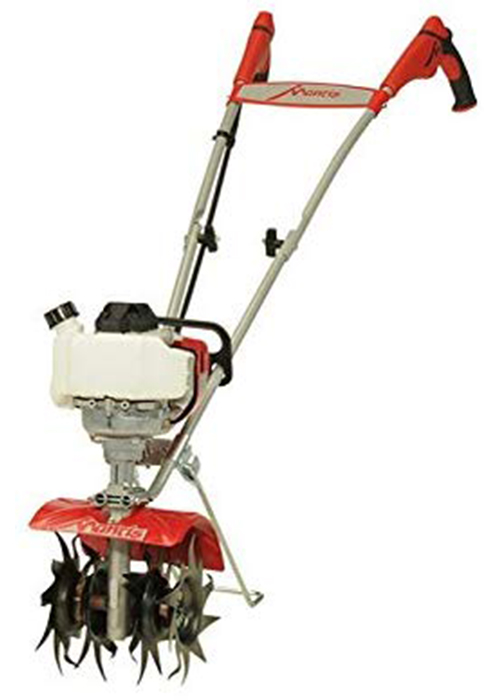 The Mantis 7940 is a premium device with all the features that you would expect in a high-end tiller. It is arguably the most powerful tiller/cultivator in the market. The 25 CC powerful engine has been designed by Honda to deliver maximum performance. The best thing about 7940 is that you won't have to worry about mixing fuel. It is also easy to start and produces less noise compared to a two-cycle tiller.
Tilling through hard sod or compacted soil is a piece of cake for 7940. It is also great for weeding purposes.
It comes with a Precision Steel Cut Gear System feature. This feature means that it comes with Heavy-duty cast housing and One-piece cast gearbox. In simpler words, it is one of the most robust tillers ever made.
The tines can rotate at 240 RPM, and their unique curvy shape allows them to dig into the most hardened soil without bouncing around. Like most Mantis tillers, 7940's tines also have a lifetime guarantee.
It has many features of the Mantis 7920, like the soft sure-grip handles and the Throttle-Activated Centrifugal Clutch.
Overall, the Mantis 7940 is arguably the complete tiller/cultivator that you can get your hands on. Although it might be a little pricey for some people. If you have experience with garden equipment and have the money in hand, then you should go for this superb machine.
Specifications
Engine Brand: Honda
Starting System: Recoil Start
Engine Cycle: 4-Cycle
Engine capacity: 25 CCs
Fuel Tank Size: 0.25 Gallons
Tine Diameter: 8 Inches
Tine RPM: 240
Tilling Width Max: 9 Inches
Tilling Depth Max: 10 Inches
Forward Speeds: 1 Forward
Transmission: Gear
Consumer warranty: 2 years
Pros
Extremely powerful
Highly durable
Can dig tough soil quickly due to unique shape of tines
Cons
Can be expensive for some people
Only single-speed operation
The 25 CC Honda engine gives immense power to the Mantis 7940. It can perform multiple functions and can dig through any type of soil.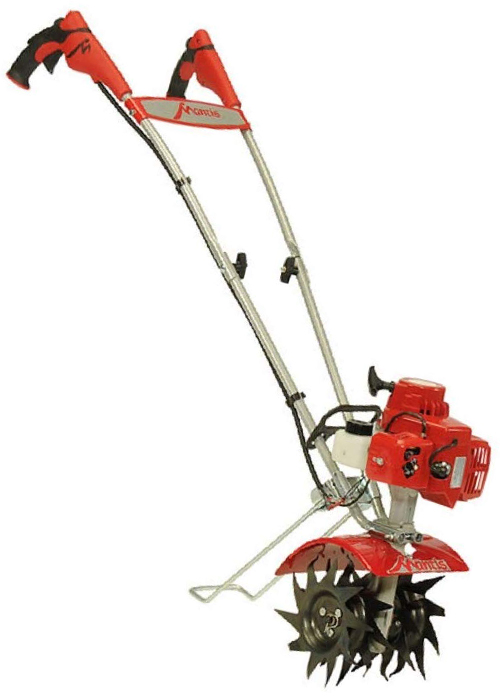 The Mantis 7924 is another mini-tiller in this list. It is similar to the Mantis 7250 in many regards. However, the key difference is the engine. While 7250 is electric powered, the 7924 is powered by a 21.2 CC 2-cycle fuel engine. Both these machines are nearly identical when it comes to shape and size.
This is a small tiller, weighing merely 20 pounds but can do the job of a heavy-duty tiller as well. It has a maximum tilling depth of 10 inches and a minimum of 3 inches.
Like many other mini-tillers from Mantis, 7924 also has an innovative transmission design which allows it to deliver maximum performance despite the small size.
The most impressive feature of this tiller is Fast-Start technology. The company claims that starting this tiller requires less than 75% energy used to start a standard tiller.
If there is truth to that claim, then 7924 could easily become the preferred choice of every gardener. We are all aware that starting a tiller can be a backbreaking task.
It also has the Soft Sure-Grip for better comfort during use.
Specifications
Engine Brand: Mantis
Starting System: Recoil Start
Engine Cycle2: Cycle
Engine Capacity: 21.2 CCs
Fuel Tank Size: 0.16 Gallons
Fuel Mix: 50:1
Tine Diameter: 8 Inches
Tine RPM: 240
Tilling Width Max: 9 Inches
Tilling Depth Min: 3 Inches
Forward Speeds: 1 Forward
Transmission: Gear
Pros
Easy to transport due to its weight and foldable handles.
Fast start technology
Comfortable to use
Cons
Only single-speed operation
Carbon emissions
Mantis 7924 is arguably the best tiller for beginners. It is extremely lightweight and comfortable to use.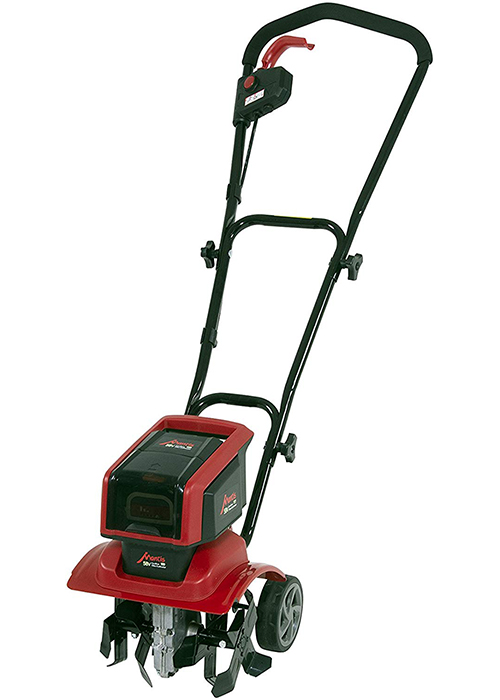 This entry is different from all other entries in the list. The reason being its power source. Unlike all others tillers in the list, Mantis 3558 uses a 58 Volt 2.5 aH Lithium-ion battery to power itself. Due to the rising environmental concerns, more and more of our fuel-powered devices are becoming electric powered. Mantis is not behind with its range of battery-powered tillers. The battery does put some constraints on the working of this device. It can take up to 90 minutes for the battery to fully charge, and it can be discharged in as little as 30 minutes.
Despite the limitations, 3558 is incredibly powerful and can dig up to 8 inches of soil. It can be operated at 2 speeds according to different soil types and weather conditions. The wheels can be adjusted to 3 different positions as per the user's preference.
The electric motor is pretty silent and could be your neighbour's best friend.
It has all the other features of a Mantis tiller like the Sure-Grip and foldable handles.
Slightly on the heavier side, the Mantis 3558 weighs nearly 26 pounds, which sounds like much but isn't.
Specifications
Engine: 650-watt electric motor
Battery: 58 Volt 2.5 aH Lithium-ion battery
Starting System: Push Button
Number of tines – 4
Tine RPM: 300
Tilling Width Max: 12 Inches
Tilling Depth Max: 8 Inches
Forward Speeds: 2 Forward
Transmission: Gear
Assembly Required: Yes
Weight: 26 Pounds
Consumer Warranty: 1 Year
Pros
Environment-friendly
2-speed operation
Push button to start
Cons
Slightly heavy
Limited warranty of 1 year
The Mantis 3558 is the most unique entry of this list due to its power source. Despite the battery power, it can dig through tough soil and comes with 2-speed operation.
About the Mantis Brand
Mantis is an American company based in Pennsylvania that manufactures gardening equipment. They have been in this business for more than 40 years and have made quite a name for themselves. Tillers were the first gardening equipment they produced.
Now their product line includes a wide array of garden tools including composter, blowers and trimmers. The company was set up with an aim to provide state of the art machinery to gardening enthusiasts.
Even if you are new to gardening, the company will guide you on how to use their products and get the most out of them.
Mantis is one of the most trusted names by gardeners—the reason being the efficiency and durability of their products. After years of innovation, Mantis has come out with a modern range of tillers that are not only efficient but also easy to operate.
The company runs its products through rigorous torture tests to avoid compromise in quality. They also make sure that most of their products are user-friendly. Lately, they have been working on a range of zero-carbon emission machines.
FAQs About Mantis Tillers
Should I buy an electric-powered tiller or a fuel-powered tiller?
It depends on your requirements. While the fuel-powered tiller might be slightly more powerful than its electric counterpart, it can cause pollution and can be noisy. Also, most fuel powered tillers have recoil start, which can be a daunting task for a few people. So, in a nutshell, if you require more power, then fuel tiller is a better option. On the other hand, if being environment-friendly is your priority, then go for the electric tiller.
How much does an electric tiller cost?
Electric tillers can be a little costly than fuel-powered tillers although there are some tillers like the Mantis 3550, which cost a little more than 100 dollars. However, there are other options like the 7250, which can cost almost 350 dollars. So, the price can be anywhere, from low to high. The lesser priced tillers will fall short on some of the features of the higher-priced ones.
What should I do to maintain the quality of tines?
Tines are the most crucial component of any tiller. Although Mantis provides a lifetime guarantee on its tines, taking care of them wouldn't do you much harm.
For best performance, remove and clean the tines after every use. You can also spray them with any light lubricant to prevent rusting.
What are some tips a best performing tiller?
Tillers perform differently in different types of soil. For best performance, you should first analyse the type of soil you'd be tilling and set the tiller accordingly. Most Mantis tillers are incredibly versatile and can work on any kind of soil. Check the type of soil and configure your tiller accordingly.
Single-speed tiller or multi-speed tiller – Which is better?
On paper, multi-speed tiller sounds better. A multi-speed tiller's speed can be adjusted as per the user's choice and the soil type. However, most fuel-powered tillers are single-speed and are relatively faster than their electric counterparts.
Conclusion
Mantis is a household name when it comes to garden tillers. They have a plethora of tillers, each with its benefits and downsides. Every garden is different and requires a special kind of tiller.
Mantis has released several products that can fulfil most gardening needs. Some are more powerful than others, while others are easier to transport and less noisy. There is a trade-off between power and comfort.
However, it all boils down to what you want from a tiller.