A handy BLACK+DECKER LGC120 20V Lithium-Ion Cordless Garden Tiller is a cordless tiller which runs on batteries and will be suffice for your everyday gardening needs and at the same time save on costs of fuel as well as electricity.
This battery-operated device does prove to be one of the most effective as well as modern gardening tools which will help you push past any surface and till the soil suiting to your plant's requirement. Now, there is no need to spend hours mixing and turning the soil with spades as this rechargeable tool can effectively take care of all tasks for you.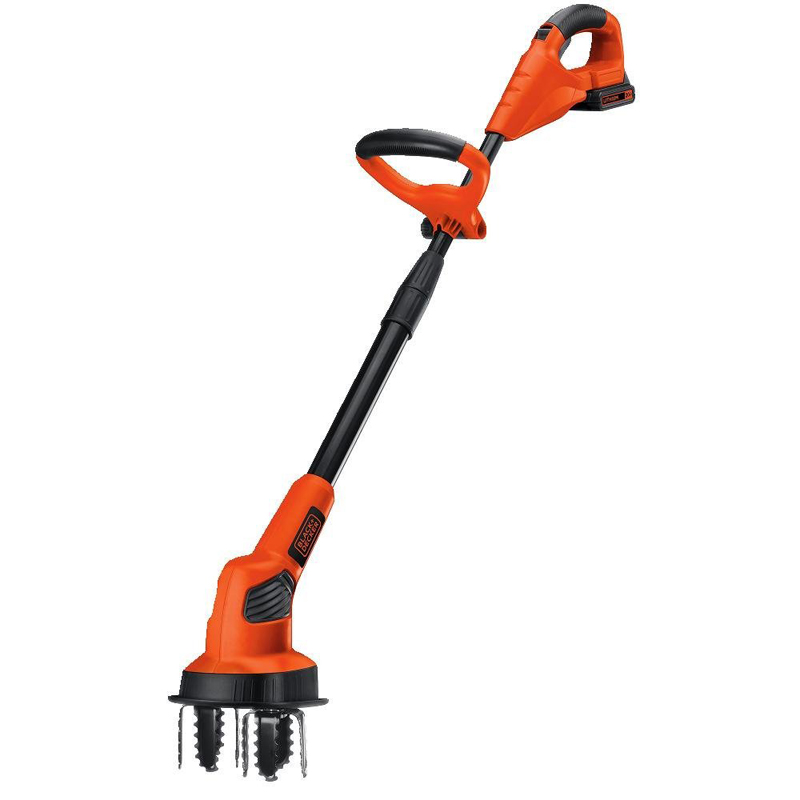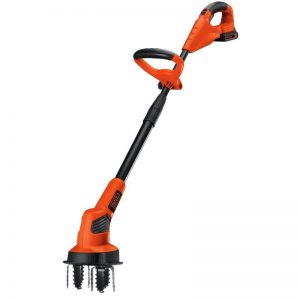 Prime Features
The best feature of this device is that it does not increase the carbon footprints within your location. Operating on batteries, you can be sure that your tilling is not playing any role in increasing the concentration of carbon in our atmosphere.
Equipped with counter oscillating tines, this tiller makes sure that there are no weeds stuck within your equipment and therefore you can carry on with a smooth tilling process without any need of stopping and removing stuck components.
The upright design of this device has been kept specifically for the end user to have a comfortable grip as well as an easy hold of this tiller as it digs deep within the surface. Apart from the marvelous design, this product also contains adjustable handle and tube.
Powered by a 20 V battery, this tiller can easily cover an area of about 350 sq. feet in a single charge.
Advantages
The major advantage of this product is its ability to run without the need of oil or any other fuel. It only does require rechargeable batteries which once plugged in, offer enough power to till through lands of any type but not too hard surfaces. This product saves considerably on the cost of fuels which definitely is a major plus.
The product which is merely 8 lbs. is very efficient in tilling an existing piece of land or working on virgin lands with soft soil concentration. This product can easily cover a depth of 4 inches and hence has proven to be quite effective in removing weed from the surface and tilling flower beds so that sufficient nutrients can reach the bottom of such plants.
The cordless feature of this product does offer a very great advantage over other tillers as its mobility won't be affected by any sort of extension. One can easily carry this product over any piece of land which require its use in any manner.
Adding to the many amazing benefits is this tiller's ability to automatically remove any entanglement from external components such as weeds or stones. There is a counter rotating tin which ensures that any external components do not hamper the smooth working of this machine and thereby no extra charge or battery life is affected by same.
Tips for Easy Handling
Most customers are satisfied with this product but there are a few who do not like the battery life offered. If you are also one of those few individuals who are facing battery issues, then do ensure that your battery is fully charged before you begin using this product.
This product is suitable for moderate use and for people who already do have small or medium gardens. Operating on battery, this product might not be able to satisfy requirements such as breaking hard grounds and excessive use.
Cost/Price Considerations
Quite an efficient machine, this cordless garden tiller does great justice to the value associated with it. Quite easy to use this product is available at online stores for an average price of about $76. One can rest assured of the product quality as it has been found to be rated highly by the existing customers. The flexibility offered the comfort of use combined with counter rotational tin each of this does make it truly worth every dollar you spend.
If you think that the quality might degrade over time or the product isn't meant for the long run, then there are companies offering extended warranty options over the product. You can easily get a 3 year or 4 years extended the warranty on top of the 2-year warranty as provided by the company for $8 and $13 respectively.
If you think that you require a daily use landscaping tool which is a fair replacement of those shovels and spades in your garden, then look no further as this product will satisfy every need.
You Can Also Try These Amazing Tillers As Well: