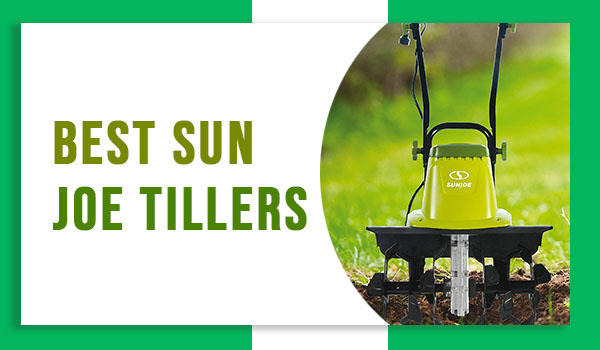 Sun Joe is one of the leading names in the outdoor tools and machines business. They are still a very young company when compared to others in this sector, but their growth has been nothing short of meteoric.
If you have some experience in working with outdoor tools, there's a high chance that you have come across one of their products at some point in your life.
In this article, we'll be talking about their high-quality tillers and help you decide which one of these might be the best choice for you.
So without further ado, let's get down to business.
Top Sun Joe Tiller Reviews of 2021
---
---
---
---
---
---
About the Sun Joe Brand
Sun Joe is a part of the Snow Joe + Sun Joe Company which is based in New Jersey, USA. The company was launched in 2004, and at that time they only sold 1 product which was an electric snow shovel.
Now, they have expanded their product line, and they deal in all kinds of outdoor tools which include snow blowers, garden trimmers, cultivators, tillers and many others. Their focus has always been on providing state of the art outdoor tools at affordable prices.
If there is any outdoor task that you need to perform, Snow Joe + Sun Joe probably have a tool for it. Recently, they have shifted their focus towards designing tools and machines that are not only impressive on the job but are also safe for the environment.
Most of their products now run on electricity rather than fossil fuels. Despite being relatively new in this business, many industry experts have dubbed them as one of the fastest-growing companies in the garden and lawn sector. They even received the New Product Innovation Award at the National Hardware Show in 2017.
Frequently Asked Question About Sun Joe Tillers
1. Should I buy an electric tiller or fuel-powered tiller?
We haven't mentioned any fuel-powered tillers in this list because they are slowly fading away from the market. Undoubtedly, they are more powerful than their electric counterparts, which makes them suitable for extensive gardens. However, they are bad for the environment as they have high carbon emissions.
So, if you're an eco-friendly person with a small garden then an electric tiller would be a better choice. Otherwise, you should go for a fuel-powered tiller.
2. What is the average cost of a Sun Joe tiller?
Sun Joe has the reputation of producing some of the most affordable tillers in the market. The price of most tillers is nearly the same with little variations. You can expect to get a high-quality Sun Joe tiller for less than 200 dollars.
3. How to get the best out of my tiller?
The first step is choosing the right tiller. If you have bought a tiller that isn't suited for the size of the garden or the soil type, then you might face some hurdles, and you might not be satisfied with the result. So, before buying a tiller, first examine your soil type and pick the appropriate tiller that is suitable for your garden size.
4. Which is the best Sun Joe tiller for a small garden?
Most of the tillers that we have mentioned are for small gardens only; however, some are more suited for the task than others. Small gardens usually have tight spaces which might be inaccessible with a wide tiller. So a tiller with less width would be optimum in this situation. From this list, you can go for either Sun Joe TJW24C or the Snow Joe ION12TL-CT.
5. How can I take care of tines to ensure durability?
Tines are one of the most critical components of a tiller. If they are damaged, the whole tiller becomes worthless. To avoid that, you should wash them regularly to avoid any coagulation of soil residue. You should also clear your garden from rock or debris that might damage the tines.
Conclusion
Many other brands deal in tillers but not many who can match the quality and price that is offered by Sun Joe.
With more than 15 years of industry experience and a good understanding of the latest technologies, Sun Joe is able to cater to the needs of the gardening enthusiasts who are looking for affordable tillers without making a compromise on quality.
That is why we highly recommend Sun Joe tillers. We hope this article helped you find the right Sun Joe tiller that is perfect for you and your garden.