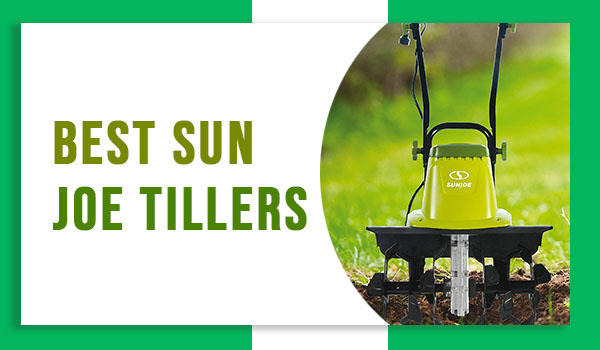 Sun Joe is one of the leading names in the outdoor tools and machines business. They are still a very young company when compared to others in this sector, but their growth has been nothing short of meteoric.
If you have some experience in working with outdoor tools, there's a high chance that you have come across one of their products at some point in your life.
In this article, we'll be talking about their high-quality tillers and help you decide which one of these might be the best choice for you.
So without further ado, let's get down to business.
Top Sun Joe Tiller Reviews of 2022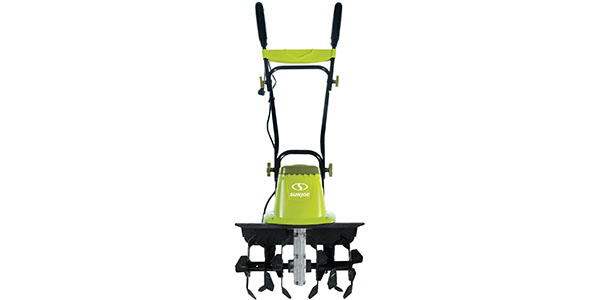 We begin this list with one of the most popular and in-demand tillers, the Sun Joe TJ603E Tiller and Cultivator. Most of Sun Joe's tillers are designed as a combo machine which can perform more than one function, and the TJ603E is no different.
It is a brilliant combination of a tiller and a cultivator which does the job of both quite effectively. The TJ603E is among the many outdoor tools from Sun Joe that are powered by an electric motor.
Speaking of the motor, it is quite powerful at 12 amp and can effortlessly slice through any kind of soil. It doesn't matter if the ground is wet or dry, or hard or soft, the TJ603E will give you the desired results every time.
The motor rotates the tine at 340 rpm, which makes it like running a hot knife through butter. There are six tines in total which are placed in the middle rather than the front or the back.
Middle positioning allows you to have the best of both worlds, as rear tine tillers are optimal for extensive gardens and vice versa. Also, the shape of the tines is different than you might've seen.
They are angled, which gives them more traction and ensures that maximum aeration takes place so that the seedbed can be adequately prepared. You can till up to 8 inches deep and on a width of 16 inches using the TJ603E. You'll also notice two rear wheels which make it super easy to manoeuvre in tricky soil conditions.
Coming to the bonus features, there's the handle which can be collapsed to make the entire unit almost half its original size. This collapsible handle makes this tiller highly portable and it can be stored in tight places like the trunk of your car.
Another cool feature is the instant start function, so you won't have to worry about the troubles of the outdated recoil start which nobody loves. If you think that you have a garden that could use a powerful electric tiller, then TJ603E is one of the best options in the market.
Specifications
Dimensions – 55 inch x 17 inch x 43 inch
Weight – 10.3 lbs
Handle – Foldable
Number of tines – 6
Power type – 12 amp electric motor (corded)
Tilling depth (max) – 8 inches
Tilling width (max) – 16 inches
Tine position – Middle tine
Pros
Instant start
Powerful motor (12 amp)
Incredibly lightweight
340 rpm
Cons
Mobility range might be restricted due to the electric cord.
Sun Joe TJ603E Tiller and Cultivator is one the most potent electric tillers in the market. There are not many tillers that offer such a powerful motor at this price.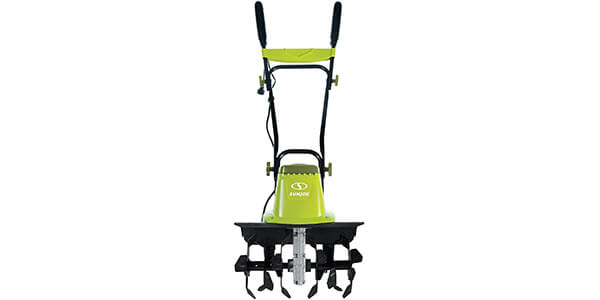 The next item on the list is the TJ604E tiller and cultivator. At first look, you won't be able to differentiate between the TJ604E and TJ603E, which was the previous entry. In reality, though, there are many differences between the two. Both of these are from the same product series, so similarities were bound to happen.
The TJ604E is different to the TJ603E in one primary aspect, which is weight, as the former is significantly heavier than the latter. TJ604E weighs 27 pounds, which is twice more than that of TJ603E. This extra weight is since TJ604E comes with a more powerful motor than its lightweight counterpart.
With 13.5 amp of power which makes the tines rotate at 370 rpm, TJ604E can take on any task you throw at it. However hard the soil is, TJ604E will break it up into little pieces in no time.
Besides the motor, everything else is pretty much identical to the predecessor. Here also you'll find six tines which are placed in the middle for optimal tilling. Rear wheels are also present which you can adjust to 3 different positions for better manoeuvrability around the garden space.
The tines are identical as well, steel made and angled for better loosening of the soil so that it can breathe. These tines are incredibly strong and highly durable.
Moreover, as the size of the tillers is the same, the TJ604E also has the same tilling depth and width of 8 inches and 16 inches respectively.
In terms of portability too, there are not many differences as the dimensions of both these tillers are identical. Sun Joe has provided the foldable handle in TJ604E as well so that you can store it easily in a small space and will also make transporting it more manageable.
Overall, if you liked the TJ603E but want a little more power and rpm, then TJ604E is the perfect choice for you, given the extra weight won't be a problem for you.
Specifications
Dimensions – 55 inch x 17 inch x 43 inch
Weight – 27 lbs
Handle – Foldable
Number of tines – 6
Power type – 12 amp electric motor (corded)
Tilling depth (max) – 8 inches
Tilling width (max) – 16 inches
Tine position – Middle tine
Pros
Powerful motor
370 rpm
Foldable handle makes it easy to store and transport
Eco-friendly
Sun Joe TJ604E Tiller and Cultivator is for those who want a little extra. Its 13.5 amp motor rotates the tines at 370 rpm which makes any kind of tilling task a piece of cake.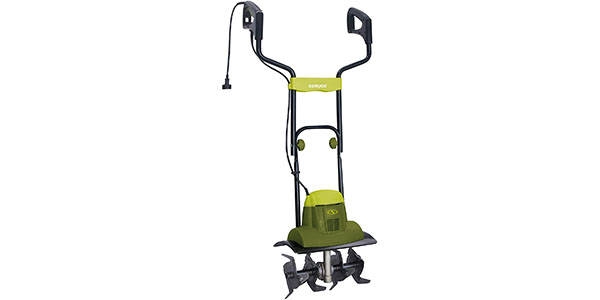 If the previous two mentioned tillers were a little too bulky or powerful for you, then you might like the next entry in this list which is Sun Joe's TJ600E.
Designed especially for small and medium-sized gardens, the TJ600E is a smaller version of the previous two tillers mentioned above. Despite its small size and weight, it packs immense power that will take care of your every gardening need.
The TJ600E comes with a smaller electric motor of 6.5 amp power which is more than enough for a small garden space. This motor rotates the tines at 230 rpm, which can easily handle soft soil types.
230 rpm doesn't sound like much when compared to the previous tillers, but there is one thing you should understand. Sun Joe did not design the TJ600E for large gardens with rugged soil types. Instead, it was designed with a primary purpose of tilling in flower beds of small and medium gardens.
Flowerbeds usually require wet and soft soil and the TJ600E is perfect for such tasks. It can loosen the soil without any issues which make the soil suitable for planting and dirt removal. However, if you'll try this on harder soil in a big enough garden, you might not be able to get the best out of this.
Now coming to the tines, they are identical in every aspect except their number. The previous tillers had six tines, the TJ600E has four. These are the same angled steel tines which come with a promise of durability and robustness. These tines can till up to 7 inches deep and 14 inches wide which is perfect for a flowerbed kind of situation.
Also, the less tilling width means that it will be far easier with this tiller to get into the tight spaces which would be inaccessible if the width was larger.
Here too, there are rear wheels which you can adjust in 3 different positions to manoeuvre yourself through your garden better. If you have a small garden or you wish to plant flowers in it, then look no further, the TJ600E is tailor-made for you.
Specifications
Dimensions – 51 inch x 11 inch x 22 inch
Weight – 18.7 lbs
Handle – Foldable
Number of tines – 4
Power type – Corded electric
Tilling depth (max) – 7 inches
Tilling width (max) – 14 inches
Tine position – Middle tine
Pros
Four steel angled tines.
Rust resistant.
Small tilling width makes it easier to get into tight spaces.
Perfect for preparing flower beds.
Cons
Not suitable for rugged or hard soil types.
Sun Joe TJ600E Tiller and Cultivator might not be the most powerful or heavyweight tillers in the market, but it is perfect for soft soils for preparing flower beds. There are not many tillers out there that were designed for this specific purpose.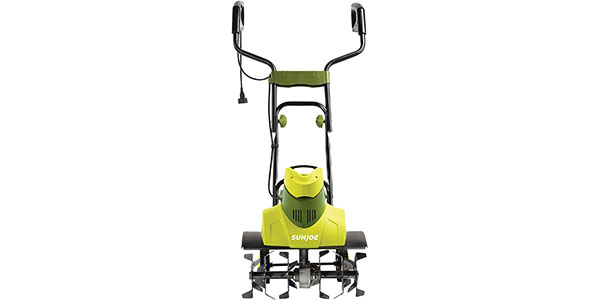 The TJ601E is our last entry from the TJ6xxE series, and this one too has many similarities with its siblings. However, there are many differences as well, which you'll notice on the first look itself.
Appearance-wise it is more inclined towards the TJ600E; you can also say it is almost a bigger version of the TJ600E. Both of these have curved handles rather than a straight one.
It has a 9 amp motor which is considerably more powerful than the previous entry. Some would even argue that it is the most potent tiller from this series, despite the TJ604E having a motor of 13.5 amp. The reason being that TJ601E has an rpm of 380 which is only slightly above the 370 of TJ604E.
With the powerful motor, it also has six curved steel tines. When rotated at the 380 rpm, these six tines can wreak havoc on any kind of domestic soil. It also has a tilling depth of 7 inches and a width of 18 inches which is wider than any other in this series.
All these attributes make the TJ601E a perfect candidate for small and medium gardens. Although you might find it hard to till in tight spaces in small yards due to this extra width.
However, the area where the TJ601E truly shines is its manoeuvrability. It has an astounding 7 different rear wheel positions which make it super easy it manoeuvre around your garden.
It is one of the best tillers by Sun Joe but it also has one drawback. TJ601E is one of the heaviest tillers in the market with a weight of 28.7 pounds. So it might be a little heavy for some folks.
On the other hand, if weight isn't a problem for you and you're looking for a powerful tiller for a medium-sized garden, then the TJ601E is an excellent choice.
Specifications
Dimensions – 52 inch x 22 inch x 21.3 inch
Weight – 28.7 lbs
Handle – Foldable
Number of tines – 6
Power type – Corded electric
Tilling depth (max) – 7 inches
Tilling width (max) – 18 inches
Tine position – Middle tine
Pros
Extremely powerful 380 rpm
Perfect for wide tilling
High maneuverability
Instant start
Cons
Heavier than most tillers
Sun Joe TJ601E Tiller and Cultivator is one of the most powerful tillers in the market. Its high tilling width and so many real wheel adjustment positions earn it a spot on this list.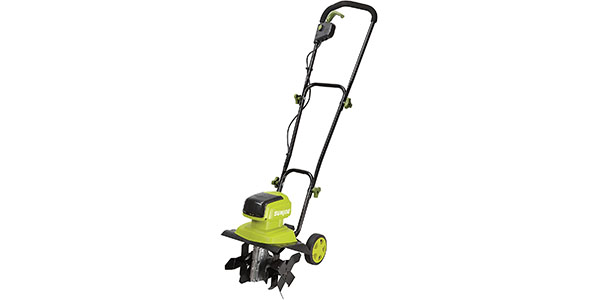 With the ION12TL-CT, Sun Joe has taken one step further towards creating an advanced tiller by making it entirely cordless. That's right; the ION12TL-CT is a completely cordless tiller which operates on a 40 V Lithium-ion battery.
40 V is more than enough to feed its mighty motor of 800 W which can deliver a performance of 300 rpm. These numbers are better than some of the most powerful tillers in the market.
This battery and motor due ensures a very smooth operation, with minimum noise and vibration which also enhances the longevity of the machine. However, there is also a limit to this – you'll have only 30 minutes of operating time on a full charge.
There's also an extra feature in the form of EcoSharp technology which prevents power from fading and ensures maximum performance at all times when it is operating.
Snow Joe ION12TL-CT four angled steel tines for better performance and extra durability. These tines, when rotated at a speed of 300 rpm, can take on any kind of soil with ease.
It can till up to 8 inches deep and has a tilling width of 12 inches. Looking at these specs, the ION12TL-CT seems appropriate for medium and small gardens for short tilling sessions.
It has a weight of 22 pounds which is not too heavy but is still heavier than many of the previous entries. Other features including the foldable handle and the instant start function are also present here.
We would highly recommend the ION12TL-CT if you have a small garden and you don't want the hassle of managing the wires.
Specifications
Dimensions – 55 inch x 17 inch x 43 inch
Weight – 10.3 lbs
Handle – Foldable
Number of tines – 6
Power type – Corded electric
Tilling depth (max) – 8 inches
Tilling width (max) – 12 inches
Tine position – Middle tine
Pros
Cordless function.
Powerful 800 W motor which delivers 300 rpm.
EcoSharp technology for minimum loss of power and maximum performance.
Less noise and vibration.
Cons
Operating time is limited by battery life.
Snow Joe ION12TL-CT Cordless Tiller + Cultivator is one of the best cordless electric tillers in the market. Its EcoSharp technology reduces noise and vibration while there is no compromise on performance.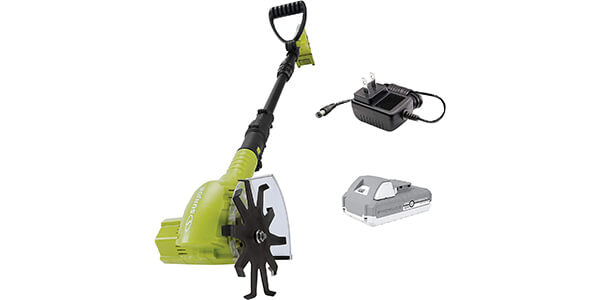 The TJW24C is not a tiller per se, but it is instead a combination of a weeder and a cultivator. Nonetheless, it can also be used as a tiller if the scale is small enough.
That being said, the primary function for which the TJW24C was designed is for weeding out undesirable plants that hamper the growth of other plants in the garden.
On the first look itself, you'll notice that it is unlike any tiller that we have mentioned until now. TJW24C has a single 6-inch wheel which does all the heavy work.
The wheel has 10 angled tines which are highly durable and robust. The TJW24C is also a wireless machine and is powered by a 24 Volt Li-ion battery. This battery feeds a moderately powerful motor of 250 watts and can last for up to 60 minutes. This motor has the capacity to rotate the wheel at 250 rpm, which is excellent for loosening up the soil and preparing it for plantation.
The single wheel has numerous advantages over the full-fledged tillers when used in a small garden. The wheel is extremely narrow and can easily go into crevices and tight spaces which would have been unreachable with traditional tillers.
TJW24C is also one of the most user-friendly cultivator in the market. It has an ergonomic design which makes it easy to use without causing any fatigue. You can even extend the reach by adjusting the main shaft, which has a length of 28 to 37 inches.
Moreover, it is incredibly lightweight (just under five pounds). It is ideal for beginners who are trying to get acquainted with gardening in a small garden which has a lot of tight spaces.
If you identify as one of these people, then the Sun Joe TJW24C is a terrific choice for you.
Specifications
Dimensions – 45 inch x 6.5 inch x 7.3 inch
Weight – 4.4 lbs
Handle – Foldable
Number of tines – Single wheel with 10 tines
Power type – Battery powered
Pros
Extremely lightweight.
Perfect for tilling in tight spaces.
Ergonomic design.
Affordable.
Cons
Only suitable for small scale operations.
Sun Joe TJW24C Cordless Weeder/Cultivator is one of the most affordable yet effective mini-tillers in the market. An excellent choice for beginners which is perfect for small gardens.
About the Sun Joe Brand
Sun Joe is a part of the Snow Joe + Sun Joe Company which is based in New Jersey, USA. The company was launched in 2004, and at that time they only sold 1 product which was an electric snow shovel.
Now, they have expanded their product line, and they deal in all kinds of outdoor tools which include snow blowers, garden trimmers, cultivators, tillers and many others. Their focus has always been on providing state of the art outdoor tools at affordable prices.
If there is any outdoor task that you need to perform, Snow Joe + Sun Joe probably have a tool for it. Recently, they have shifted their focus towards designing tools and machines that are not only impressive on the job but are also safe for the environment.
Most of their products now run on electricity rather than fossil fuels. Despite being relatively new in this business, many industry experts have dubbed them as one of the fastest-growing companies in the garden and lawn sector. They even received the New Product Innovation Award at the National Hardware Show in 2017.
Frequently Asked Question About Sun Joe Tillers
Should I buy an electric tiller or fuel-powered tiller?
We haven't mentioned any fuel-powered tillers in this list because they are slowly fading away from the market. Undoubtedly, they are more powerful than their electric counterparts, which makes them suitable for extensive gardens. However, they are bad for the environment as they have high carbon emissions.
So, if you're an eco-friendly person with a small garden then an electric tiller would be a better choice. Otherwise, you should go for a fuel-powered tiller.
What is the average cost of a Sun Joe tiller?
Sun Joe has the reputation of producing some of the most affordable tillers in the market. The price of most tillers is nearly the same with little variations. You can expect to get a high-quality Sun Joe tiller for less than 200 dollars.
How to get the best out of my tiller?
The first step is choosing the right tiller. If you have bought a tiller that isn't suited for the size of the garden or the soil type, then you might face some hurdles, and you might not be satisfied with the result. So, before buying a tiller, first examine your soil type and pick the appropriate tiller that is suitable for your garden size.
Which is the best Sun Joe tiller for a small garden?
Most of the tillers that we have mentioned are for small gardens only; however, some are more suited for the task than others. Small gardens usually have tight spaces which might be inaccessible with a wide tiller. So a tiller with less width would be optimum in this situation. From this list, you can go for either Sun Joe TJW24C or the Snow Joe ION12TL-CT.
How can I take care of tines to ensure durability?
Tines are one of the most critical components of a tiller. If they are damaged, the whole tiller becomes worthless. To avoid that, you should wash them regularly to avoid any coagulation of soil residue. You should also clear your garden from rock or debris that might damage the tines.
Conclusion
Many other brands deal in tillers but not many who can match the quality and price that is offered by Sun Joe.
With more than 15 years of industry experience and a good understanding of the latest technologies, Sun Joe is able to cater to the needs of the gardening enthusiasts who are looking for affordable tillers without making a compromise on quality.
That is why we highly recommend Sun Joe tillers. We hope this article helped you find the right Sun Joe tiller that is perfect for you and your garden.