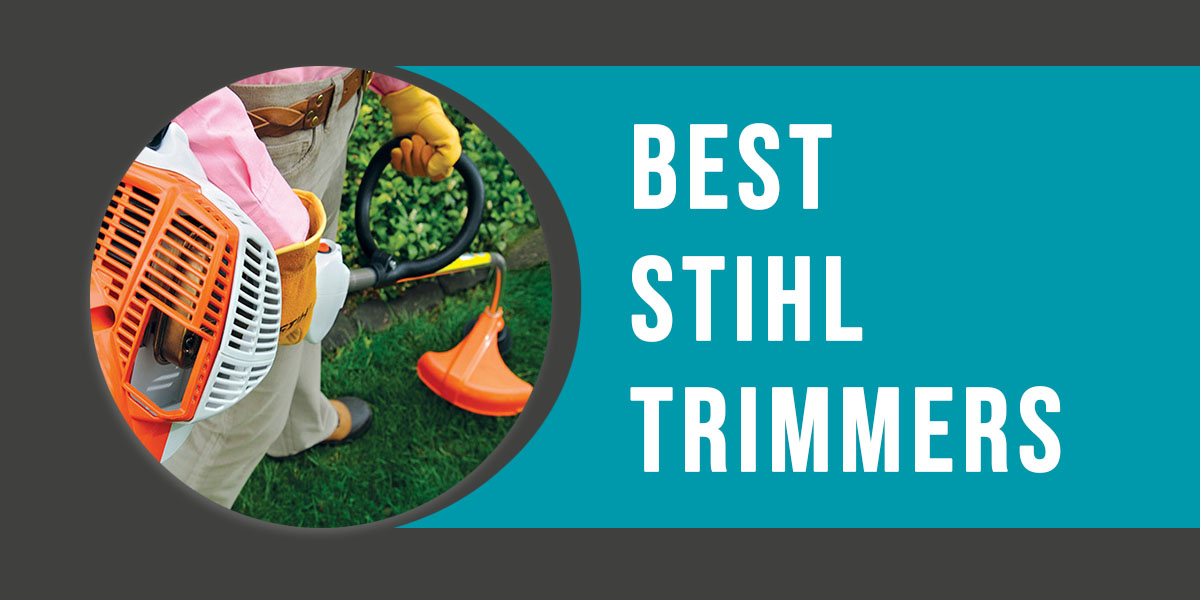 A trimmer is one of the most crucial tools when it comes to gardening. Whether it's trimming the overgrown grass or weed-whacking, it is a great ally of any gardener.
STIHL is among the leading brands worldwide that manufacture state of the art trimmers. They have a wide variety of trimmers which include, fuel-powered, electric and battery-powered trimmers so that the customers can decide for themselves.
To make it easier for you, we have compiled a list of best STIHL trimmers of 2021 by incorporating products from all the different categories.
So without much delay, let's begin.
Top STIHL Trimmer Reviews of 2021
---
---
---
---
---
---
---
---
---
---
About the STIHL Brand
STIHL Inc. is a subsidiary of the German company that goes by the name of Andreas Stihl AG & Company KG. They are a renowned name worldwide when it comes to outdoor tools like trimmers, blowers, lawnmowers among many others.
STIHL is particularly famous for its chainsaws for which it claims to be the best manufacturer. They are one of the oldest companies in the world that deals in tools and machinery having been established in 1926 by Andreas Stihl.
Over the years they have cemented their position in the market as a manufacturer of some of the finest chainsaws and other outdoor tools.
If we talk about trimmers and bush-cutters alone, STIHL offers a massive range of them, with different handle types and whatnot. From fuel trimmers to electric and battery-powered trimmers, they have something for everyone.
Frequently Asked Question About STIHL Trimmers
1. How do I maintain my STIHL trimmer?
Maintenance is the key if you want any machine to last long and same is the case with trimmers. Taking a few small steps can go a long way in this regard. Steps like making sure that the trimmer and the different parts are clean and not jammed, clearing up debris from the yard and regular check-ups for malfunctioning can be very helpful. You should also drain and clean the fuel tank to remove any impurities.
2. Are battery-powered trimmers better than fuel trimmers?
The answer to this question depends solely on the preference of the user. It is true that in the past, fuel trimmers used to outperform their electric or battery-powered counterparts. But now due to technological advancements, battery-powered trimmers have caught up to them and can give fierce competition to fuel trimmers. Still, the fuel trimmers are marginally ahead of the battery-powered trimmers in terms of performance.
However, there are other perks associated with battery-powered trimmers. They are more silent and environmentally friendly than their fuel-powered counterparts.
3. What type of trimmer is best for a small yard?
For a small yard, you should avoid professional-grade trimmers and go for a small trimmer designed for domestic or occasional use. You can go for STIHL FS 94 R or STIHL FS 40 C-E. If you want to avoid the hassle of fuel trimmers then you can also go for STIHL FSE 60.
4. What are some accessories that I buy to make my trimmer better?
There are several accessories offered by STIHL that enhance the performance and efficiency of your trimmer. These will depend on the product you end up choosing and will be different for each product. Some of these accessories include superior blades, harnesses and straps, trimmer lines and trimmer heads.
Conclusion
There is no doubt that STIHL has a broad catalogue of impressive trimmers, one better than the other. There are many others who are equally brilliant but for obvious reasons, we can't feature all of them in this list.
These we believe are the best from the lot. We have paid extra attention to make this list as representative and diverse as possible.
We hope that this list helps you find the best STIHL trimmer which suits your needs.