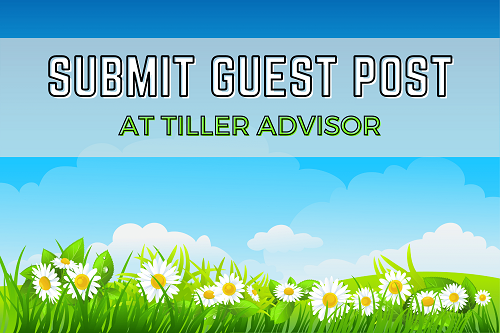 It's a special call for all our fellow gardening enthusiasts and experts. Tiller Advisor is looking for guest bloggers!
Of course, the blog is focused on garden tillers. But there are a lot of related gardening topics that catch the attention of our audience. That's why we've decided to join hands with guest bloggers in order to expand the scope of this blog and feature all gardening related topics.
If you have an ocean of wisdom for other gardeners about your big and small experiences, or any new gardening projects to share, we'll be delighted to have you on board the Tiller Advisor blog. It doesn't matter if you have a small kitchen garden or a big lawn. We're sure that irrespective of the size of your garden, you have some cool ideas and tips up your sleeve. We're more interested in the depth of your expertise. And that's exactly what we're looking for.
GUEST POST TOPICS WE ACCEPT
Here are a few broad gardening related topics that you can consider for pitching your guest post.
Plants and gardening basics
There is dearth of good information regarding the basics of gardening and plantation. As such many beginners are ignorant about these fundamentals and struggle while keeping up with the gardening challenges. You can write posts that cover the basics like gardening tools, fertilizers, planting seasons, organic gardening etc.
Indoor gardening
Indoor gardening has become one of the most trending gardening styles and many homeowners are embracing the greens to liven up their interiors. But indoor gardening requires thorough knowledge and skill. We'll be glad if you can enlighten our readers about the benefits and nitty-gritty of maintaining indoor plants.
Lawn care
 It's nearly impossible to maintain a lush lawn without adequate care and maintenance. Yet there are many homeowners who remain oblivious of the regular and seasonal care for their lawns. Guest posts about lawn care tips and maintenance routines are most welcome for educating our audience on the subject.
Dealing with pests in lawn
There's never a doubt that pests need special attention. We're all looking for tried and tested ways of tackling this problem. If you have any tips and tricks for dealing with pests and rodents, you could submit a guest post on the topic.
DIY gardening
We'd love to have your contributions on DIY projects related to gardening and outdoor spaces. Your posts can cover more specific topics like DIY garden decor, DIY landscaping projects, DIY patio seating and lighting etc.
Gardening techniques
As gardening enthusiasts, many people hoard modern gardening gadgets and tools but hardly invest any time learning the right techniques for handling them efficiently. We need some expert guest posts that can explain and guide our readers about the right techniques in gardening.
Gardening inspiration
You may have other specific gardening related topics that can be a source of inspiration for our readers. We'll be happy to receive your guest post on these topics too.
GUEST POST SUBMISSION GUIDELINES
Please follow these guidelines for guest posts. Any post which is not in accordance with these guidelines shall not be approved for publication on our blog.
Word Length

: The minimum word length for a guest post is 1000 words.

Relevance

:  Our blog features posts related to gardening only and we have discussed a few related broad topics above. Please do not send unrelated content. In case you're unsure about the topic, please first send us a pitch for your submission so that we can give you our views on its relevance for our website.

Originality

: We do not accept plagiarized articles that may have been copied or spun from other sources. We strictly want original content that is 100% unique and plagiarism-free.

Outbound Links

: We allow guest bloggers to include one outbound link in the post. Please take care that the anchor text for your outbound link is reasonable and relevant to the context. Do not use promotional links.

Images and media

: Please don't send any attachments with images or videos with your submission. If you think that a particular image is absolutely necessary for the post you've written, please discuss this over email first.

Grammar

: We shall not accept guest posts that are heavily laden with grammatical or spelling errors.

Writing Style

: Please send articles that are structured and presented well. The content should be broken into short paragraphs. Please use headings, sub-headings and bullets. Please use short sentences and a simple conversational tone.

Author Bio

:  We'll be glad to feature your brief introduction (about 100-120 words only).

Submissions

: Please send your submissions as a Google Doc/ Dropbox link. We'll not accept any emails with attachments.
That's a round up on our expectations from guest bloggers. We hope this gives you a better idea of our expectations and requirements. If you still have any doubts, please feel free to raise a query on email.
We hope this information gives you a fair idea of our expectations from a guest blogger. If you'd like any clarification, please don't hesitate to contact us.
Please submit the form below to reach us.