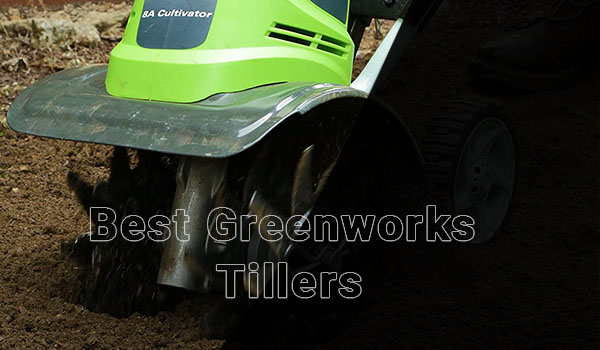 Despite being reasonably younger than most of their competitors, Greenworks has managed to cement itself in the market and create a loyal customer base. Among all their offerings, Greenworks tillers are most renowned in the market.
In this article, we'll be discussing four of their best tillers and comparing them across different parameters.
Without further delay, let's begin.
Top Greenworks Tiller Reviews of 2022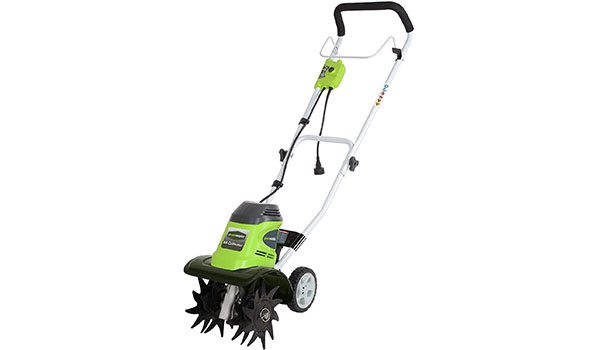 We begin this list with the Greenworks 27072 corded tiller. This is one of the best-selling tillers due to its versatility and ease of operation.
The 27072 can also do the job of a cultivator perfectly. Like most Greenworks tools, the 27072 tiller is also an electric power machine that'll take care of all your gardening needs.
At the base of operations is its powerful motor of 8 amp which starts with a simple push of a button. You can say goodbye to all the hassles of mixing gas and recoil start that you probably have to deal with in a gas tiller. Just push the button, and you're all set to work.
The motor is powerful enough to rotate the tines at 150 rpm. This figure might not sound like much, but it is ideal for a small garden with soft soil. It can also work on the slightly harder clay-like ground but might struggle in rocky or dry soil.
Speaking of tines, there are four of them and are made from highly robust material. The tines have a diameter of 8 inches, and they can till up to 5 inches deep in the soil.
The tilling width is set at 10 inches; however, you can alter this to 8.25 inches after removing two tines which is quite easy to do. One of the standout features is the cord lock, which makes sure the cord remains intact and in place throughout your tilling session.
You'll also find two rear wheels which help in easy mobility while tilling and also allow for better transportation. Also, the foldable handle makes it almost half the size when folded, which makes storing the 27072 corded tiller a piece of cake. Overall, the 27072 corded tiller is a fantastic option if you have a small garden with relatively soft soils.
Specifications
Weight – 30 pounds
Tiling width – 8.25 to 10 inches
Tilling depth – 5 inches
Handle – Foldable
Number of tines – 4
Tine position – Front
Power type – 8 amp electric motor (corded)
Warranty – 4 years
Pros
Adjustable tilling width.
8 amp motor.
Cord lock feature.
Foldable handle.
Cons
Might struggle with rocky soils.
Greenworks 27072 is arguably one of the best electric tillers in the market for small gardens. Features like cord lock and adjustable tilling width earn it a top spot on this list.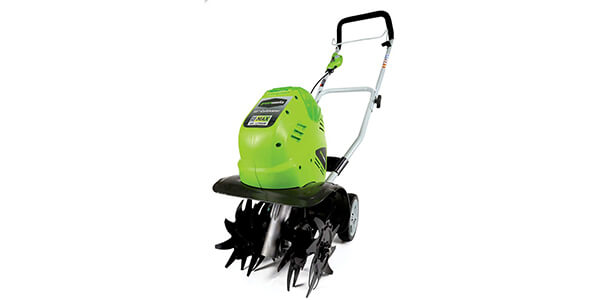 The 27062A cordless tiller-cultivator is one of their best selling products among all the tools that they have in their catalogue. It is their most basic electric tiller with total cordless operation and is quite affordable when compared to other market offerings. In many regards, it is similar to the tiller that we have mentioned above.
Talking firstly about the motor, it is quite powerful and is powered by a 40 V G-Max Li-ion battery. You just need to place the battery in the machine, and you're all set to go. No more worrying about tangled wires or reduced mobility due to short wire length.
Take it as far as you can whenever you can. Make sure your battery is charged before you begin working your garden. The only drawback of any battery-powered tool is the lack of operation time. But still, the 27062A has a much better battery life than many of its competitors.
The tines are pretty similar to those of 27072 tiller, both in terms of shape and in pointiness. These tines can till quite effectively up to 5 inches deep into most kinds of soil, but we would recommend to use this on soils having low to medium hardness.
The 27062a tiller also has the option of removable tines which can reduce the width from 10 inches to 8.25 inches so that it becomes easier to get into the tight spaces.
Features like push start and foldable handle are also present here. The only drawback is that you'll have to pay extra for the charger and the battery. Apart from that, there isn't much to complain about the 27062A. If you are looking for a wireless cultivator for a small garden, then there aren't many better options than the 27062A 40 V cultivator.
Specifications
Weight – 38 pounds
Tiling width – 8.25 to 10 inches
Tilling depth – 5 inches
Handle – Foldable
Number of tines – 4
Tine position – Front
Power type – 40 V battery powered
Warranty – 4 years tool/ 2 years battery
Pros
40 V battery.
Complete wireless operation.
Adjustable tilling width.
Foldable handle for easy storage.
Cons
Battery and charger sold separately.
Greenworks 27062A is an excellent tool for a small garden if you're looking to avoid the hassles of wires. It is loaded with impressive features that make it one of the in-demand tillers in the market.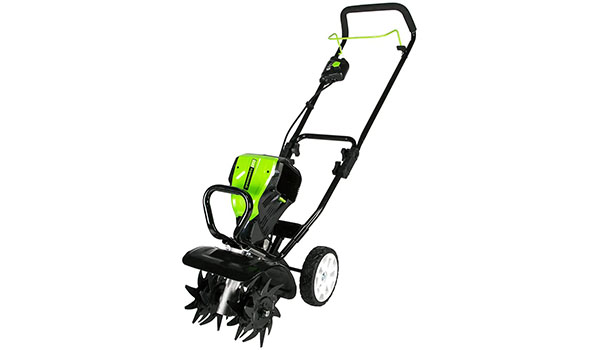 Here we have the most potent tiller in the Greenworks' arsenal. This is the 80 V Cordless Tiller-Cultivator which is arguably the most powerful wireless tiller in the market. It packs twice the amount of punch than the 27062A and can perform any tilling job with twice the efficiency. Aesthetically as well, the 2800002 is more pleasing on the eye. The all-black frame with subtle shades of light green gives it a terrific look.
As we mentioned before, the 2800002 has a powerful motor which is powered by an 80 V battery. This makes it a fierce competitor for many gas-powered tillers in the market.
Any tilling task you throw at this teller, it'll do it with ease and efficacy. The battery life is also quite impressive as it can run for almost 40 minutes on a single charge.
The tines, however, are quite similar or somewhat identical to the ones you saw in the entries above. Only difference is here they are polished in a shiny black finish rather than a matte one. Other than that, they are placed in the front and are forward rotating.
The tilling width can again be adjusted by removing the outermost tines and reassembling them. By doing so, you can alternate the tilling width between 8.25 and 10 inches. The 2800002 has a tilling depth of 5 inches, which is the same for all.
Features like a foldable handle and push-button are also provided for better convenience. The only downside to this tiller is that it might be a little heavy on your pocket. If you can afford it, however, the 2800002 80 V tiller-cultivator is one of the best tillers in the market that you can get your hands on.
Specifications
Weight – 37 pounds
Tiling width – 8.25 to 10 inches
Tilling depth – 5 inches
Handle – Foldable
Number of tines – 4
Tine position – Front
Power type – 80 V battery powered
Warranty – 4 years
Pros
Exceptionally powerful.
Foldable handle.
Push-start.
Long battery life.
Greenworks 2800002 is not only one of the most potent tillers in the market but it's also one of the most stylish. It is an excellent tool for those who can afford it.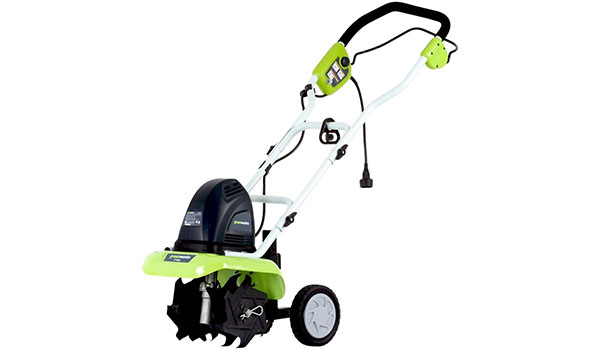 Greenworks hasn't released too many corded cultivators and this only their second one in that category. Their focus has been primarily on cordless tools; nonetheless, they haven't taken any half measure with their corded tillers as well. The 27012 corded cultivator is an excellent tool for your garden which can deliver terrific results
In almost all respects, this cultivator is identical to the 27072 tiller, except in appearance and the shape of the tines. The number of tines is four for both of them, but the tines of 27072 have more spikes than the 27012 and are also a little bit pointier. The overall frame is different as well; however, the difference is not that significant.
Apart from this, the two tillers are nearly carbon copies of one another. Both of them have the exact same 8 amp motor which can deliver an rpm of 150. This motor and rpm also make the 27012 corded cultivator suitable for small gardens with soils on the softer side.
Here too you'll have the option to adjust the tilling width from 8.25 to 10 inches by removing two outer tines and the depth offered is also 5 inches. Again, lack of versatility won't be a problem with this cultivator.
And like most of their products, the 27012 corded cultivator comes with a whopping four years of warranty which is more than most of their competitors. Push-button start and foldable handle you'll also find here which make it a very convenient tool to operate and store. If you think you can get the best out of this tiller in a small garden, then the 27012 corded cultivator is a superb choice for you.
Specifications
Weight – 32 pounds
Tiling width – 8.25 to 10 inches
Tilling depth – 5 inches
Handle – Foldable
Number of tines – 4
Tine position – Front
Power type – 8 amp electric motor (corded)
Warranty – 4 years
Pros
Push-button start.
Long warranty period.
Foldable handle for secure storage.
Adjustable tilling width.
Cons
Not suitable for soils which have a hard, rocky texture.
Greenworks 27012 is the second corded cultivator from Greenworks and has all the impressive features of 27072. It has a unique appearance which differentiates it from the 27072.
About the Greenworks Brand
Greenworks Tools is an American company and is one of the industry leaders when it comes to outdoor tools and machines, especially when it comes to battery-powered devices.
Founded in 2007, they have established themselves as one of the household names not only in the United States but in many European countries as well.
Unlike most of their competitors, their forte is battery-powered tools which help them garner the support of a more eco-friendly customer base.
Their mission is to create battery-powered devices that are not only environmentally friendly but can also compete toe to toe with their gas-powered counterparts.
Their product line includes a whole range of tools like lawn mowers, tillers, trimmers, blowers, snow shovels, among many others. The company has witnessed a steady growth since its inception and is showing no signs of slowing down. We could be seeing a lot more of Greenworks tools in the years to come.
Frequently asked question about Greenworks Tillers
What is the average cost of a Greenworks tiller?
Greenworks doesn't have too many tillers in their product line. Their strategy is to produce a tiller for every section of the society. So you'll find a tiller that is good enough which will be only a few more than a hundred dollars. The elite tillers that they make can go up to $400 as well.
Do I need to purchase the charger separately, or is it included with wireless tillers?
Unfortunately, Greenworks will charge you extra for the charger of a cordless tiller. And not only the charger, but you'll also have to buy the battery as well. This might be off-putting for some people.
For what type of gardens are Greenworks tillers best suited?
Most electric tillers, including the ones from Greenworks, are designed to work on small to medium-sized gardens. This is because of the limited mobility in case of wired tillers and battery constraints of wireless tillers. So, they are at their best when used in a small area.
What are the benefits of electric tillers over fuel tillers?
Firstly fuel tillers require you to mix gas and oil in specific concentrations which many of us tend to get wrong.
Secondly, it is a backbreaking task to start them using a recoil start, compared to which electric tillers have push-button start in most cases.
Lastly, fuel tillers are detrimental to the environment and cause pollution.
How do I ensure the durability of the tines?
Tines are one of the most important components of a tiller, and if they begin to malfunction, then the entire machine could become worthless. So taking good care of your tines is of utmost importance.
The best thing you can do is clear the area of any rock or debris before you start tilling. Also, make sure to clean the tines regularly to avoid any accumulation of residue on the surface.
Conclusion
Over the years, Greenworks has slowly risen through the ranks and has now cemented itself as one of the best outdoor tool brands. Their expertise in producing electric-powered tools has garnered them a lot of praise from their customers and critics alike.
Their tillers are no different; they represent a wider range of electric tools that are not only healthy for the environment but are also very user friendly. We hope that this article helped you find what you were looking for.
The best tiller for you is in this list, which one, well that is up to you.