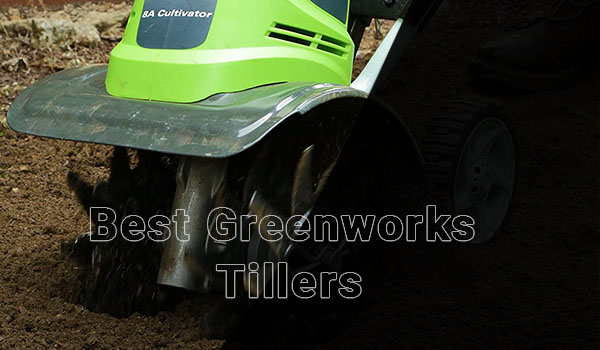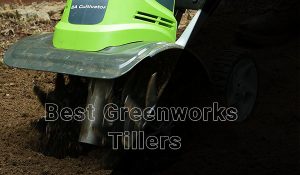 Despite being reasonably younger than most of their competitors, Greenworks has managed to cement itself in the market and create a loyal customer base. Among all their offerings, Greenworks tillers are most renowned in the market.
In this article, we'll be discussing four of their best tillers and comparing them across different parameters.
Without further delay, let's begin.
Top Greenworks Tiller Reviews of 2021
---
---
---
---
About the Greenworks Brand
Greenworks  Tools is an American company and is one of the industry leaders when it comes to outdoor tools and machines, especially when it comes to battery-powered devices.
Founded in 2007, they have established themselves as one of the household names not only in the United States but in many European countries as well.
Unlike most of their competitors, their forte is battery-powered tools which help them garner the support of a more eco-friendly customer base.
Their mission is to create battery-powered devices that are not only environmentally friendly but can also compete toe to toe with their gas-powered counterparts.
Their product line includes a whole range of tools like lawn mowers, tillers, trimmers, blowers, snow shovels, among many others. The company has witnessed a steady growth since its inception and is showing no signs of slowing down. We could be seeing a lot more of Greenworks tools in the years to come.
Frequently asked question about Greenworks Tillers
1. What is the average cost of a Greenworks tiller?
Greenworks doesn't have too many tillers in their product line. Their strategy is to produce a tiller for every section of the society. So you'll find a tiller that is good enough which will be only a few more than a hundred dollars. The elite tillers that they make can go up to $400 as well.
2. Do I need to purchase the charger separately, or is it included with wireless tillers?
Unfortunately, Greenworks will charge you extra for the charger of a cordless tiller. And not only the charger, but you'll also have to buy the battery as well. This might be off-putting for some people.
3. For what type of gardens are Greenworks tillers best suited?
Most electric tillers, including the ones from Greenworks, are designed to work on small to medium-sized gardens. This is because of the limited mobility in case of wired tillers and battery constraints of wireless tillers. So, they are at their best when used in a small area.
4. What are the benefits of electric tillers over fuel tillers?
Firstly fuel tillers require you to mix gas and oil in specific concentrations which many of us tend to get wrong.
Secondly, it is a backbreaking task to start them using a recoil start, compared to which electric tillers have push-button start in most cases.
Lastly, fuel tillers are detrimental to the environment and cause pollution.
5. How do I ensure the durability of the tines?
Tines are one of the most important components of a tiller, and if they begin to malfunction, then the entire machine could become worthless. So taking good care of your tines is of utmost importance.
The best thing you can do is clear the area of any rock or debris before you start tilling. Also, make sure to clean the tines regularly to avoid any accumulation of residue on the surface.
Conclusion
Over the years, Greenworks has slowly risen through the ranks and has now cemented itself as one of the best outdoor tool brands. Their expertise in producing electric-powered tools has garnered them a lot of praise from their customers and critics alike.
Their tillers are no different; they represent a wider range of electric tools that are not only healthy for the environment but are also very user friendly. We hope that this article helped you find what you were looking for.
The best tiller for you is in this list, which one, well that is up to you.