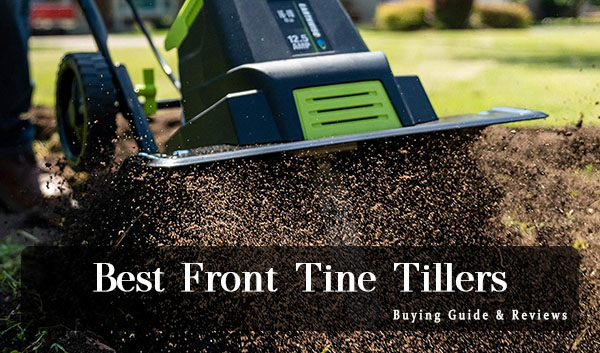 Everyone wants their gardens to be in the best possible condition and while we do like the feeling of a well earned sweat, we can all agree that having fun doing so would be better.
So, to save you all the trouble we have compiled a list of the best front tine tillers out in the market in 2022.
Top Front Tine Tiller Reviews of 2022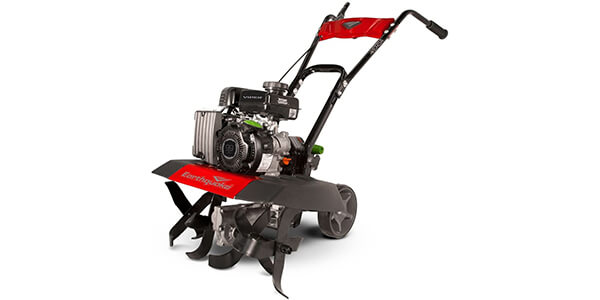 This little machine isn't one to be taken lightly as it is a one stop package for almost all your gardening needs at a decent price point.
You can remove the outer tines on Earthquake Versa Front Tine Tiller without any tools which quickly converts it from a tiller into a cultivator which increases its bang for the buck value.
As it is extremely light, it is easy to handle and has a tight turning radius for a tiller which will have you track up and down your lawn with minimal efforts.
Adjustable tilling options with a decent 11" tilling depth, it gives you impressive customizability not present in most tillers.
Pros
Smooth Pulling Mechanic for an easy effortless start.
Powerful yet quiet engine for convenient tilling.
Adjustable tilling width ranging from 11″ to 21″.
Cons
The relatively smaller 99cc engine might not be able to hack it on clumpy hard soil.
It is a compact and versatile machine which on its price point outperforms its peers and gives you the additional features of a cultivator.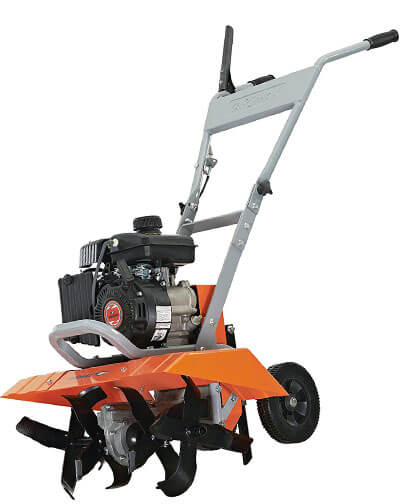 This is an impressive front tine tiller by YARDMAX who are doing their reputation as one of the best outdoor machinery brand. The YT5328 is ruling the market as of now.
The 79cc engine looks a bit underwhelming but when you look harder into its performance it is surprising that it provides 180 RPM rotational speed which is standard on the market.
While most tillers on the market provide customizable tilling depth, the YARDMAX goes one step forward and also provides you control over the width on which you till.
Its removable outer tines make an already compact tiller even more handy which makes it easy to traverse tight spaces and the 3 adjustable heights with easy to use handlebar controls makes it the complete package.
Pros
Rust resistant tine shield for increased safety while tilling.
User friendly controls and easy handling.
Adjustable tilling depth and width 7"-11" and 11"-21" respectively.
Cons
While the RPMs are impressive the tines can suffer under tough weather and soil.
This has to be one of our favorite front tine tillers on the list with amazing adjustability at a reasonable price point, a must buy for anyone who is looking for an easy to use tiller.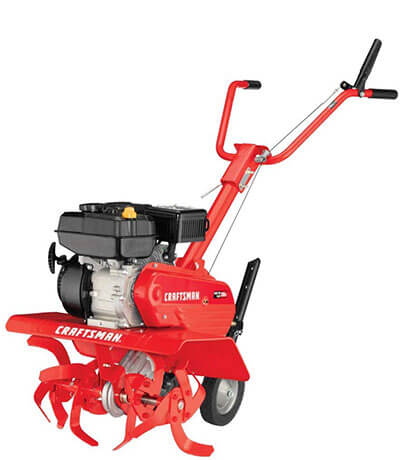 Craftsman 340 is the one that packs some serious power. Not many front tine tillers available on the market can match up to the amount of torque this one can provide on the field or your garden.
The 140cc gas-based engine is as powerful as it is efficient, and it comes equipped with a state of the art recoil start system that makes it reliable and choke proof.
Built in with 9" tri-tip blades, it covers a wide area that is adjustable and works brilliantly on most terrains owing to its power. Its 7" front wheels and 8" rear pinwheels are perfect for reliable movement across.
It comes equipped with a slightly unusually designed but efficient loop handle that lets you operate the machine with extreme comfort and the tine shield they provide should be industry standard for safety.
Pros
Really powerful engine that makes it one of the most versatile front tine tillers.
Durable wheels that provide long lasting traversal.
Tine shield and loop handle for safety and easy movement.
Cons
Being one of the most powerful tillers here, it isn't the most fuel efficient.
This is one of the best front tine tillers in the market for those who want to work with diverse terrain and intense ploughing and plunging.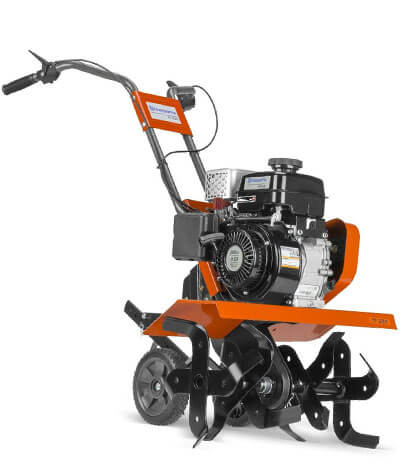 Keeping up with the trends of introducing front tine tillers with an engine that could put rear tine tillers to shame we have the Husqvarna TF224 which is a machine that you cannot take away from this list.
Its standard rotating tines on the front that offer a 6.5" tilling depth are powered by a 208cc engine that will not shy away from tearing at any garden no matter what the soil composition.
Its liquid combustion technology makes the 208cc engine fuel efficient although it will be slightly heavier on the per unit fuel consumption as opposed to those who have smaller engines, a fair price to pay.
You would think its massive engine would make it clunky and huge with its handling being compromised but that isn't the case as compact and handles extremely well.
Pros
Super convenient carrying handles that makes transportation easier.
Easy start engine technology delivering reliable first pull starts.
Extremely powerful engine that can handle every terrain and condition.
Cons
Fuel efficiency and loudness of the powerful engine might be an issue.
This is one of the most powerful front tine tillers out there in the market and it comes in a handy and convenient package you can move around easily.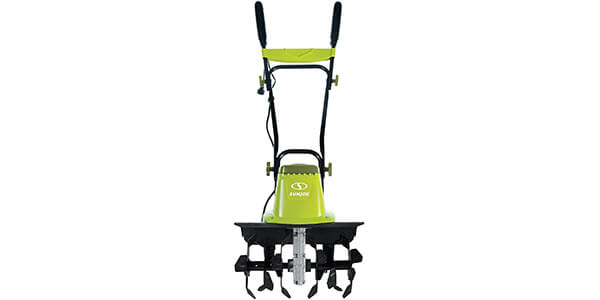 Sun Joe might be a late entrant into the business of outdoor power hardware tools, but they have entered the market with a bang here with this phenomenal 16 Inch tiller that performs more than you would expect it to.
It has a powerful 12 amp motor that can till and cultivate up to 16 inches wide and 8 inches deep, so this machine is not shy to make a sizeable dent in the yard without making a dent in your expenses at all.
Its durable 6 angled tines are made of steel so they are built to survive and while this machine does the job powerfully, you can easily fold it as it as a collapsible model meant to fit tight spaces in storage.
In terms of convenience it more than delivers as it has a wheel adjustments system that can shift for you and comes out of the box with a 2 year covered Sun Joe customer service which will solve all your issues.
Pros
A powerful 12 amp motor going up to 340 Rotations per Minute.
Versatile model that can turn into a cultivator for your needs.
Excellent customer service that comes with a warranty out of the box.
Cons
Provides a bit of an issue on damp soil conditions owing to its till design.
One of the handiest, most powerful front tine tillers out there complete with brilliant customer support.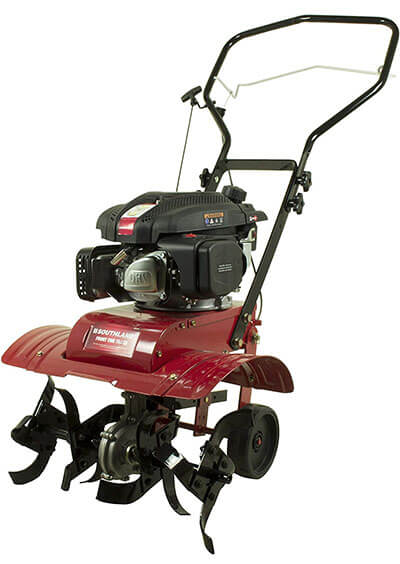 This is another fantastic option for the people out in the market that are looking to buy a front tine tiller from a brand of vast experience and the attention to detail it has.
The Southland tiller comes with a highly customizable tilling width with three 11 inch, 16 inch and 21 inch width options available for you to till your garden the way you want to.
Its built in gear maintenance system with a gear drive poly 5 belt system prepares the tiller for a longer life on the ground including a swing tail and a drag stake that can easily change it from tilling mode to transport mode.
Its forward rotating tines have an in built self-sharpening system that takes the biggest worry of front tine tiller maintenance out of the picture.
Pros
Easy to transport and move around with its swing tail and drag stake.
Easy to maintain with its self-sharpening tine system.
Manual recoil easy start fuel delivery system.
Cons
Tougher to assemble with the assembly manual instructions not up to the mark.
It is one of the easiest front tine tillers to maintain out there and it does the job brilliantly with its powerful engine and its efficient working.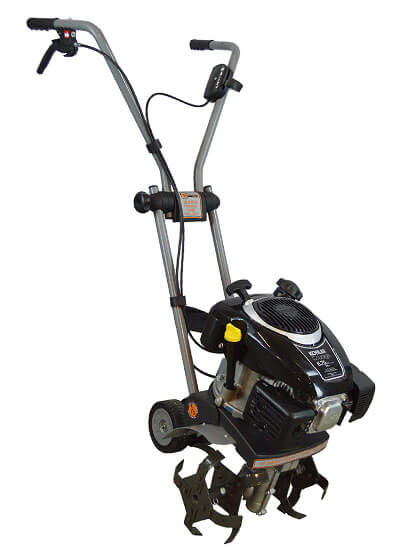 Now that we have discussed some of the budget entries, it is only fair that we rev up the speeds and go towards the best of the best front tine tillers out there in the market.
Its Powerful Kohler XT675 149 cc engine is CARB approved so you don't have to worry about its reliability, and it can go up to 3600 rotations per minute and its belt drive just makes it more efficient in channeling that power.
With one forward speed and a 10 inch tilling depth and smooth grooved handlebar this efficient tilling machine is also significantly easy to operate considering its power.
But what impresses us the most is the versatility it provides, its wide enough in tilling width to create new tilling banks but tight enough with its control to work small spots, it also doubles up as a cultivator and weeding tool.
Pros
Perfectly versatile machine that can till, weed, cultivate and bed.
Powerful with its massive 149 cc engine.
Adjustable Depth regulator that can drill deep or shallow.
Cons
The powerful engine means it suffers in fuel efficiency and emission issues.
What is not to like in this top level front tine tiller, not only is it powerful but it is a machine that can double up as a very versatile all round yard and gardening tool.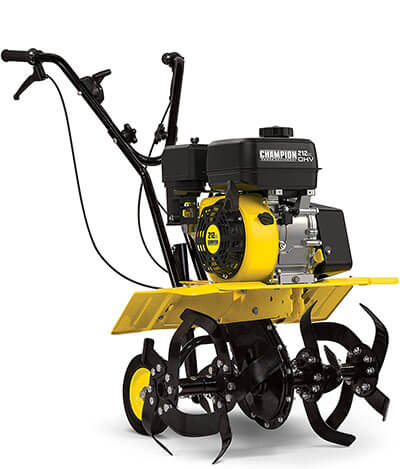 Now moving to a well known name in the outdoor power and landscaping tool game, it is Champion and their dual rotating front tine tiller with its cutting edge technological additions that take it away from its peers.
It is very efficient with its 16 to 22 inch tilling width which can be easily adjusted. It can prepare large beds of tilling land with ease while still having enough room to shrink back and till between the rows.
It is also equipped with an extremely powerful 212 cc engine that has enough power to go over most terrains in the most extreme conditions.
And as it always is with champion you get its reliable customer support always a phone call or an email away that will help keep your front tine tiller in top condition.
Pros
Significant power addition with its 212 cc engine making easy work of tilling.
Adjustable tilling depth opening up many opportunities for tilling.
Supreme customer support offering reliability.
Cons
Struggles on sloping terrains due to its forward hooked tines.
It is very difficult to dislike a Champion product when it comes to our notice as they have cemented their reputation as one of the most professional brands out there.
It is impossible to curate a list about outdoor power tools and yarding machines without having a Troy Bilt product included.
It is powered by a 208 cc Troy Bilt OHV 4 cycle engine with a standard recoil start that pairs its power with its fool proof starting system that promises reliable starting on the first pull.
The Troy Bilt also pairs up the tilling width and depth both being adjustable for increased usage and versatility.
It can also be easily shifted from work mode in tilling to transport mode owing to its easily foldable handles that also provide comfort while handling and operating.
Pros
Extremely well built and powerful engine with a reliable start technology.
Increased technical versatility with adjustable tine depth and width.
The mark of Troy Bilt inspires confidence owing to their build quality.
Cons
Overseas Troy Bilt customer support chain isn't the strongest out there.
We could just write because it is made by Troy Bilt here in this section and it would still make sense, but this is a versatile machine that you should not pass up on if you are looking for quality.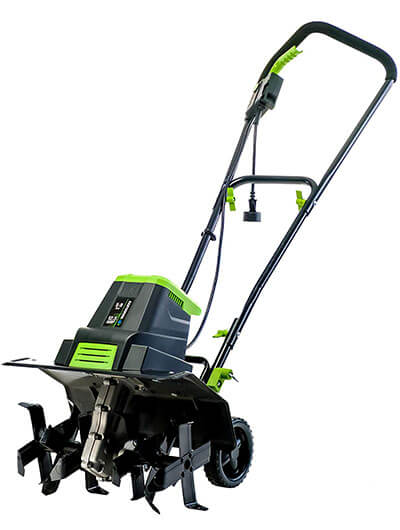 Now to the only corded front tine tiller to end our list here as the times around us change so should our priorities in how we choose to power our machines and Earthwise is the company to lead that sustainable power charge here.
This corded front tine tiller is fitted with a powerful 12.5 amp motor that can provide supreme power and reliability while being a product that will last long and is for the future.
The extremely light tiller can also turn effortlessly into a cultivator and has steel tines on the front that operate with a roto-tilling and roto-cultivating technology making tilling efficient at the same time.
Pros
Product for the future with its e friendly electric yet powerful motor.
Lightweight owing to the absence of clunky engines and easy to use.
Versatile with cultivator mode.
Cons
The corded nature of the tiller provides logistical and range issues.
It is a product that is thinking about its responsibility to care for the planet with its electric nature and at the same time does not compromise with its power and versatility.
Front Tine Tiller Buying Guide
Front tine tillers are not small investments both financially and in the amount of impact they have on your outdoor garden tending and maintenance needs, which is why buying one should be a well researched decision.
We have curated a list of things you should go through before getting yourself a front tine tiller that tends to both your garden and your needs.
1. A Wise Investment
Front tine tillers are not small investments and involve you paying a significant amount of money and while it might be a factor to save some money, we would encourage you to spend that little extra and get a truly quality product.
Buying a well made product will make for a good investment and save you money in the future by eliminating upkeep costs while providing comfort to you.
2. Needs are Primary
It is very tempting to buy the most popular and highly rated front tine tiller in the market, but we would urge you to look at your yard needs, your soil composition and your other needs before buying the tiller that is best for you.
3. The Engine of Life
One thing to consider before buying yourself a tiller is the build quality and the power output of the engine that it has within it as problems with the engine are often expensive to fix and render you tiller useless.
4. Yard and Lawn Safety
It is important that your tiller is fitted with safety measures such as auto heat cut off and tine shields on all directions as it is a very high risk tool that can often lead to injuries, these measures only make for good peace of mind.
Best Brands: Front Tine Tillers
From household names you have heard since your childhood to names that you perhaps struggle to pronounce, the front tine tiller market is filled with both old faithful brands and newcomers to the power tool scene.
We have assembled a list of the best brands out there and what makes them great for you to give you that little extra security and trust in your rear tine tiller when you end up buying it.
1. YARDMAX
Yardmax is a household name when it comes to the tilling and outdoor tools and machines business and their entrant on this list is testament to the fact that this is a brand dedicated to the cause of finesse and professionalism.
2. Troy Bilt
Perhaps the brand that brings the element of luxury to the seemingly laborious activity of outdoor yard work and Troy Bilt only focus on the top tier of the market with their almost luxury yet powerful machines.
3. Champion
A user friendly and oriented brand focusing on customer support and first time user friendly approach to all their machines wedding excellency with simplicity in their approach.
4. Husqvarna
Husqvarna is one brand that has an unrelenting bend towards focusing on power and precision and this is shown in their machine builds as they often top the charts in power and handling in their segment and price point.
5. Southland
Southland is a brand that can seemingly do no wrong and having been around for the longest time in the outdoor tool and machine game they have not become complacent and stuck to their guns to produce quality products.
Frequently Asked Questions About Front Tine Tillers
Which is the Best Tiller on the Market?
There can not be just one good answer to this question, instead what you need to do is study your yard and your needs and then pick a front tine tiller that can perform on what the needs of you and your garden are.
Are front tine tillers better than a Hand Tiller?
While hand tillers are basic tools that can help many, tilling large patches of land in your yard or your garden by hand is just a tiring task that can only be better served by a mechanize front tine tiller.
Are front tine tillers better than Rear Tine Tillers?
Rear tine tillers serve a different purpose than front tine tillers as they are gigantic in comparison and power and are much more expensive, they are suited better for either professional gardeners or huge garden patches.
How powerful should the engine of my front tine tiller be?
While the engine is one of the most important parts of a particular front tine tiller simply looking at that engine's power is a recipe for disaster. Power does not equate efficiency and the build of the engine is vitally important too.
Is it important to maintain my tiller?
For sure the maintenance of your tiller is a very important part of owning a mechanised outdoor tool as it is exposed to the elements. Routinely clean and oil the moving parts that require tending and you can increase usage time.
Should I obsess over tiller brand names?
While brand names are important as an older more established brand means that company knows what it is doing, blindly rejecting newer names in the market eliminates some legitimately good options for your purchase.
Is a corded Tiller Bad?
That is a misconception, not only is a corded tiller an environmentally friendly option to gas run tillers they tend to last longer too owing to the usage and longevity of electric motors as opposed to fuel run motors in the others.
Conclusion
The market of front tine tillers is saturated with competition from top to bottom with old titans of the business and the newcomers fighting toe to toe to gain control of your yard and it is a tough call.
With this guide you can soar through a wide array of options and pick a front tine tiller that will match all your criteria and provide you and your yard just the best care and maintenance they deserve.