A powerful equipment to help maintain the quality of your soil, Husqvarna FT900-CA Adjustable Width Front Tine Tiller is one of the finest machines to work within small areas. This gas-powered equipment comes loaded with a sufficient gas tank which makes it easy to cover maximum land without the need of unnecessary stopping for refueling.
A modern and optimal solution to all your gardening needs, this equipment does allow you to not divulge in any sort of manual tilling. Should you be interested in turning that empty land of yours into a beautiful flower bed, this tool comes in handy allowing you to mix and turn the soil and making enough space for you to plant the seeds in.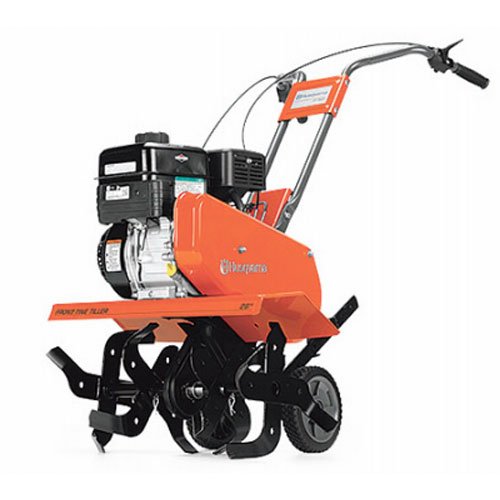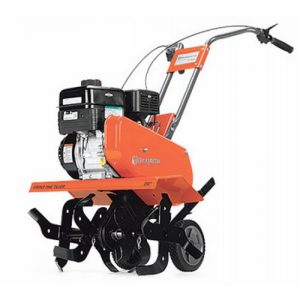 Prime Features
The easy two gear option, allows you to operate this machine without any issues. With a single push, you can turn the gear from forward to reverse and hence move this machine to cover a greater area with ease.
Fitted with an OHV engine, this tiller has been designed keeping in mind the hardest of surfaces. This engine doesn't require any oil and gas mixture and can generate a sufficient amount of torque for the tine to dig into the deepest as well as hardest of surfaces with ease.
Consists of a pre-attached drag bar which makes it pretty easy to operate through a variety of surfaces, where support is required. Light weight machines while working on tough surfaces may bounce back, Therefore, this drag bar ensure maximum support while at the same time offering the extra steadiness.
Comes with two attached wheel which allows you to move this tiller to any place of your choice. You don't need to disassemble or drag it all along, the two tires at the back are steady enough to allow easy transportability of this product.
This equipment produced by Husqvarna does inculcate a great deal of versatility within it. It offers various tilling levels accompanied by adjustable handlebars, which allow the user to operate this device at a comfortable height along with a great grip.
Advantages
Weighing just about 100 pounds, this tiller is easy to control as well as operate. People in their old age or people with less physical strength can follow their love for gardening and grow themselves one of the finest flower beds which they can nurture all life long and appreciate. Also, an included reverse gear makes it easy to operate.
The powerful 208 cc engine does make it fairly easy to produce the required amount of torque to break through the toughest surfaces. A two or three pass tilling with this machine might be enough to evenly break any virgin surface and hence make it ready for some plantation or seeding.
Offering adjustable tilling levels, this machine offers a great degree of versatility for every garden needs. You can choose the desired depth level from 4 to 6.5 inches depending upon whether you require deep tilling or are simply using this machine to remove garden weeds from the top.
Not only this the product also does offer width selection, you can choose from the width of 12, 24 and 26 inches as per your requirement.
The device does not require any electricity and thereby can cover large distance without being limited to the length of the cord extension. Running on gas, this equipment does come up with large gas tank sufficient enough to till the entire land and thereby offering a hassle free and non-stop working.
Tips for Easy Handling
While this tiller does prove its competence on any sort of land, users may face issues tilling a virgin land with it for the first This product does work fine on any sort of land, and if you are planning on turning a hard ground into a beautiful garden, then you will require around 6-7 pass only after which you will get the desired type of ground for planting and watering.
Do make sure to attach the drag bar especially during winters or wet conditions so that you get the required counterforce while tilling the ground, and thereby preventing the machine from rebounding.
Cost/Price Considerations
The cost of this product on the company website is listed as $449.95, while various e-commerce websites such as Amazon are selling it at a price of $470.80. Therefore, your best bet is to buy this product from the company website. The product is available with a warranty of 2 years, and the same can be extended with some extension plans available online. Proving to be quite an efficient tiller, the price seems to be justified, and apart from saving on electricity, you will save on most accessories as the same has already been included in the packaging of this product.
If you feel a bit unsure about the lifetime of this product, then you can purchase various warranty extension plans as offered by dealers. An additional 3 and 4 years of warranty can be added to this product at a respective cost of $40 and $60 dollars, which definitely isn't much considering it will cover your product against most damages.
Also Checkout the Reviews of Other Tillers: