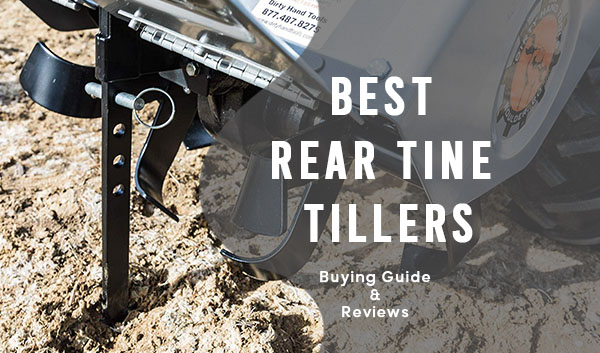 It's always tilling season somewhere in the world and the best tillers out there are meant to ignore the outside weather conditions and make your job easy by being more than a machine.
We have you sorted for all your tilling needs with the best rear tillers available in the market right now in 2022, so gardening becomes less of a chore and more of a hobby.
Best Rear Tine Tillers: Reviews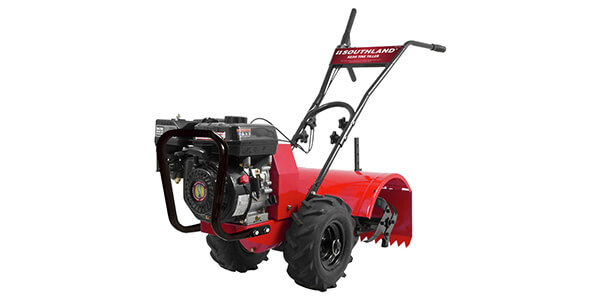 This is an all rounder in the perfect sense of the word if you're looking for a rear tine tiller to fit all your yard needs no matter what weather or soil density and state this is the one for you.
Although on surface the manual start fuel delivery system looks a little traditional, but it guarantees a consistent start with no issues.
Its transmission is quite modern with it supporting a forward and reverse action making your tilling experience tailored to your needs.
The rotating flanges can penetrate pretty deep into even hard surfaces and the 11-inch diameter on the brass blades means that there is plenty of aeration into your tilled ground.
This is a pretty solid and reliable rear tine tiller and with it being modestly priced you won't have any complaints with how it performs, Southland have gone and done it again with a class product.
Pros
Reliable starting mechanisms no matter the weather.
Deep Penetration even into hard soil conditions.
Forward and reverse action transmission.
Cons
Not the easiest to handle.
Not as wide a dig as other rear tine tillers in the class.
We simply think this is a solid and classy product that offers reliable tilling and sticks to the basics while sprucing it up with a few modern additions. A tiller worth your money.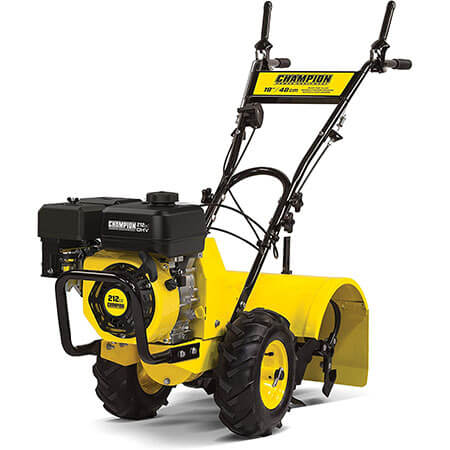 We love ourselves some versatile products and to carry on with the trend on the first one here is another all rounded versatile star from Champion for all your tilling and gardening needs.
It digs 19-inches wide and 8-inches deep with dual rotation tilling included as a standard, so you can change from forward rotation to reverse rotation with the flick of a button allowing more flexibility.
The cast iron transmission which is carefully and technically crafted is placed securely in a heavy duty cast iron casing on the outside which keeps your monster 212 cc engine safe from the elements.
Its 13-inch self-propelled agricultural tires make it an easy pass over any sort of terrain, may it be gravel, mud or rain your tiller will not give up on you.
The Champion brand is also known for its legendary customer support and you get a free of cost lifetime technical support, this machine is truly a champion in its category.
Pros
Well reinforced iron cast hull which is damage resistant.
Powerful 212 cc engine.
Self propelling tires making tilling easier.
Cons
Too wide a tilling shaft, not suitable for smaller spaces.
Champion is a brand based on reliability and post selling support and it doesn't hurt that with a machine so solid and carefully crafted, the need for support won't be that much. Truly a masterpiece.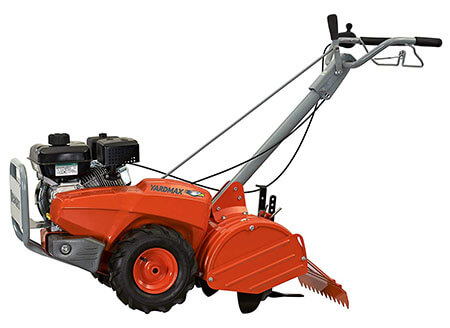 This might just be the best rear tine tiller on this list, Yardmax have really shaken up the market with this nifty little machine and to be honest, it is very difficult to not obsess over it.
Its Briggs and Stratton engine delivers a 9½ ft-lbs of gross torque and its tiller blades can spin 190 times a minute to really pitch in that tilling deep into the surface no matter how hard it is.
It has 7 adjustments on the depth on which you till, and its 13-inch tines are self-sharpening which means that those tines will always remain as good as new, no need for more work.
It's also super easy to use and handle which means your tilling work is done with great ease and efficiency, truly a brilliant machine.
Pros
Serrated safety shield on the back for no splash back.
13-inch pneumatic wheels for easy handling.
AG treaded tires that last longer.
Cons
Might not be the most beginner friendly rear tine tiller with many adjustments.
Really one of the best rear tine tiller on the market with its all round ability and brilliant customisability. Yardmax have really knocked this one out of the park.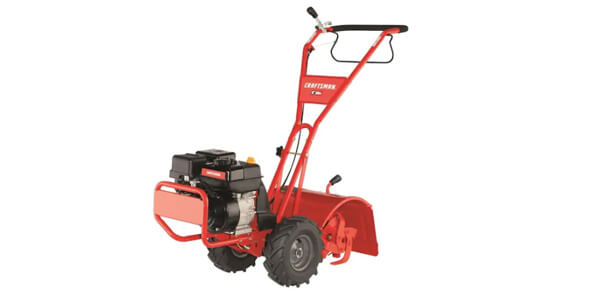 This is another middle range rear tine tiller that is powerful and efficient in its execution.
It has counter rotating tines that dig in any direction you want making most types of terrains traversable no matter the weather conditions and those 10-inch tines are fit for any use from compost to cultivating.
The tine shield on the back is another example of the attention to detail that craftsman has put into this machine, not only is this one that can go 16 inches wide in one pass but also keeps the person tilling safe.
This is a truly value for money rear tine tiller that we recommend highly for both professional and amateurs alike.
Pros
Durable aluminum encased gear driven transmission.
Tine Shield for increased safety.
Counter rotating tines mean that you can easily traverse all terrains.
Cons
While being the best of most worlds, its lack of specialization shows with other models outperforming it in certain categories.
A jack of all trades that can do whatever a tiller might desire from its machine in a garden, highly recommended as a versatile tiller.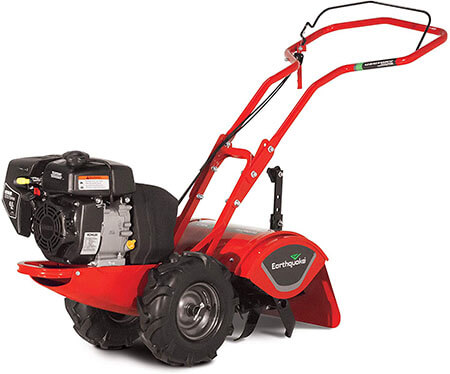 Earthquake is a brand that screams reliability and finesse, so believe us when we say this tiller is worth your money and time.
Its easy-to-use single handed controls make it a rear tine tiller fit for anyone to use and its compact case packs an engine with 196 cc which is more than enough to go through most backyards without breaking a sweat.
It has a durable cast iron and cast bronze gear drive transmission which is well balanced and lets you move around with ease.
To top it all off, it has airless wheels which means you can say goodbye to all the nasty punctures on the garden field.
Pros
Easiest to handle in the market which makes it brilliantly user friendly.
Compact and robust easy to fit in small spaces.
Packs more than enough power with a petite frame.
Cons
Not professionally geared as the airless wheels might not be meant for too heavy-duty use
This is a user-friendly rear tine tiller which has perhaps the best in class handling, nobody comes close with its user-friendly approach.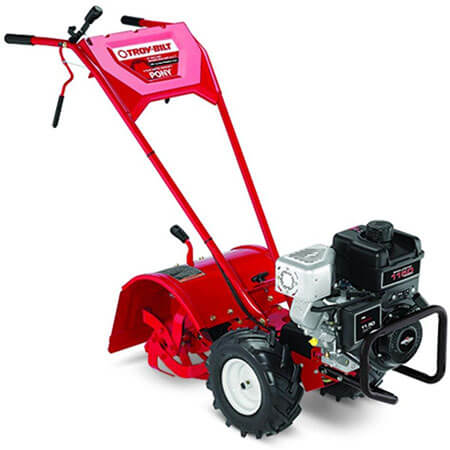 One of many Troy Bilt products on the list which more than underlines the amazing job this brand has done to completely change the landscape of the rear tine tiller market on all ranges low to high.
This mid-range 250cc rear tine tiller is powered by a Briggs and Stratton engine and its forward rotating tines are brilliant for garden soil preparation and extraction.
It also has a power reverse feature which makes the process of backtracking on tilled ground supremely easy, it is small touches like these that put Troy Bilt on top of the market.
It has 13-inch tires which make it easy to handle and its protective front bumper means that the machine perseveres.
Pros
Electric start capabilities on this rear tine tiller means it has a hassle-free start.
Offers a wide and deep tilling width and depth.
Adjustable tilling depth for customizable garden tending.
Cons
Only one forward speed meaning the speed to till is set beforehand.
This is top of the line when it comes to rear tine tillers it is made with extreme precision and features like the protective bumper just push it over the edge.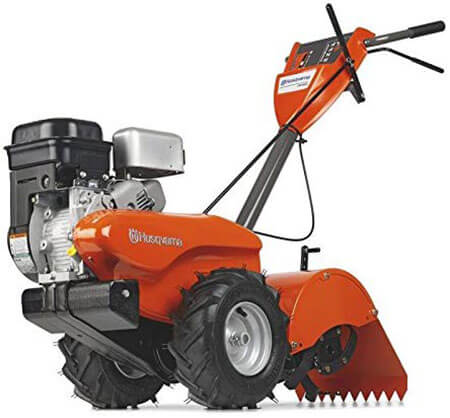 The king of counter rotation is here in the shape of Husqvarna CRT 900 the definition of top-level rear tine tillers it demands a lot of money, but boy do you get a bang for your buck.
This unit performs flawlessly on all terrains as Husqvarna were one of the first brands to introduce the process of counter rotation in tillers to the market and you would bet that they have perfected the process till now.
The Briggs Straton engine is a sure shot guarantee to one pull start and when it starts there is no surface or soil that can stop it with its reverse or forward shaping tills hard at work.
It is much easier to control too as the tills don't jump around like other models do as Husqvarna have completely nailed it with the construction.
Pros
Complete control over the counter rotation system.
Superb handling and no jumping of the tills.
Good power while simultaneously being easy on the ears.
Cons
Slightly ahead of the market in terms of the price they ask.
This is as premium as it can possibly get in terms of buying a Rear Tine Tiller, it simply reeks of class and complete finesse as it is superbly built and does the job superbly.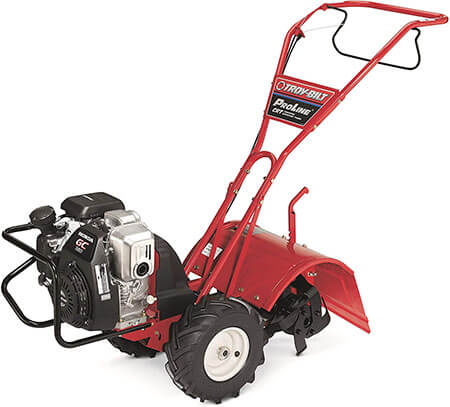 Another Troy Bilt enters the list and this time its to cater to the lower ends of the rear tine tiller market and in typical Troy Bilt fashion they have delivered tremendously in every aspect of the product.
The 160 cc Honda engine is one not to be written off as too weak as it can take on a wide array of terrains while maintaining its balance.
Equipped with a cast iron transmission that works flawlessly and gear drive crafted out of bronze this is reliable and meant for the long haul.
The 10-inch bolo tires offer a brilliant balance between tilling speed and efficiency. This tiller is a designer genius that just reinforces why Troy Bilt is the best in the business.
Pros
A compact 160cc engine that still packs a punch.
Reliable cast Iron build that will last for many years.
Easy to handle with 10-inch tires and digs wide and deep.
Cons
Might struggle in extremely tough and lumpy terrains owing to its under-powered engine.
Simply put the tag on top reading Troy Bilt should be enough to persuade any person into buying this rear tine tiller but this is a well made and tremendously sound machine doing wonders at its price point.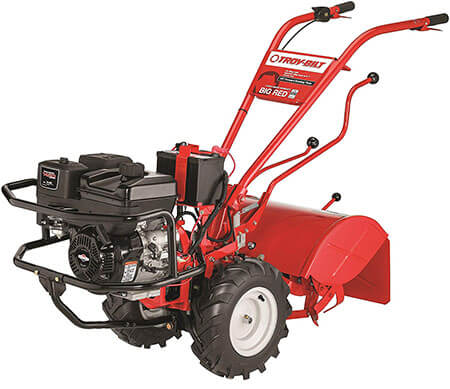 You must be tired of looking at this company's name in this list but trust us when we say this is the last one, although owing to how brilliant a brand it is, we could've easily included a couple more.
The prime model of their bejeweled selection the 306cc has to be one of our favorites in this list owing to the masterful creativity of Troy Bilt being fused with the massive engine that produces 306cc.
Troy Bilt have a knack of creating machines that over-perform their peers, but the Big Red comes equipped with a Briggs and Stratton 1450 series engine that offers 4 forward, 1 neutral and 2 reverse speeds for all directional tilling.
This is a premier machine if there was ever one, worthy of all the praises we shower on it.
Pros
Forward rotating long lasting Bolo Tines.
Electric start technology for hassle free starting.
Has the option of one hand operation making it easy to handle.
Cons
A little bit on the expensive side might price some people out of the purchase.
What is not to like here the premier product of a premier brand that compromises with nothing this is a true superstar of the rear tine tiller game right here.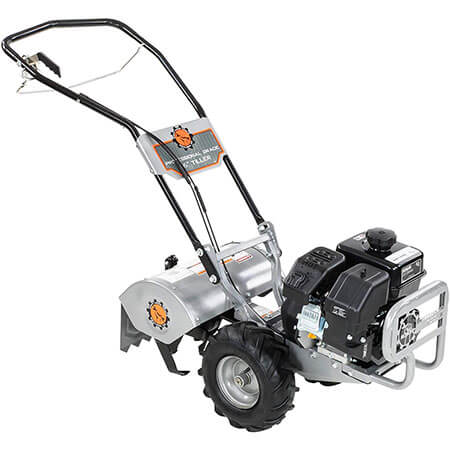 Let us end our list with jumping towards the other extreme of the front tine tiller market with the one of the most affordable ones on the market but that does not mean it compromises on quality at all.
Its powerful 6.5 horsepower 196cc engine is enough for your daily tilling and gardening needs and it will not disappoint you with its fuel efficiency either.
It drills 16-inch-wide and 10 inches deep which is quite impressive for a tiller at this price point and a tiller this size, this is a feat not many can achieve without compromising on quality.
Pros
Fuel Efficient Tilling at its prime
Manages to be compact yet impactful
A trusty engine that is made for longevity and performance
Cons
Might struggle with rough terrain as many front tine tillers on its price point often do
Buying Guide: Rear Tine Tillers
Buying a rear tine tiller is not an easy job as you can figure out from the plethora of options each rivaling the other we have provided before this.
Luckily for you we have a few tips you should always keep handy before making that precious purchase of a rear tine tiller so you can buy just what is right for you.
1. Don't Worry About The Cost
Granted Rear tine tillers are a significant investment but do not cheap out on it the first time because going cheap then will surely cost you in maintenance cost later on.
Buy a product with a quality build that will perhaps last you for a lifetime, this is the golden rule while buying a rear tine tiller.
2. Make Sure You Know The Terrain
The terrain on which you are wanting to work should be a primary consideration while buying a tiller, a harder clumpier surface means that you should invest in a tiller with a heavier engine that can dig deeper.
3. Engine Is Everything
The engine is the proverbial heartbeat of any rear tine tiller and the engine should be not only matching your needs in power but also one that is built to last and be fuel efficient, nobody needs a fuel guzzler.
4. Safety And Reliability Is Key
Front bumper protectors, Rear tine shields and splash guards on the sides are all measures that are available on rear tine tillers in the market right now, make sure you make an investment that cares about your health and safety.
Top Brands: Rear Tine Tillers
There are a number of giant brands that have been around in the outdoor power tools market for ages and to contrast that there are many new kids on the block too.
Sometimes making a choice to buy something and trusting a brand just doesn't end at seeing who has been around longer and is more complicated, which is why we have curated this list of the best rear tine tiller brands for you.
1. Troy Bilt
With three mentions in this list is there any surprise that Troy Bilt is considered a good brand, they completely dominate the market with all brands trailing in their tiller dirt.
Middle tier, Lower tier or top of the line the Troy Bilt brand is built to make machines fit for any sort of use you might have, and this is a fine institution.
2. Husqvarna
Husqvarna is a brand that likes to charge a premium on their products, but they are well worth it.
3. Earthquake
Earthquake is a long-standing brand when it comes to outdoor power tools and it is no surprise that you can blindly trust them when it comes to your rear tine tiller needs too.
4. Craftsman
Craftsman is a fairly new entrant into the market when it comes to rear tine tillers but the fact that they have created the machines that they have makes us rethink that status and longevity aren't the same.
5. Champion
This is as reliable as any brand can get, their top tier professional grade customer support is often the envy of many and with something as intricate as a rear tine tiller this is a feature that will benefit you majorly.
FAQs About Rear Tine Tillers
What is the Best Rear Tine Tiller for me?
There is no best tiller on all accords you need to look at your tilling needs and tilling terrain and then make an informed decision over what tiller you buy.
Should I pick this over a Hand Tiller?
This would be an affirmative, hand tillers don't exactly make good time in massive yard jobs and can often be pretty exhausting, rear tine tillers are precise, powerful and efficient.
Should I pick Rear Tine Tillers over Front Tine Tillers?
There is not a definitive answer here, rear tine tillers are suited for larger spaces and gardens while front tine tillers are okay for tight spaces.
How Many ccs do I need in my Tiller engine?
Depending on ground rigidity and the lumpiness of the soil underneath you the engine should get more powerful as the ground gets harder and the soil gets lumpier.
What Rotation Cycle is better?
Counter rotating tines turn in the direction opposite of the wheels which is easier for tilling new or lumpy soil. Standard rotation on the tines means that the process of retiling becomes easier.
Is the Model of the Tiller all I need to care about?
Tillers are expensive machinery, although brand loyalty is a valid concept such hefty investments should only be made after due consideration and research.
How do I maintain my Tiller?
Tillers are meant to be cared for quite regularly, making sure your tills are sharp and your moving parts are oiled is primary priority as is caring for the fuel level so you don't stress your engine.
Conclusion
The tilling market is too competitive for anyone to make a choice without tireless pondering over for hours, luckily for you we have met every need and power variable, all you need to know is what you want from your machine.
Rear tine tillers are powerful and precise, consult this guide and get your own soon.