Designed to meet all your tilling and cultivation needs, the Mantis 4-Cycle Tiller Cultivator 7940 Powered by Honda is one fine piece of machinery to own. Serving as a blender for soil, this cultivator/tiller can work on any type of ground and make even the hardest of surfaces, easy to plant and plow in. Weighing a mere 24 pounds, the Mantis 4 cycle tiller and cultivator is easy to use and operate.
Manual cultivation with the help of spades as well as shovels proves to be a tiring and back breaking exercise, especially if you got huge areas to cover. Offering a modern approach to all the manual cultivation processes, this machine will grind, break and mix your soil evenly and thereby ensure a proper supply of air and water to your plants and hence make your plantation far more bountiful in the long run.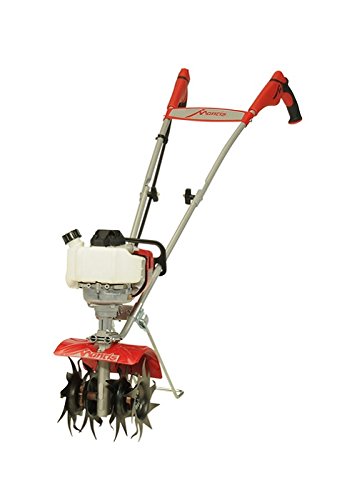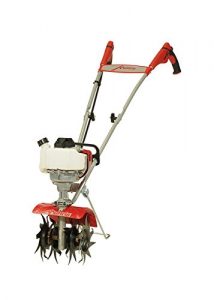 Main Features
This equipment is loaded with a 25 cc Honda motor which makes it easier to start and efficient to operate. Without the need of mixing oil and water, the four-stroke engine gives it enough power to break through the hardest grounds and work on all surfaces with ease.
The compact size of this equipment makes it easy to enter narrow areas and reach out to places where large sized equipment cannot reach. Easy grip allows you to handle this product comfortably and thereby turn your empty land into a beautiful garden in no time.
Uniquely designed tines are made to fit and dig into any ground and hence do not bounce back as other mini-tillers. Made to be entirely damage free, these tines can withstand any sort of force or pressure applied to them and if this was not enough, the company offers a lifetime warranty against any broken tine due to any reason whatsoever.
Easily removable tines make it easy to clean and remove weeds as well as entangled roots. The entire product is easy to assemble as well as disassemble allowing the user an easy transportation and utilization.
Versatility is also a new feature included in this Honda powered cultivator. Simply remove the tines and turn them another way round and you will get yourself a powerful weed remover which can be comfortably used all year long.
Advantages
The major advantage of this product is its weight which is slightly below 25 pounds and therefore offers the customers an easy use. Heavy cultivators are difficult to operate and control, hence people with less physical strength or people in their old age can't use them. This product with its compact size as well as light weight is a boon for people of all types and is one of the best tillers available.
A powerful 25 cc engine gives a strong throttle to the tines making them move at a fast pace of 240 rpm, which is sufficient enough to break through grounds of any type and work comfortable with weeds, deep buried roots or a stone underground.
Covering a depth of 10 inches as well as a width of 9 inches, this tiller covers maximum ground in a single pass, thereby saving in on your time and resources.
No use of electricity makes it entirely cord-free and hence you can be free of any wires of plugs which limit portability.
Tips for Easy Handling
Although Mantis tillers & cultivators are designed to work flawlessly across lands of any sorts but there are times, when the tines stop unexpectedly. During such times, do not panic or start thinking negatively about the product, it is just that sometimes when tine shaft is working, it gets blocked by weeds, stones etc. So, if you face sudden failure in tines, simply check the shaft and remove whatever is hampering the movement of the shaft.
You can also adopt the method of stopping and cleaning the tine shaft after 5-6 laps of cultivating the field, and there won't be any hindrances in the process.
Do make sure that you use 89 octane for fueling this cultivator, in case you wish to ensure that this product lasts long. A premium fuel 89 octane ensure that this cultivator operates at desired speed and works efficiently.
Cost/Price Considerations
A great addition to your garden equipment, this tiller is available on the company website as well as on various e-commerce store in the price bracket of $380-$400. However the average price comes up to about $390, which we think is pretty good provided the company is offering a 5-year warranty on the product. There are no extra cord or accessory cost involved. The package comes loaded with a kickstand as well, and hence all you need to do is make one-time investment which we think will definitely prove to be fruitful in the long run.
However, if you still are concerned about this product you buy, then there are companies offering an extended 3 and 4-year warranty at a cost $31 as well as $49 dollars respectively. However, based on the customer reviews, we find that there isn't a need for an extended warranty as this product if carefully used can last a decade comfortably.
You Can Try Checking Out These Tillers As Well: