Say goodbye to your old and bulky gas tillers for here comes the Sun Joe Electric Tiller to make your gardening chores more fast and efficient without the hassles of managing those messy and bulky gas tillers. Manufactured by Snow Joe, this tiller packs a lot of punch for its overall small size and boasts of a powerful 12 ampere motor rotating at 340 rpm that slices effortlessly through soil and dirt to give that perfectly pulverized seedbed suitable for plantation. A patch of 16 inch width and 8 inch depth can be cultivated easily using this powerful machine in seconds. The 6 durable and angled blades, hassle free operation and the collapsible handle are some of the features that make this Sun Joe tiller a good and practical choice for all your gardening and cultivating needs.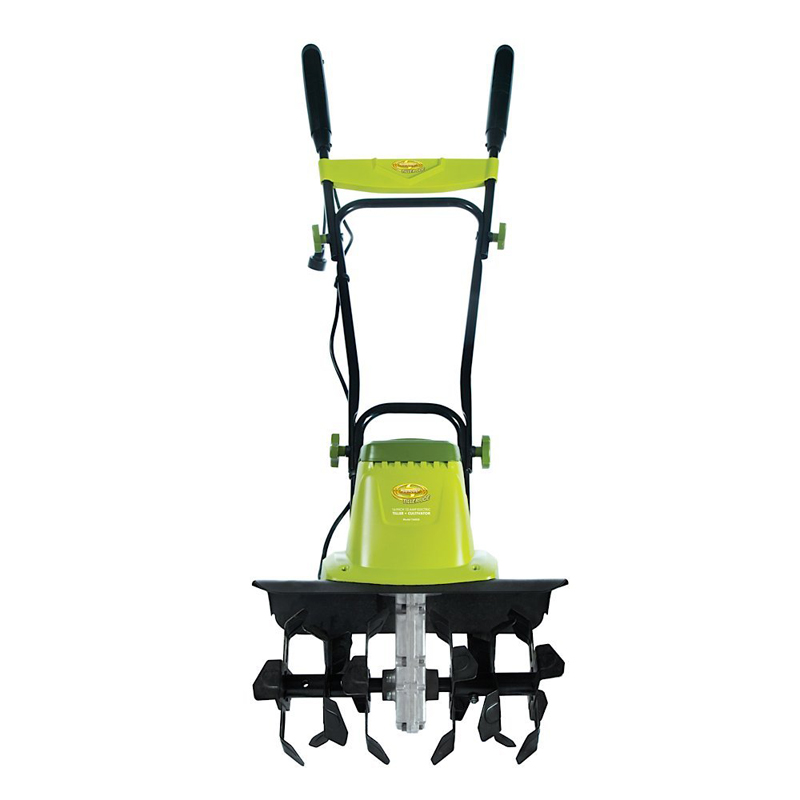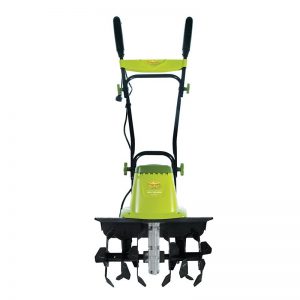 Features and Specifications:
Powerful 12 ampere motor: The powerful 12 ampere motor of this tiller really sets it apart from its other counterparts when it comes to tilling. Rotating at 340 rpm, this bad boy spits out rocks as big as 4 inches effortlessly out of the ground and works like a charm on all kinds of landscape. No matter how stubborn the soil is, it instantly pulverizes the dirt and ensures maximum aeration. When it comes to leveling or loosening hard or stubborn soil, the motor is pretty efficient in performing these tasks with ease.
6 angled blades for optimum performance and durability: The 6 durable steel blades are oriented in a crisscross fashion with uniform spacing between them that ensures precise and efficient tilling in no time. The blades are 16 inches wide and 8 inches long and they just need to be guided accordingly to get the desired area cultivated within seconds.
Collapsible Handle: The product comes with a handle that can be folded and this makes it a lot more easier and convenient to store or transport the machine. Given the bulky and rigid designs of other tillers in the market, this feature surely makes the Sun Joe a better choice over the other products available in the market.
Adjustable Wheel: If you are aiming for variable depth while tilling, you can adjust the wheels behind the blades to get the desired depth of up to 8 inches inside the soil. The adjustable wheels also assist in the easy and convenient operation of the machine over uneven landscapes.
Advantages:
The main advantage of this tiller is its electricity based operation that makes it a lot less messier and convenient to operate than the other gas operated tillers that require regular oiling and tune-ups. It starts instantly with the push of a button and is easy to use and maintain for a long period of time. The maintenance and cleaning of this machine is equally convenient since it doesn't involves usage of gas or oil and hence it is relatively easy to maintain and clean the tiller.
As mentioned earlier, the powerful 12 ampere motor is more than enough for all tilling purposes and delivers a good amount of power packed in a compact machine. Most of the tillers often get stuck or become a little unstable when operated upon hard and uneven landscape but the powerful motor of this tiller and the adjustable wheel mechanism ensure that the machine works like a charm on all kinds of surfaces.
The collapsible handle of this machine makes it super convenient to store or transport this tiller without any hassles as it consumes very less space when the handles are folded and it is also pretty lightweight (around 27 pounds) as compared to the other machines in the market.
Tips for easy handling:
The lightweight body of this machine often becomes unstable due to the huge amount of power that is generated by its powerful motor and it becomes a little difficult to keep the machine grounded or to maintain a specific direction on uneven surfaces. Improvising on this machine by fixing hose clamps can make a huge difference in the performance and sturdiness of this tiller. Alternatively, you can also try to stabilize the machine by using some kind of weight to keep it grounded.
It is advisable to buy a reel of extention cord for this machine so that the cord doesn't falls short on any occasion. Also, the cord should be handled carefully since it tends to get stuck in the soil or it may get tangled in the feet sometimes. Apart from that, applying a biodegradable lubricant on the blades of this machine can increase the durability and performance of the tiller by a significant amount.
Price/Cost Considerations:
The Sun Joe Electric Tiller is available for $119.32 on Amazon and it can also be bought from its official website for $149.99 with free shipping. The Sun Joe delivers excellent and hassle free performance for the given price bracket and is one of the best choices for a sturdy and powerful tiller under $150. You may also want to buy a reel of extention cord for operating this machine over a larger area. The tiller comes with a full 2 year warranty from the manufacturer that can be extended to 3, 4 and 5 years for $10.99, $14.99 and $17.49 respectively. The overall cost of this tiller is still very low and that makes it one of the most well rounded machines in the market that gives you a bang for your buck.
Here are Some More Tillers that you can check: