The Sun Joe Electric Garden Tiller is a perfect solution for the problems faced in conventional methods of tilling. The 16-inch-wide and 8-inch-deep blades of this powerful machine are its main attraction. These blades make the entire tilling process much easier, thanks to the sharp edges of each of these blades pointed at different angles.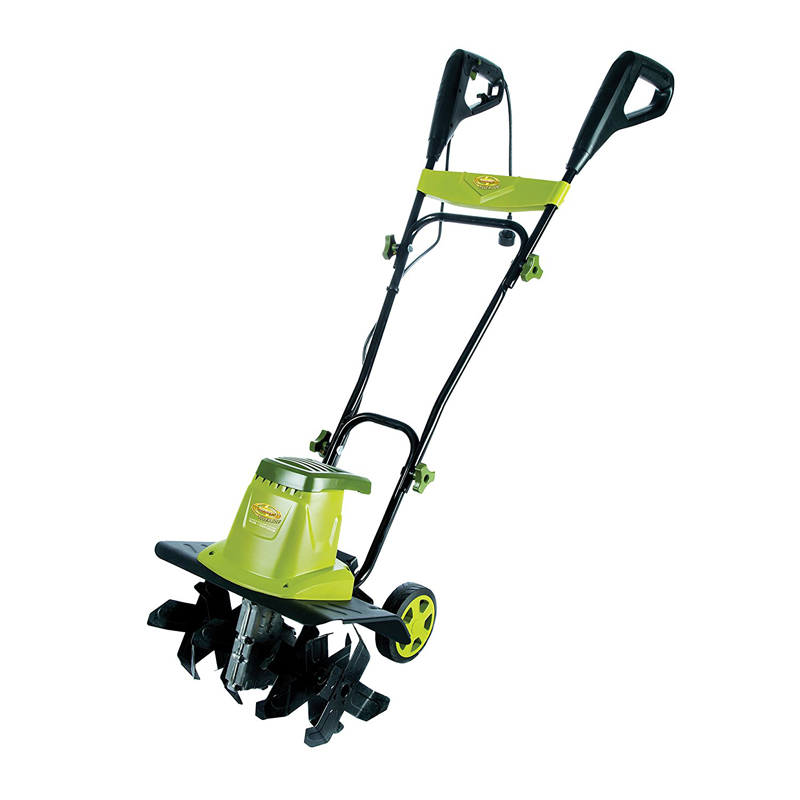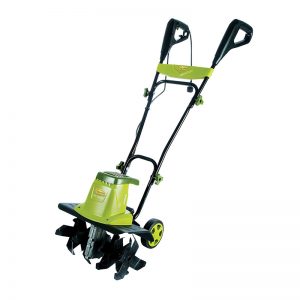 This Sun Joe electric tiller comes in handy if you are planning a remake of your garden. The numerous uses of this tiller include clearing the grounds from weeds, loosening the soil to facilitate aeration, creating enough space for planting seeds and much more. In each of these cases, you will face a hard time if you are looking to transform a sizeable piece of barren land into a beautiful garden using traditional methods like hand tools, etc.
Main Features:
When you are buying this equipment, you can easily notice that the wheels fitted behind the set of blades in this tiller are only a little higher than the blades. Now, there is an option of adjusting these wheels at three different positions to enable easy handling of this equipment.
There is an option of adjusting these wheels at three different positions to enable easy handling of this equipment. Changing the position of its wheels also changes the depth of these wheels to some extent, which is why this is an important feature for those looking for tilling a better depth than the standard 8 inches.
Another important feature to notice in these set of blades is the position and the facing direction of the different edges. That is, every consecutive fin or edge of this blade are faced in an opposite direction with respect to each other. This is one of the reasons behind its powerful functioning capability and functioning smoothness.
The 13.5-amp motor inside this tiller provides a very good amount of power to cut through the hard and barren grounds at. Also, the rotational speed of the blades powered by this motor is quite impressive too, as it reaches up-to 370 rotations per minute (rpm).
Advantages:
This electric tiller requires very less amount of maintenance and comes with a warranty of 2 years. After the tilling process, cleaning its blades is quite easy too. A good performing product receives appreciation everywhere, which is the reason why this tiller is one of the popular and sought-after item in the segment of electric tillers.
Save a huge amount of time by using this machine since it covers a width of 16 inches while you are tilling one single row.
Another important aspect is the power of this electric tiller which is enough to ensure maximum effectiveness. Basically, the power of an electric tiller is the power of the motor inside these machines. Higher the power of the motor, the better will be the tiller's ability to cut through the hard blocks of soil. The basic factor in this scenario is the amount of torque offered by the motor.
Tips for Easy Handling:
The body of this tiller is quite lightweight, and sometimes, handling this machine can be a challenging task because of the powerful motor inside this tiller. The challenge here is keeping this tiller down to the ground, because due to the high amount of power generated by its motor, controlling the direction of this tiller is quite hard. An easy solution for this is keeping a dead weight like a brick or a stone slab over the tiller. This keeps forcing the tiller downwards and makes the entire tilling experience much easier.
Also, a major challenge faced by the users who bought this electric tiller is the position of the trigger switch. In the case of this electric tiller, the switch is provided on the right handle of this tiller. Now, like I explained earlier, handling the power of this electric tiller is no easy task. So, you have to keep pressing this switch on the handle while operating this equipment, which is quite difficult for some. An easy solution done by many facing this challenge is taping the switch to the handle after pushing it down at its "on" position, but many also do not see this as a problem.
Price/Cost Considerations:
This electric tiller is sold in the price range of $148.15 to $222.60 on different online shopping websites. The average price of this product is much lesser than $200, and is quite economical comparing to other similar products in this segment. You would also require an extension cord of your preferable length for easily tilling every corner of your garden.
Also, if you are willing to put in couple more bucks, there are different online sellers providing a 3-year or 4-year protection schemes for any maintenance work by paying an additional one-time deposit of around $17 to $25.
Also Checkout the Reviews of Other Tillers: