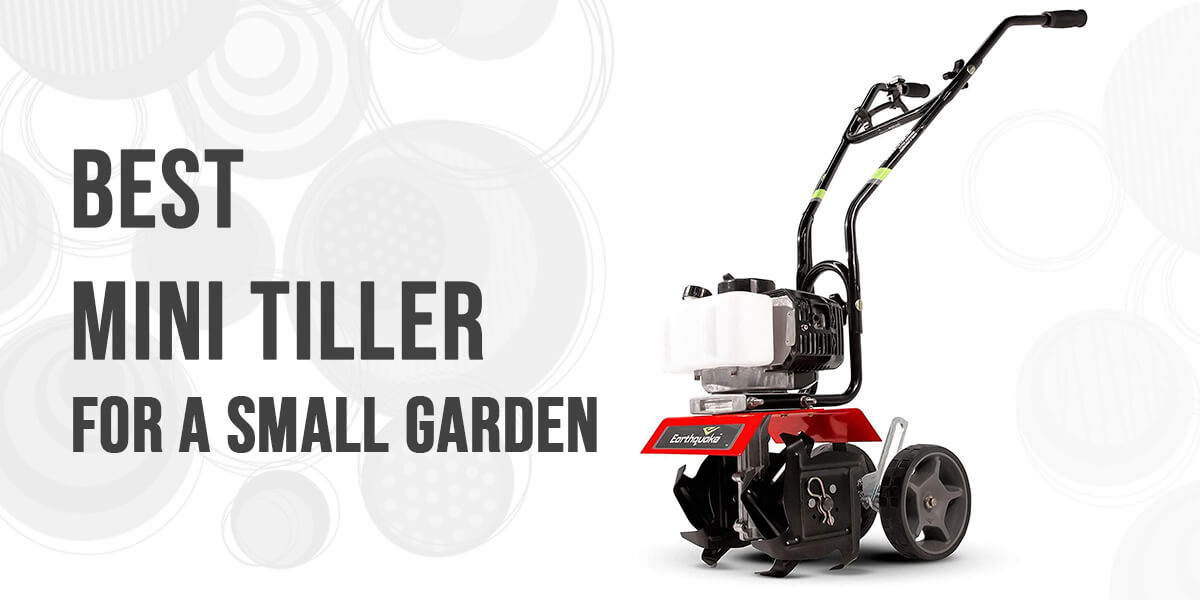 Tilling the soil is necessary for preparing it for cultivation and planting. Tillers help in breaking hard compact soil into loose soil which helps improve aeration and water retention. They also loosen the ground under top soil.
Mini tillers are used for small gardens which do not occupy a large area. Given below are the best mini tillers for small gardens.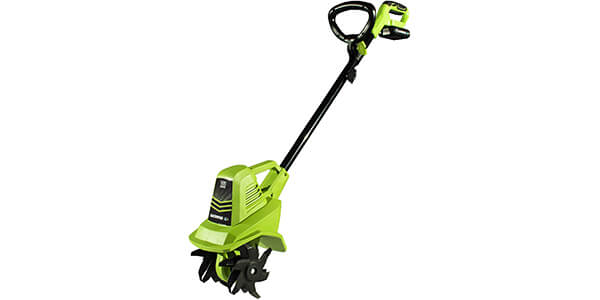 The Earthwise TC70020 20-Volt 7.5 Inch Cordless Electric Tiller is a very functional and effective electric tiller. It does not use any cords which makes tilling hassle free. It is eco-friendly and does not release harmful gases like other gas tillers which can affect the plants and soil.
You can easily loosen soil about 6-7 inches deep. It can even handle clayey soils at a slower pace. This is a suitable tiller for people who want to revive and make use of their home gardens. It lasts about 30-45 minutes on a full charge. It also has a very easy assembly process.
Pros
Affordable
Lightweight
Easy to operate
Eco-friendly
Cordless
Cons
Not suitable for big gardens
This functional tiller is perfect for tilling small home gardens and loosening up the soil.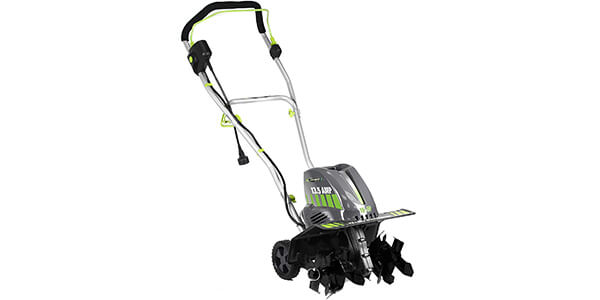 The Earthwise TC70016 16-Inch 13.5 Amp Corded Electric Tiller is another amazing tiller by Earthwise. It has a solid build and works with plenty of power. This tiller is designed to work by plugging it into an extension cord. There is no need of oil and gasoline changes or constant replacement of batteries.
The wheels are adjustable and you can raise them up or down depending on whether you want to till or cultivate. The depth of the tiller can be easily adjusted. The tiller is similar in power and strength to other gas powered tillers.
Pros
Lightweight
Easy to maintain
Good tilling depth
Adjustable wheels
Easy setup
This is a power packed and efficient tiller which also works as a cultivator.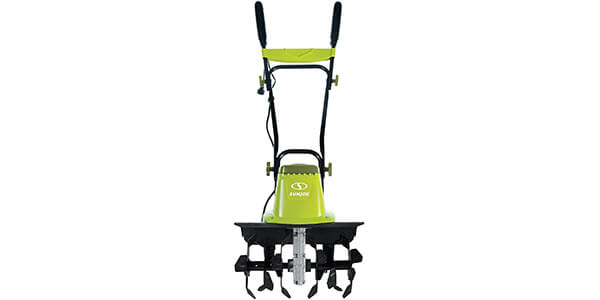 The Sun Joe TJ604E 16-Inch 13.5 Amp Electric Garden Tiller is a very low maintenance tiller. It is pretty lightweight but very powerful. You can easily adjust the wheels manually in 3 positions. The tiller handle is foldable which enables it to be easily stored and transported. The tilling depth is about 6-8 inches.
You can adjust the blade height to till at your desired depth. Since it is electrically powered, it is quite easy to maintain. This tiller is perfect for old people or people who are unable to handle labour intensive tilling because of its ease of operation.
Pros
2 year warranty
Lightweight
Powerful
Adjustable wheels
Foldable handle
If you don't want a high maintenance tiller, this is the one for you.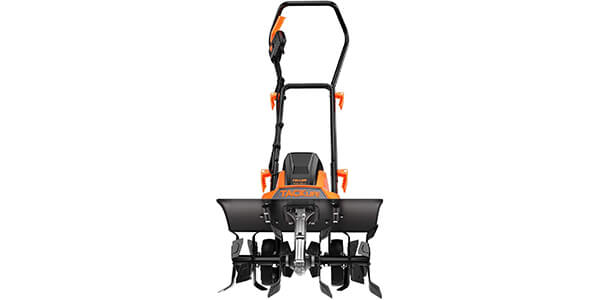 The TACKLIFE 18-Inch Electric Tiller is a powerful and versatile machine. It has a very sturdy and durable design. It requires very little assembly since it comes almost fully assembled. It is compact and portable because of the foldable handle. It is also ergonomic and designed to be less labour intensive.
It offers two different tilling depths which you can choose depending on the type of work. You can also change the number of tines from 6 to 4 depending on the tilling area. This tiller has enough power to cut through dense clayey soils.
Pros
Adjustable tines
Adjustable tilling width
Foldable
Plenty of power
Cons
Instructions aren't very clear
This power packed tiller is suitable for tough and dense soils.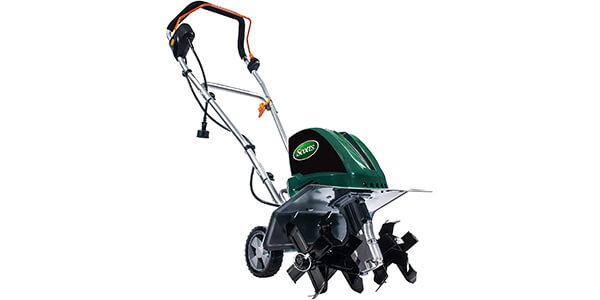 The Scotts Outdoor Power Tools TC70134S 13.5 Amp 16-Inch Corded Tiller is surprisingly powerful for an electric tiller. It has a compact and solid design which is easy to use and operate. There is no need of any complicated assembly procedures. It is eco-friendly and does not release any toxic gases or require any expensive gas refills.
It is less noisy than other gas powered tillers. The tilling width and depth are adjustable. This tiller has a maximum working depth of 8 inches and can easily handle hard, clayey soils. Overall it is a great investment for home owners.
Pros
Powerful
Easy to use
Compact
Eco-friendly
Adjustable tilling options
This tiller is a great investment for amateur and experienced tillers.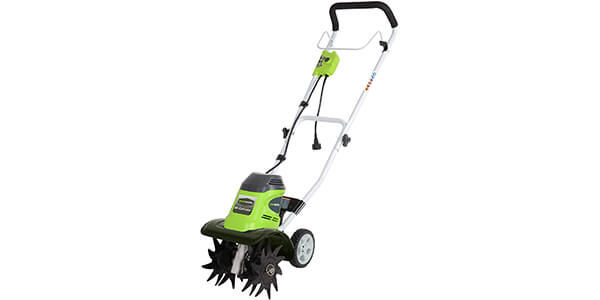 The Greenworks 8 Amp 10-Inch Corded Tiller is an efficient tiller which performs very well. It is very suitable for light to medium labour intensive jobs. It is quite versatile with adjustable wheels. There are two wheel settings for the tilling depth.
It is easy to start and is reasonably quiet while working. The blades are strong and durable and you will probably never need to replace them. This tiller can be used for clearing weeds and prepping the land for planting and cultivating. It also works well in dry and rocky soils.
Pros
Affordable
Lightweight
Adjustable
Not very noisy
Cons
Assembly can be a little confusing
This is a very reasonably priced tiller which does exactly what it claims.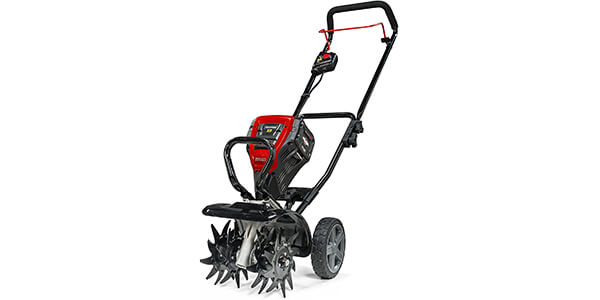 The Snapper XD 82V MAX Cordless Electric Tiller has a solid construction with heavy duty components. It has a super easy setup procedure which does not require any tools. It does not require an extension cord which makes it super easy to maintain and use.
The lithium batteries have plenty of power and can be charged in 30 minutes. The tiller has a good range of adjustability for its tilling width. The metal tines can be easily removed and adjusted according to your working needs.
Pros
Low maintenance
Adjustable tines
Heavy duty construction
Easy setup procedure
Cons
Needs to be charged constantly
This is a super convenient and reliable tiller without any troublesome assembly procedures.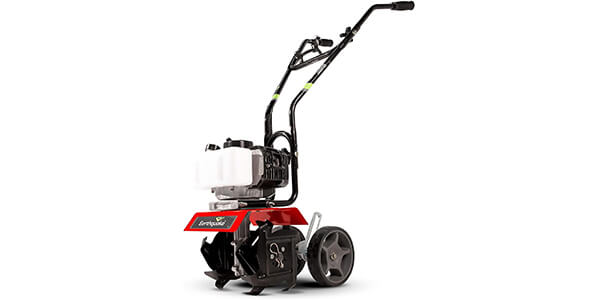 The Earthquake 31635 MC33 Mini Tiller Cultivator is a well designed tiller with a good working efficiency. It is versatile and can be used for many gardening procedures. You can break up your ground in the forward or reverse direction. The wheel height is adjustable and the tines can be removed to minimise the tilling area.
The pull string is on the top and is easily replaceable. The handle is very ergonomic which makes it easy to control the tiller. It comes with a 5 year warranty which is longer than typical warranty periods.
Pros
Easy to operate
5 year warranty
Easy assembly
Adjustable tines
Serves as a cultivator
This tiller has many versatile capabilities and is quite durable.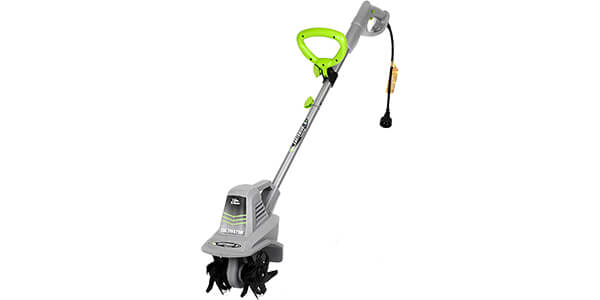 The Earthwise TC70025 7.5 Inch 2.5 Amp Corded Electric Tiller is a very budget friendly and functional tiller. It is easy to maneuver and operate because of its lightweight design. The tines are removable and can be cleaned. The tilling width is perfect for raised beds.
This tiller is very easy to assemble and only requires a few screws. It can easily till loose soils which have small rocks and weeds. It tills pretty well for its size and is suitable for small to medium sized gardens. It has a maximum tilling depth of 6 inches.
Pros
Affordable
Lightweight
Low maintenance
Easy assembly
Cons
Not suitable for heavy tilling
This tiller is lightweight, compact and requires almost no maintenance.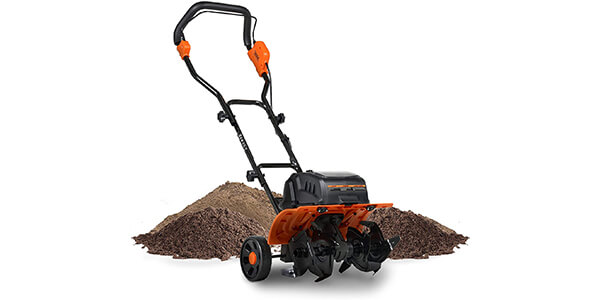 The Super Handy Tiller Cultivator is a very affordable tiller suitable for simple tilling tasks. It is sufficiently quiet and requires less maintenance compared to other gas powered tillers. There is no hassle of cords since this tiller runs on batteries. It comes with two batteries and a charger.
The height of the wheels can be adjusted depending on your comfort level. This tiller helps in even mixing of the soil and makes them fine and pulverized. It has a decent tilling depth which works well for small gardens, lawns and raised beds.
Pros
Affordable
Adjustable
Easy to maneuver
Low maintenance
Cons
Not suitable for clayey soils
This is the perfect tiller for amateur and beginner gardeners.
Frequently Asked Questions
What size tiller do I need for my garden?
It depends on a few factors. The size of your garden is an important factor. Small gardens which are less than 1500 square feet can be tilled using mini tillers. Bigger gardens will require horsepower tillers. It also depends on the kind of soil you want to till. If your garden has hard or clayey soils you will need a powerful tiller with a horsepower engine.
What is the difference between a tiller and a cultivator?
A tiller is concerned with the following functions,
1. Loosening hard, rocky and clayey soils.
2. Digging small and big gardens.
3. Improving aeration and water retention.
A cultivator is concerned with the following functions,
1. Weed control after the plants start growing
2. Stirring in composter or fertilizer to make the soil ready for planting.
What is the best small garden tiller?
Given below are some of the best small garden tillers,
1. Earthwise TC70025 7.5 Inch 2.5 Amp Corded Electric Tiller
2. TACKLIFE 18-Inch Electric Tiller
3. Snapper XD 82V MAX Cordless Electric Tiller
4. Greenworks 8 Amp 10-Inch Corded Tiller
5. Earthquake 31635 MC33 Mini Tiller Cultivator
6. Mantis 4-Cycle 7940 Mini Tiller
Can you plant immediately after tilling?
It is recommended to wait for at least 2-3 weeks after tilling to start planting. This will help restore the balance of microorganisms which maintain the nutrients in the soil. It can take weeks or even months for the nutrients to break down ad become available for absorption by the plants.
How do you till a garden without a tiller?
If you don't have access to a tiller, you can always till by hand using the double digging method. There are also a number of alternative tools you can use. You can use pick axes or mattocks for getting weeds out and digging holes. Pitchforks also work really well if your soil is loose enough. 
Conclusion
There are many good quality mini tillers in the market which are quite affordable and perfect for small gardens. Today we have compiled a list of the best mini tillers for small gardens.