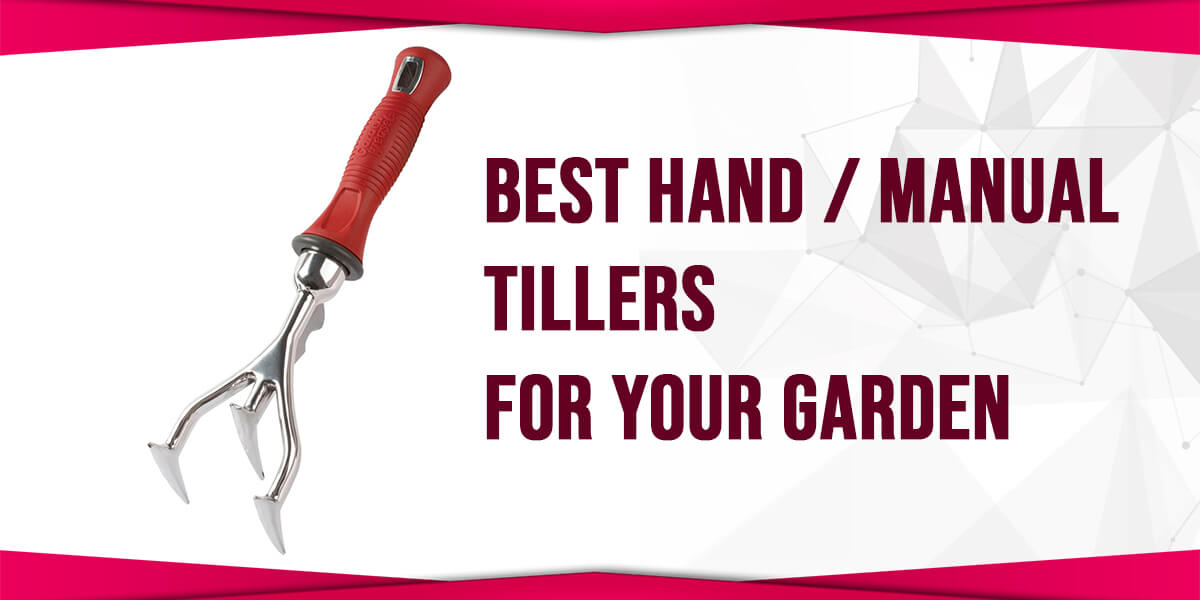 Manual tillers are a great and cheap alternative to electric or other gas powered tillers. Many manual tillers are ergonomically designed to minimise stress and strain. They work better than typical spades or shovels.
These tillers can be used for tilling, weeding, uprooting and many other purposes. Given below are the best manual hand tillers which you can use for your garden.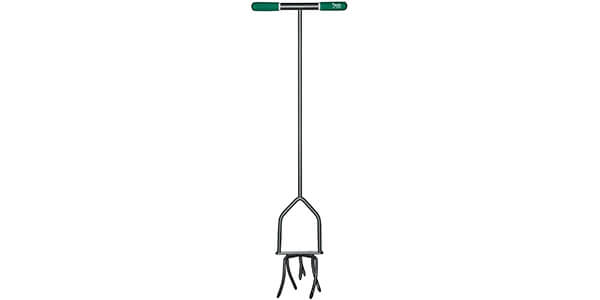 The Yard Butler Heavy duty Manual Twist Tiller is a reliable and high quality steel tiller. It is quite sturdy and easy to grip. The stem of the tiller is long enough to prevent unnecessary bending and straining. The foot plate is a very good bonus feature and helps in maintaining a stable position.
This tiller easily turns, loosens and works the soil and you can go as deep as you want. It is also useful for breaking up old and dry soil for the purposes of planting and cultivation. Weeds can be easily pulled out by their roots with this tiller.
Pros
Affordable
Durable
Easy weeding
Bonus foot plate
Long stem
Cons
Handle could be more ergonomically positioned
This manual tiller is reasonably priced and can make your garden work easier.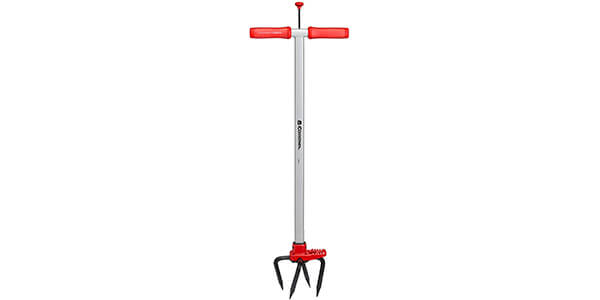 The LG 3624 Soil Ripper is a very sturdy and heavy duty ripper which also works as a manual tiller. It has a very solid and durable construction and does not break easily. The steel tines are thick and sharp which makes it very effective for ripping through unwanted weeds and roots.
This tiller has a foot rest which can be used to exert extra digging pressure. You can use this tiller to mix in fertilizers and compost along with other light tilling tasks. It has a plunger which helps in pushing out clogged or accumulated dirt within the tiller.
Pros
Affordable
Sharp steel tines
Solid construction
Durable
Bonus plunger
You can get rid of all your troublesome weeds with the help of this tiller.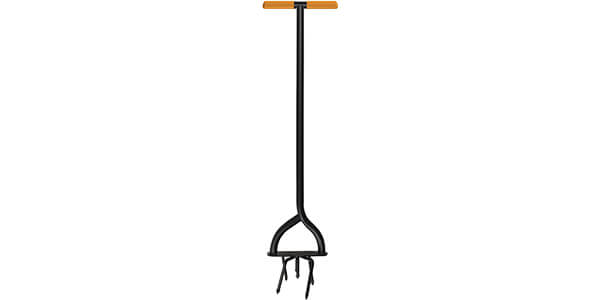 The Fiskars 40 Inch Long Handle Steel Tiller is a very budget friendly tiller which performs surprisingly well for its price. It has a durable build and does not easily bend or break. It is lightweight and has a long shaft for strain free tilling.
The center bar at the bottom helps you to drive the stake deeper into the ground. It works well in clayey soils and helps in loosening up hard, dry and compact soils. It is a great alternative to shovels and rakes which tend to be very labour intensive.
Pros
Budget friendly
Lightweight
Durable
Long shaft
Cons
Could use a longer handle
This tiller is suitable for light tilling and soil prepping.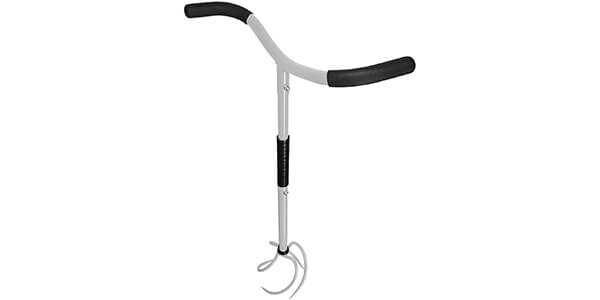 The Giading Twist Tiller is a unique and functional tiller specially designed for manual tilling. It is very ergonomic and this is reflected in the way it is constructed. The assembly procedure is very simple and the instructions are easy to follow.
The tines are sharp and have anti-rust treatment to make them last longer. The arrangement of the spiral tines makes it easy to dig into the ground by twisting and turning. You can work this tiller using both hands as it comes with a long S shaped handle.
Pros
Affordable
Ergonomic handle
Adjustable height
Sharp tines
Heavy duty construction
This tiller has an efficient and ergonomic design and requires only a simple assembly.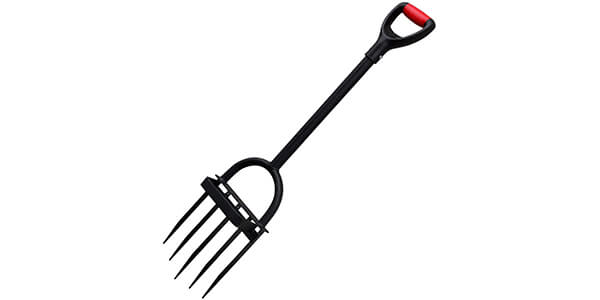 The Zcaukya 4-Tine Garden Digging Fork Claw Twist Tiller is a manual tiller which is shaped in the form of a large fork. It has a solid metal construction with good welds. It is also pretty lightweight which makes it easy to carry and handle.
The rubber grip on the handle helps in reducing stress and pressure on your hands. This tiller has 5 sharp arrow tipped tines which break up the soil very effectively. It is excellent for pulling crab grass down to the root. You can also use this for harvesting vegetables.
Pros
Affordable
Sturdy construction
Rubber grip
Sharp tines
Lightweight
You can use this tiller for multiple purposes including cultivating and harvesting.
The Yard Butler 32 To 52 Inch Adjustable Steel Handheld Tiller is simple and easy to operate. It does not require any assembly since it comes fully assembled. Instead of stationary tines, this tiller has bladed wheels which rotate. The handle is also height adjustable and it has a good range of adjustability from 32 to 52 inches.
The blades are removable and you can customize their number. This also enables easy washing of the blades. This tiller makes weeding and aeration of gardens very easy. It is also suitable for small cultivation jobs.
Pros
Budget friendly
Height adjustable
Removable blades
No assembly
Cons
Parts are quite loose
Not suitable for hard soils
This tiller has many adjustable features which you can take advantage of.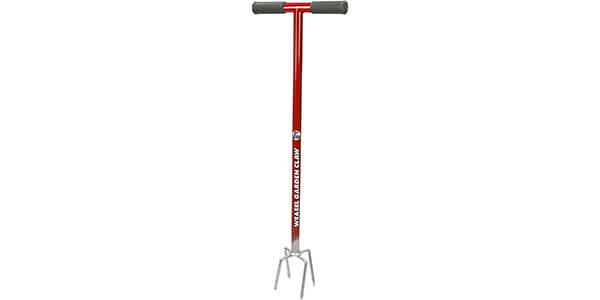 The Garden Weasel Garden Claw is a versatile tool suitable for multiple purposes including tilling. It is a good inexpensive alternative to other powered tillers and small tools. It comes fully assembled and is very sturdy and well built. The handles have grips which make it easy to turn into the soil.
The shaft is sufficiently long and prevents straining and back discomfort. This tiller easily breaks soils and loosens weeds. You can prepare small garden spaces and flower beds for planting. You can also use this to turn compost and mix in fertilizers.
Pros
Budget friendly
Long shaft
Sturdy
Durable
Well designed claws
Cons
Not suitable for tilling large areas
This is a very effective and efficient tiller with many capabilities.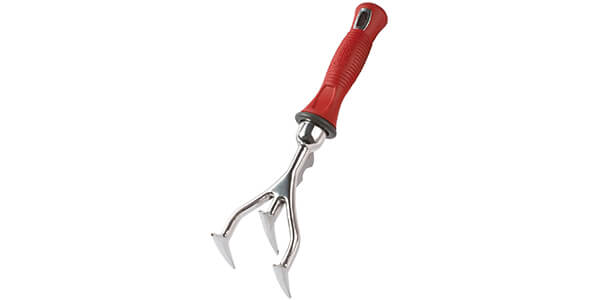 The Garden Weasel Tiller is another great tiller by Garden Weasel. It has a simple design without any complicated parts. It is super lightweight and very comfortable on the hands because of its rubberized grip. It is also engineered to withstand rough weather conditions.
The sharp metal prongs are designed to deeply penetrate and break up hard and compact soils. This tiller is suitable for precise weeding and tilling in specific spots. It is also super easy to clean and store because of its compact size. It is also one of the most affordable tillers in the market.
Pros
Super affordable
Lightweight
Comfortable grip
Easy to clean
Sharp metal prongs
This is a very budget friendly tiller which serves its purpose very well.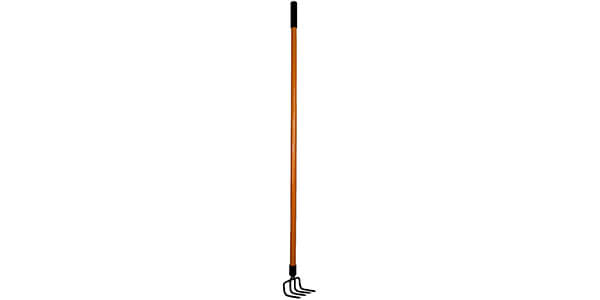 The Ashman Hand Tiller/Cultivator is designed for both tilling and cultivating. The shaft is long and lightweight but very solid and sturdy. The rubber grip prevents slipping and minimizes pressure on your hands. The individual tines of the fork have an L shape which allows for maximum penetration into the soil.
The blades have anti-rust treatment and are very durable. This tiller is designed to make tilling and yard work less labour intensive. It is useful for weeding and uprooting along with loosening garden beds. It can easily tear through clayey or dry, compacted soils.
Pros
Lightweight
Rubber grip
Long shaft
Budget friendly
Strong tines
This is a well designed tiller which is reliable and effective for tough work.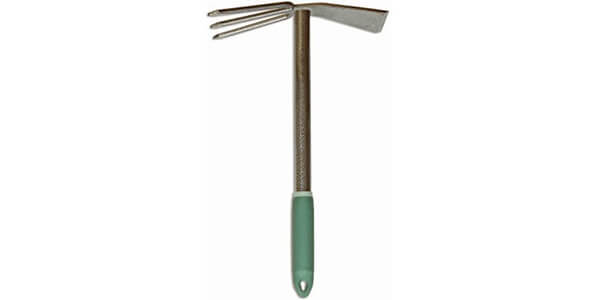 The Yard Butler Terra Tiller is a multipurpose tool with a unique design. It is constructed from heavy duty steel which is very durable. It has a comfortable rubber handle which is easy to grip. You get three steel prongs on one side and a single thick blade on the other side.
This tiller easily uproots tough and troublesome weeds with ease. The single blade can be used for digging holes while planting. This is a great tool to add to your gardening collection and is suitable for both professionals and home gardeners.
Pros
Affordable
Heavy duty
Serves multiple gardening purposes
Two types of blades
Cons
Rubber grip tends to slide
This tiller will last you a very long time because of its durability.
Frequently Asked Questions
Do manual tillers work?
Yes manual tillers can work well if you get a well designed one. You should also look out for other factors like the size of the tiller, material and quality of the blades or tines. Tillers with a metal construction are better choices than wooden ones as they do not break easily.
How do you till your yard by hand?
You can use the double digging method to till your yard by hand. These are the steps in double digging.
1. Mark out the area which you want to till.
2. Once you have decided the plot, measure about 2 feet back. Dig out this area and place the soil to one side.
3. Continue digging till you reach a depth of 5-6 inches.
4. Fork over the bottom of the trench. Add organic matter or compost.
5. Measure another 2 feet from the previous position. Dig out the soil and place on top of the first trench.
6. Continue repeating this process.
Why is tilling soil bad?
Here are a few reasons why tilling soil is bad,
1. Tilling lifts and loosens the soil which makes it susceptible to erosion.
2. Tilling can damage beneficial organisms and insects which play a vital role in improving the soil.
3. It can affect surface water quality
4. It can affect soil structure and contribute to surface run off.
When should I start tilling my garden?
The best time to till a new garden is in the spring time when the soil is dry and loose. It is easier to add in organic matter and compost. Tilling wet soil can do more harm than good. It affects soil structure and this can prove to be harmful for plant growth.
Conclusion
If you don't have money for expensive gas powered or electric tillers, you can always purchase an affordable manual tiller. We have compiled a list of the best manual tillers you can use for your garden.