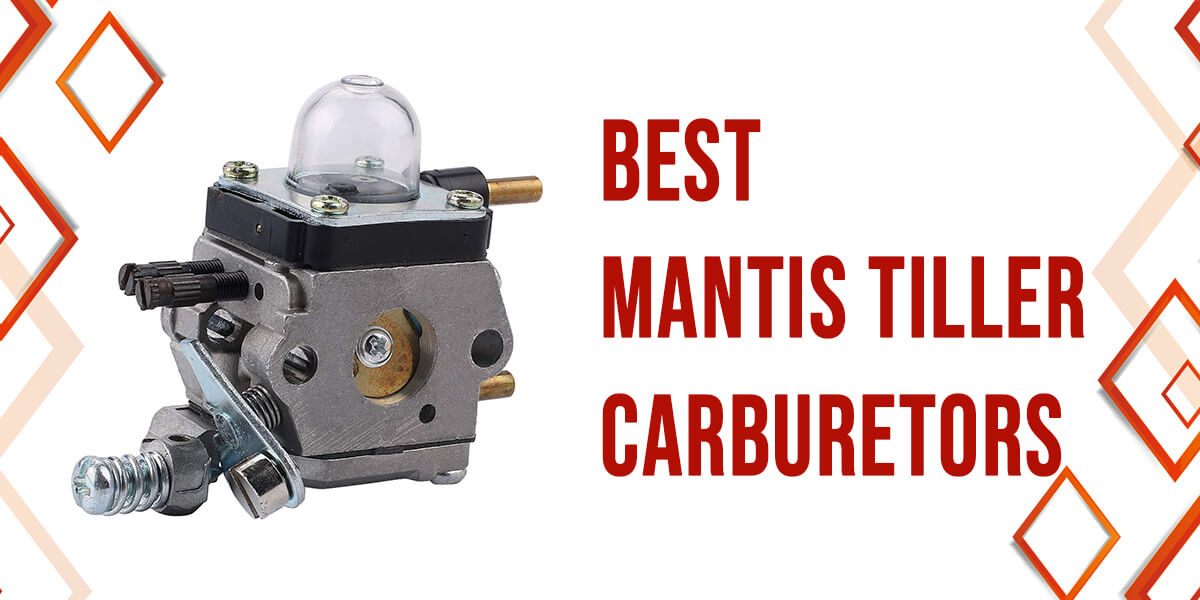 Carburetors are essential for maintaining a proper fuel/air ratio for internal combustion inside an internal combustion engine. If your Mantis tiller has stopped working, it is probably time to get a new replacement carburetor.
There are many affordable carburetors available online, including kits which include all the necessary fitting parts. You don't even have to waste your money buying a new tiller. Given below are the best Mantis tiller carburetors.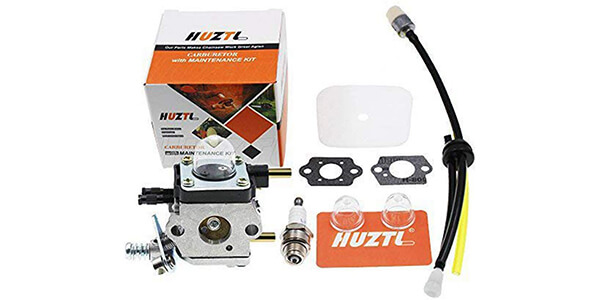 The HUZTL C1U-K54A Carburetor Repower Kit is a very affordable carburetor kit for Mantis tillers. This carburetor is compatible with many Mantis tiller models. The kit includes all the necessary parts to set up the carburetor including additional parts like a spark plug and grommet. There are 2 carburetor caskets to fit on each side of the air filter housing.
This carburetor will work on any small 2 stroke engine. It requires very few tools to set up and the installation process takes about 15-30 minutes. The new parts can be easily replaced with only a few adjustments. The parts are finished nicely and have good quality for the price. Once you install the carburetor, the motor starts right away.
Pros
Very affordable
Extra parts
Easy installation
Compatible with many models
Few adjustments
This carburetor is very compatible and fits in easily with the other parts.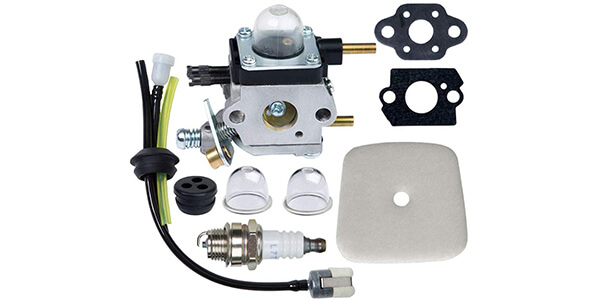 The HOODELL C1U-K82 C1U-K54A Carburetor For Mantis Tiller is the perfect replacement for your old carburetor. It does a great job at reviving old Mantis tillers which have stopped working. This kit is an inexpensive alternative to buying a new carburetor from a shop or repairing the engine. The extra fitting parts fit in easily with only a couple of adjustments.
The high and low screws of the carburetor are easily adjustable. The fuel line easily connects to the carburetor intake port. This kit comes with extra priming buttons to prime the filter. All the castings are done well and the jets are well adjusted. The installation is very simple and can be done in a short period of time.
Pros
Affordable
Good quality parts
Easy installation
Few adjustments
Cons
Instructions are not very clear
This kit will instantly start up your old Mantis tiller.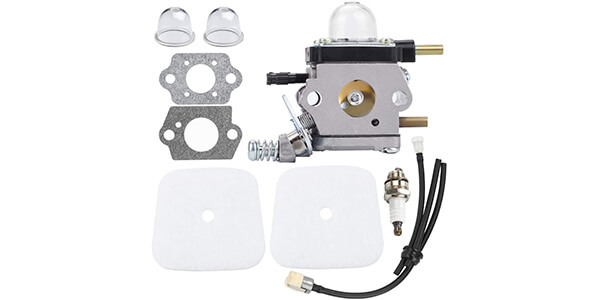 The Hipa C1U-K54A Carburetor With Air Filter Repower Kit is just what your old tiller needs. This carburetor kit serves as a replacement not only for Mantis tiller models but also Echo tillers. You can even use this for Mantis cultivators. You get an extra fuel line in case of defect or loss. You also get extra priming bulbs which are handy and useful.
All the parts are held together by 2 screws. Installing the unit is easy and takes about 15-20 minutes. You don't need to be a mechanical expert to set this up. Apart from a few tweaks here and there like trimming the air filter and adjusting the idle screw, there are no other major adjustments.
Pros
Very budget friendly
Can be used for cultivators
Extra spare parts
Time friendly installation
Cons
Does not come with instructions
This carburetor will get your tiller working with minimal effort.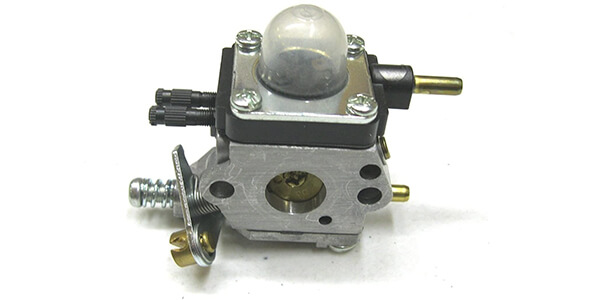 The Zama Genuine Carburetor C1U-K54A For Mantis Tiller is a high quality carburetor. It is a little on the pricey side but a much better investment than other cheap or poorly constructed carburetors. This carburetor works with 2 cycle engines and fits all 2 cycle Mantis tillers. It comes pre-tuned so you don't have to spend time tuning it.
The red and white plastic parts of the carburetor go over the adjustment screws to lock them in place. You can make a fast and easy engine repair with this carburetor which will save you time and money. All the instructions are clear and easy to follow. All the jets are pre-set and the carburetor settings are perfectly set.
Pros
High quality
Easily fits in place
Pre-tuned settings
Clear instructions
Fast installation
Cons
Little expensive
No spare parts
This is a premium carburetor which will easily replace a defective one.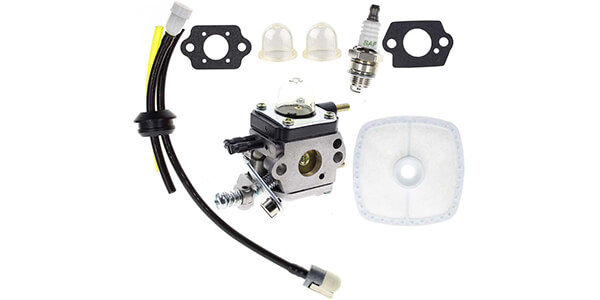 The Carbhub C1U-K54A Carburetor For 2 Cycle Mantis Tiller/Cultivator is a good all rounder kit which will definitely fit in your budget. Instead of rebuilding your old carburetor, you can get this kit which will save you time and money. It easily revives old Mantis tillers which don't work or start. This carburetor works best with premium no Ethanol fuel.
All the compatible models and parts are neatly displayed on the product page. The carburetor does not need any adjustments and works exactly as advertised. The only other adjustment required is drilling the tank hole to fit the new grommet. Your tiller will start on the first pull without any delay.
Pros
Very affordable
Easy installation
Tiller starts instantly
Very few adjustments
This caburetor will save your precious time and money.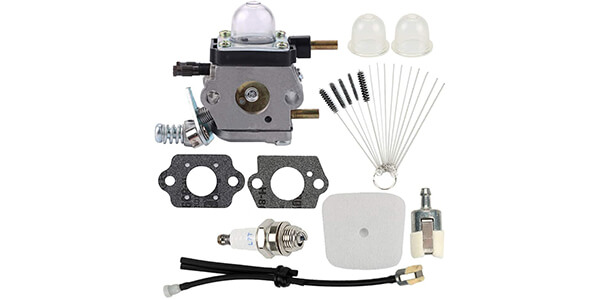 The Powtol C1U-K54A Carburetor For 2 Cycle Mantis Tiller will restore the condition of your old tiller. It works with many models of the Mantis and Echo tillers. The carburetor comes with all the fitting parts including a bonus cleaning kit with nylon brushes. This carburetor can be easily set up by people who have never rebuilt or replaced a carburetor.
It is quite easy to assemble and bolt on the different parts. The replacement carburetor is great and works like a charm. It allows you to adjust the fuel/air ratio for smooth running. This is also much cheaper than buying a carburetor from your local store. The motor starts easily on the second or third pull.
Pros
Affordable
Operates well
Very few adjustments
Easy installation
Cons
Filter feels a little cheap
This kit includes many bonus parts and the carburetor functions perfectly.
Frequently Asked Questions
How do you fix a Mantis tiller carburettor?
You can easily get a replacement carburetor or get a carburetor kit which includes all the necessary parts. You first remove the air filter and loosen the two screws holding the old carburetor in place. You also slip the throttle cable of the carburettor. You can then use the gasket with 4 small holes to align with the small hole in the new carburetor and the two screw holes. Make sure you connect the two hoses from the gas tank to the new carburetor. Then you should put gas in the Mantis gas tank and prime the carburetor.
How much compression should a Mantis tiller have?
Most of the Mantis tillers have a compression of 120-150 PSI depending upon the model. It will definitely have a minimum compression of 100 PSI. Poor compression is due to bad rings, pistons or cylinders. You can use a compression gauge to measure the compression. It is always good to test with multiple compression gauges.
How do you adjust the throttle cable on Mantis tiller?
The throttle cable has a triangular metal piece at its end. This should be in contact with the idle screw located to the left of the triangle. If no contact takes place, you will need to adjust the throttle cable. You can use a wrench to loosen the nut which holds the throttle cable in place. Slide the throttle cable down until the metal triangle is touching the idle screw. You can also push it up if the cable is too loose.
How do you check a Mantis tiller ignition coil?
You must first check the kill switch before you check the coil. Slide the boot on the plug and hold it against the block. A big blue spark indicates that your ignition coil is functioning properly. If the spark is a dull yellow colour, you need to get a new ignition coil. You must make sure your kill switch is unplugged during the entire process.
Conclusion
You don't have to spend a ton of money on tiller repairing or getting a new carburetor installed. Instead you can always opt for affordable and good quality carburetors online. Most of these are easily installable and you don't need any prior experience. We have compiled a list of the best Mantis tiller carburetors to make your search easier.