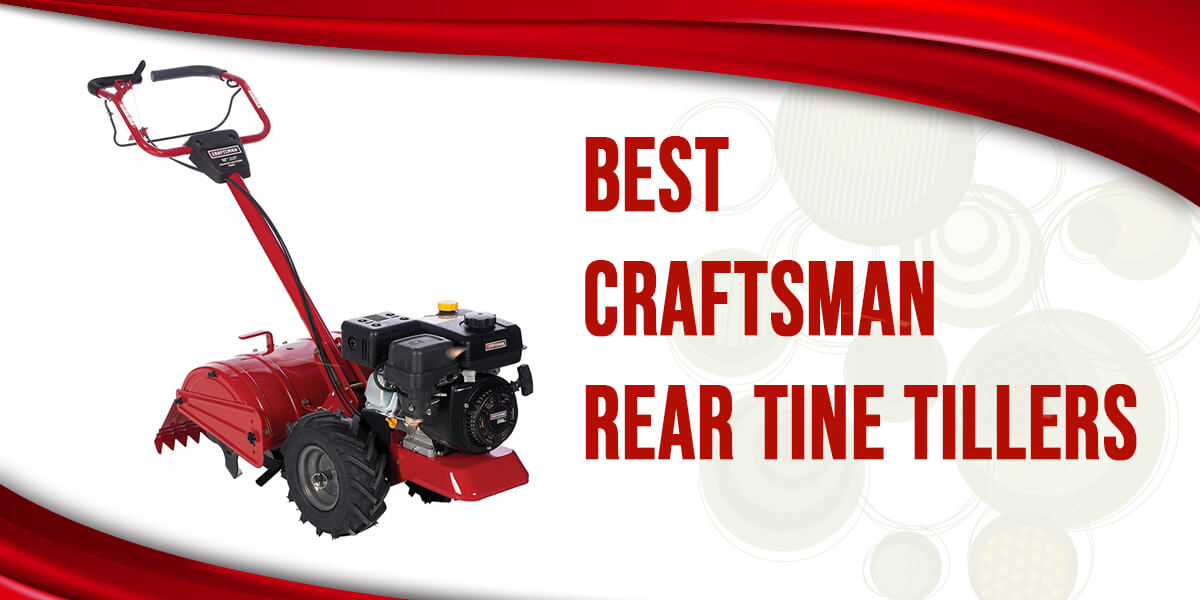 Rear tine tillers tend to be larger than other mini tillers. They are generally used for professional tilling in cases of large garden plots. They have heavy duty tines which offer a considerably deep tilling depth.
Craftsman rear tine tillers are easy to operate and have good power efficiency. They also have large wheels which can have a reverse feature. Given below are the best Craftsman rear tine tillers.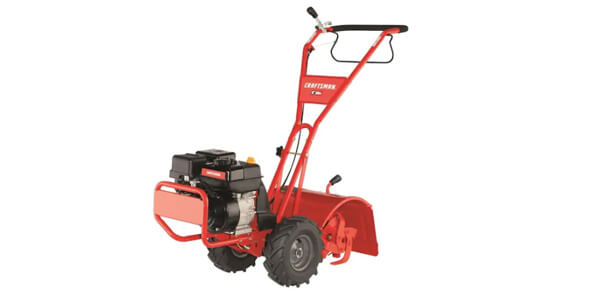 The Craftsman 208 CC 16 Inch Rear Tine Counter-Rotating Tiller is a well built and well constructed rear tine tiller. It is made from heavy duty parts and has protective features like a front bumper to prevent damage. The handle is broad and convenient for easy maneuvering.
The tilling depth is adjustable and goes up to a maximum of 16 inches. The tiller can be used for large scale and heavy tilling. The wheels are counter rotating – you can operate it both forwards and backwards. The user manual is very informative and clear about the method of operation.
Pros
Good tilling depth
Not labour intensive
Easy to maneuver
Well built
Protective bumper
This is a premium tiller and can meet your garden's tilling demands.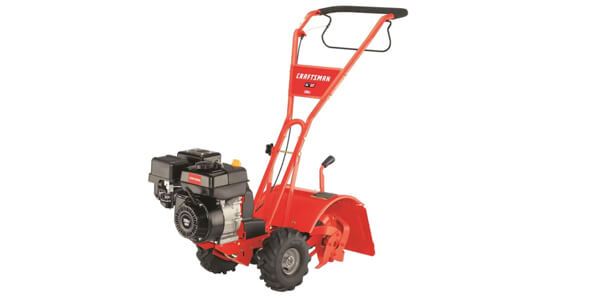 The Craftsman 208 CC 14 Inch Rear Tine Counter-Rotating Tiller is a powerful and ground breaking tiller. It is well built and starts easily without any delay. This tiller can easily till through tough, compact and clayey soils with minimal effort. It serves as a good replacement for front line tillers as it meets extra labour demands.
It has a good size which is suitable for people of all heights. The 10 steel tines are sharp and strong and easily cut through the hard ground. It is not labour intensive as the tiller does all the work for you – all you have to do is guide it.
Pros
Powerful
Suitable for tough and clayey soils
Sharp tines
Good tilling depth
This powerful tiller can easily till through troublesome soils.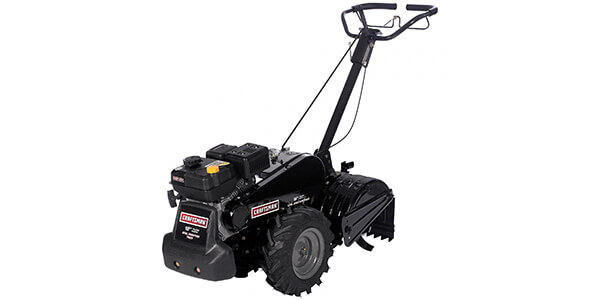 The Craftsman 29932 18'' 208 CC Dual Rotating Tine Tiller is a professional tiller which serves its purpose very well. It has a tilling depth of 18 inches which is deeper than most standard tillers. The durable steel tines can easily cut through small roots and weeds which might be present in the soil.
This tiller has a very thought out design which involves protective features and enables comfortable maneuvering. The wheels have forward and reverse operations along with a useful locking feature. You can adjust the tilling width according to the tilling requirements of the area.
Pros
Deep tilling width
Easy to operate
Ergonomic design
Dual rotating wheels
Protective side shields
This tiller is an excellent investment for large gardens.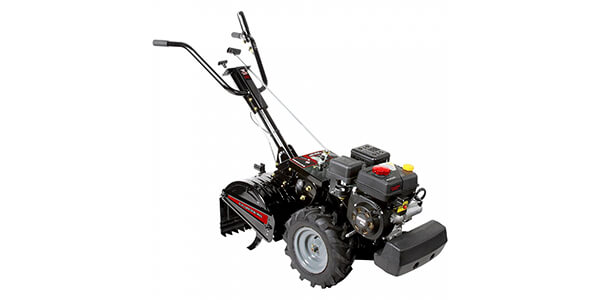 The Craftsman 208 CC Dual Rotating Rear Tine Tiller With Electric Start is an efficient and reliable tiller for all your tilling needs. You can use this for a wide variety of tasks including prepping and maintaining soil beds. You can also use this to mix in fertilizer and compost.
This tiller does not vibrate too much and is not difficult to control. It requires almost no assembly and comes with an informative instruction manual. The handle is adjustable in 3 different positions and its length is also adjustable. You get protective features for your leg and feet including side shields.
Pros
Multiple purposes
Adjustable handle
Easy to operate
Dual rotation
This tiller has many functional features with a good range of adjustability.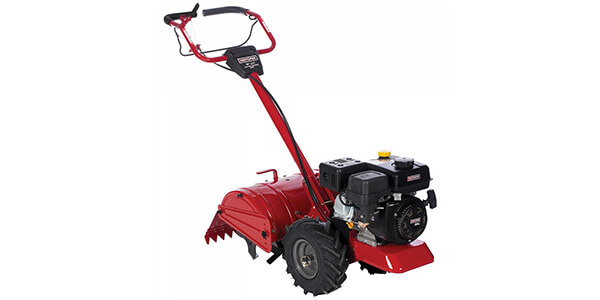 The Craftsman 29931 205 CC Counter-Rotating Rear Tine Tiller is a functional and powerful rear tine tiller. It can be used to till the ground with ease. The assembly procedure is very simple and straightforward. The tiller has an ergonomic handle with a good range of adjustability.
The tilling depth ranges from 6 to 18 inches. It has great coverage area capabilities and can be used for large plots. The reverse gear is functional and easy to operate. The tiller is not difficult to maintain and can be handled without any complications. The 4 tines are heavy duty and durable.
Pros
Good tilling depth
Adjustable features
Easy to operate
Simple assembly
This tiller is suitable for large scale tilling in large plots of land.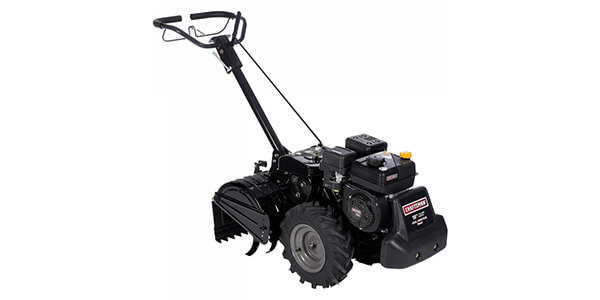 The Craftsman 205 CC Dual Rotating Rear Tine Tiller is a versatile and reliable tiller which makes tilling very effortless. It has a well designed transmission and works with plenty of power. The depth settings are easy to adjust and the reverse gear shifts smoothly. The front counterweight contributes to better balance of the tiller.
All the tough tilling tasks can be easily completed by this tiller. It can easily till through dense and clayey soils with weeds. There are two safety shields on the side for protection. The large flexible handle makes it easy to maneuver and till specific areas.
Pros
Can handle tough soils
Good power
Easy to operate
Easily adjustable depth
You should get this tiller for a hassle free tilling experience.
Frequently Asked Questions
Who makes Craftsman rototillers?
Craftsman tillers are manufactured by Echo. Echo manufactures professional outdoor power equipment and appliances like tillers, chainsaws, trimmers, blowers and other equipment. Along with Echo, Keyang also manufactures Craftsman tillers. Keyang is a Korean manufacturing company which specializes in power tools. MTD based in Japan also manufactures such tillers.
Is Craftsman the same as Troy Bilt?
There are a few differences between the two. The Craftsman name is now owned by Stanley, Black and Decker. Troy Bilt is completely owned by MTD. Only some Craftsman products are manufactured by MTD. They also have different services and distribution procedures. Troy Bilt uses local dealers and service centres to repair your products.
Who owns Craftsman tillers now?
The Craftsman brand was originally established by Sears. Sears is an American chain of department stores which specializes in appliances, tools and other household commodities. Craftsman is now owned by Stanley, Black and Decker which is a global tool manufacturer. They purchased the Craftsman brand from Sears for about 900 million US dollars.
Is Craftsman a good brand?
Craftsman is a major competitor in the market when it comes to tools and appliances. Their products are reasonably priced which appeals to a lot of people. Originally Craftsman was known for their versatile, durable and good quality power tools which offered a lifetime warranty. Some are of the opinion that their quality has declined over time because they moved their manufacturing process to China and other countries. They also stopped offering lifelong warranty on their products. While they are still great for amateur and mid range operations, people recommend other brands like Dewalt for professionals.
What is better, Craftsman or Kobalt?
Both Craftsman and Kobalt have their differences despite being similar in a lot of areas.
Majority of Kobalt tools are powered by lithium ion batteries. Craftsman offers corded, gas powered and battery powered versions of tools.
Kobalt products tend to be a little more expensive than Craftsman products. Kobalt products also tend to be more durable.
Overall Kobalt tools last longer and are said to have better construction quality. Craftsman tools are not bad but could be better at durability. If you are an amateur or beginner Craftsman tools are suitable since they are reasonably priced.
Are Craftsman tools made in China?
Majority of the Craftsman tools are made in China and it takes up a big percentage of the manufacturing. This is mainly because of lower startup costs and cheap tooling and molding procedures. The fixtures and parts are manufactured for low prices. However some of the tools and products are still manufactured in USA.
Are any Craftsman tools made in the USA?
Yes, some Craftsman tools are still manufactured in the USA. There are more than 20 Craftsman manufacturing locations in the USA. Craftsman uses a manufacturer called Western Forge to make tools like screwdrivers, adjustable wrenches and other big mechanical tool sets. Craftsman mentions if something is manufactured in the USA in the product description.
Is Craftsman coming back to the USA?
Craftsman is currently expanding its tool production with US manufacturers. They have established a new manufacturing plant in Texas which will take on the manufacturing of wrenches, ratchets and sockets. Although a good portion of manufacturing will still continue in other countries like China, Craftsman is aiming at manufacturing more tools in the USA.
Conclusion
Craftsman is a well reputed brand and they have some of the best rear tine tillers in the market. To help you select the best, we have compiled a list of the best Craftsman rear tine tillers.