Weeds are inevitable and would definitely grow wherever there's an exposure to sunlight and water. You'd notice them in and around your vegetation, sidewalks and even creeping through edges and cracks. And it's a tough job to get rid of them, once and for all. But you can prevent them from growing again and again by using some of the best weed pullers discussed in this article.
It's a taxing job to kill the weeds and weed pullers are the best to get the job done. They're built with durable material and last up to several seasons. You can easily use them whenever you see any unwanted bush forming, you simply have to pluck them around the area and remove the weeds using these weeders. Check out the best weed pullers of 2022 below: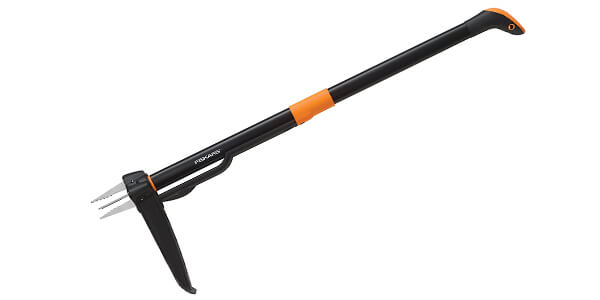 The Fiskars 339950-1001 is built with 4 serrated and stainless steel claws which makes the weed removal process easy and effective. It helps in removing weeds from their roots, be it dandelions, thistles or any other invasive weed. It also comes with a strong foot platform which lets you easily get the job done while standing up. It also has an in-built eject mechanism on the handle which helps in easier clean-up. It comes in a 39 inches length with full lifetime warranty.
Pros
4 claws
Effective weed puller
Easy-eject mechanism
Lifetime warranty
39 inches long handle
Cons
Doesn't work on concrete driveway
It is a well-designed and easy to clean weed puller which is built with a strong hold 4 claw design that lets you easily remove weeds.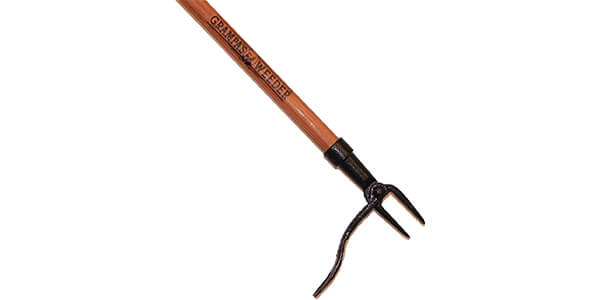 The Grampa's Original Weeder is another stand-up weed puller which is built with an upgraded 4-claw steelhead design which effectively removes any persistent weeds from their roots. It is constructed with a 45" long bamboo handle which is highly durable and best for people with backache issues. You can access an immediate solution by simply centering the tool over weed, stepping and pressing on the handle and letting the lever work its way.
Pros
Upgraded 4-claw steel handle design
Easy to use
No backache issue
40" Bamboo handle
Works in any soil type
Cons
Doesn't remove weeds from cracks on sidewalks and patio
It is thoughtfully constructed weeding tool for people with back problems which is easier to use with its 45" long bamboo handle.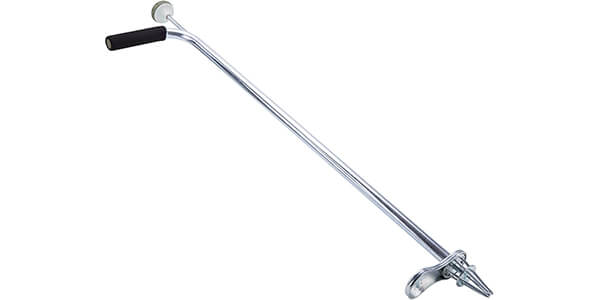 The Worth Garden Weeder is also a stand-up ergonomic weed puller with a sturdy 33'" tall handle and foot pedal. The built-design is easily accessible without having to bend over and the foot pedal works by letting you put pressure for easy weed removal. It has a pointed 5-claw design which is suitable for any soil type including hard soils. It is built with a long-lasting durable steel body with zinc plated and foamed handle for longer operational use.
Pros
Ergonomic and padded foam handle
Durable material
5-claw sturdy design
Includes 3 year warranty
Works on any soil type
Cons
Might not work with big weeds
It is built with a 5-claw sturdy design with a steel body which is highly durable and the tool is easy to use.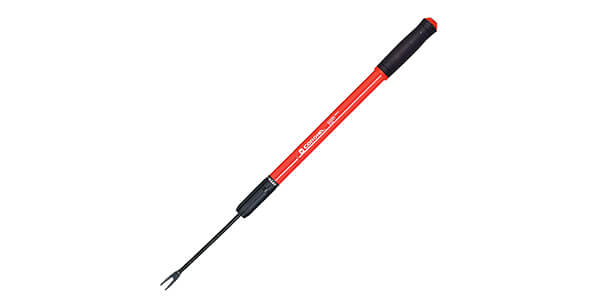 The Corona GT 3040 is a very lightweight and easy to carry weed puller built with an adjustable handle design which can go from 18" to 32" for better reach. The head of the tool is completely heat-treated for better durability. It has a soft and comfortable textured grip which makes your gardening experience easier. It also has a hanging ring design which makes a good option for convenient storage.
Pros
Easier sturdy grip
Extendable design
Heat-treated head
18" to 32" adjustable handle
Lightweight and easy to store
Cons
Little issues with extending
It is a rake-like designed weed puller which is built with an extendable handle design suitable for better reach and easier gardening.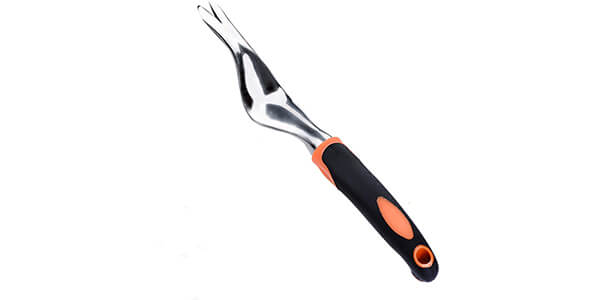 The GANCHUN Hand Weeder is built with premium aluminium alloy material which is highly durable and sturdy and completely rust-resistant. It is designed with an ergonomic handle which comes with a whole design and doesn't come off easily and suitable for wrist movements. The easy to use design constructed from a curved metal base and pointed fork tip makes it a practical gardening tool. It has a 12" length with lightweight structure and hang-hole for convenient usage and storage.
Pros
Works with tough weeds
Compact lightweight design
Hang hole for storage
Durable sturdy aluminium alloy material
Comfortable handle grip
Cons
Can't be used while standing
It is a sturdy, durable and lightweight hand weed puller which comes with a bright colour which is easy to spot and is built from a premium quality material.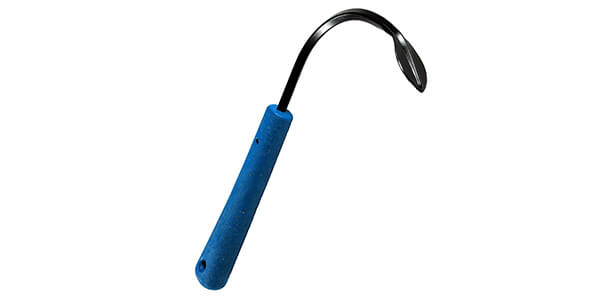 The CobraHead Original is a versatile and multipurpose gardening tool which can be used for digging, edging, planting, tilling, and weeding, everything at the same time. The forged tempered steel blade and curved head design is suitable for ploughing through any soil type. It also has a recycled plastic handle which is comfortable to grip and made for both left and right-hand use. The handle and design gives an option for precise cutting without sacrificing on durability.
Pros
Versatile multipurpose tool
Blade design
Curved head
Recycled plastic handle
Durable and sturdy material
Cons
Not suitable for standing usage
It is an extremely sturdy, powerful and versatile tool which can be used for several gardening processes and it is built with a self-sharpening blade design.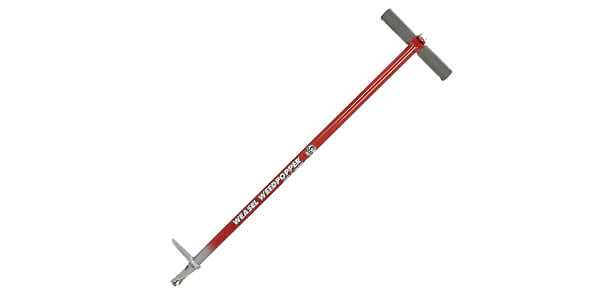 The Garden Weasel Step & Twist Weeder is another ergonomically designed and effective standing weeder which is 36" tall. It is very easy to use with the push, twist and extractable design handle. It also features a convenient thumb release system which is suitable for easy clean-up. It is highly effective on any weeds including dandelions and crabgrass, and can also be used for planting flowers. The weeder is made with strong carbon steel which is weather and rust-resistant and highly durable.
Pros
Strong durable material
Multipurpose use
36" tall
Thumb release mechanism
Easy to use design
Cons
Doesn't remove weeds from small cracks
It is built with a 36" tall step and twist design which is convenient and easy to operate and is built with durable carbon steel material.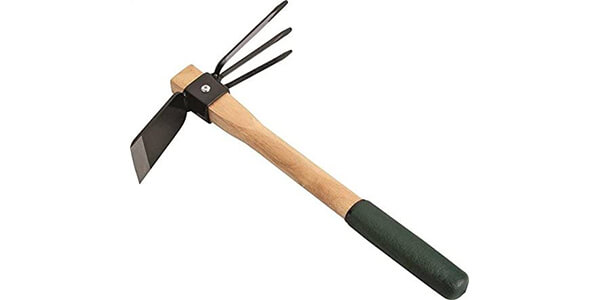 The Edward Tools Hoe & Cultivator is another multi purpose gardening tool which is suitable for cultivating, loosening soil, weeding and digging. It is built with a heavy-duty handle which has rubber ergo grip for easier access. The carbon steel blades and head work great for eliminating any persistent weed. The material used is strong solid oak which is highly sturdy and durable. It also comes with a life-time warranty and is a perfect tool for gardening.
Pros
Heavy-duty steel blade and head
Multipurpose design
Solid oak material
Sturdy and easy to hold
Easy to use
Cons
Bending issues with prongs
It is a multipurpose gardening tool which can be used as a tiller, cultivator and weeder at the same time and the grip handle and solid oak body ensures sturdiness and durability.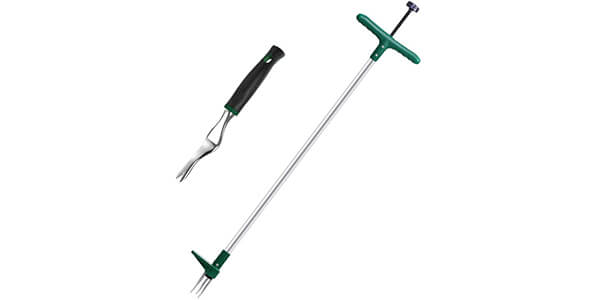 The Walensee Stand Up Weed Puller is a combo pack of both a hand weeder and standing weed puller, both of which are highly effective and practical. The stand-up weed puller has 3-claw built with stainless steel and comes with a strong foot pedal. The design of both ensure strong hold and effective grass removal easily for different soil types. You can effortlessly use the stand-up 39" weed puller which comes with a push button mechanism for easy removing and cleaning.
Pros
Combo hand and stand-up weed puller
Effective and sturdy
Durable steel material
Push-button cleaning mechanism
Easy to operate
Cons
Not suitable for large rooted weeds
It is a combo pack of two weed pullers which comes with 100% warranty and works great for removing weeds in different soil types.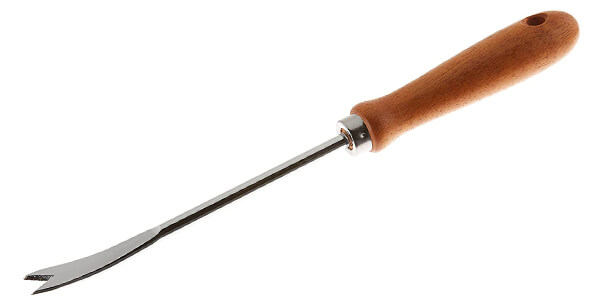 The Seymour 41035 is a highly effective weed puller built with a wood body which is durable and easy to grip on. It is a great tool for removing dandelions from your garden for satisfying results. It is a very compact and lightweight tool which also has a hole in the handle to hand the tool easily while it's not in use. The steel head provides extraordinary grip over any persistent weed.
Pros
Wood handle
Steelhead
Compact and lightweight
Easy to store
Best for removing dandelions
Cons
May not work in clay soil
It is a compact and easy to use dandelion removing weed puller which is study and durable which comes within an affordable rate.
Frequently Asked Questions
Do dandelion pullers work?
Yes, most of the well-designed dandelion pullers work great for pulling out unnecessary weeds including the onion grass. They also help in loosening up the rocks that get stuck into the soil. And these are used in the same way as any other weeder or weed pullers irrespective of what kind of weed and rock you're trying to pull out of the ground. 
What is the best tool for removing weeds?
The choice of the best tool depends on what type of weeds you're trying to remove. Some of the best tools for easily removing weeds includes:
1. Edward Tools Weeding Tool: For removing dandelion 
2. Radius Garden 102 Hand Weeder: Works best with clay type soil 
3. CobraHead Original Weeder/Cultivator: Great for deep-rooted weeds 
4. ARS Weeding Sickle: Can be used for both digging and cutting 
5. Flexrake CLA105 Flower & Vegetable Tiller: Best for hard-packed dry soil or rocky soil 
6. Zenport K111 Crack Weeder: Works in tight areas in the sidewalk or along the curb 
7. Fiskars 39" 4-Claw Weeder: Great for standing while pulling weeds 
8. Garden Weasel Garden Claw Pro: Best for cultivating and tilling or loosening up the weeds and soil 
9. Flexrake 1000L Hula-Ho Weeder/Cultivator: Works good with fragile and matted grassy weeds 
What is the easiest way to pull weeds?
Getting your hands on the most necessary tools for your garden is the easiest way to help you pull out any growing weeds. Tools make up the most practical and functional option when it comes to easing the weed removal process. So it's really important to pick up and invest in a handful of them for future use. A knife or a trowel can help you immensely by breaking up the soil around the weed, but make sure to not cut deep into the roots and leave some behind. And you can always use a hoe or weeder tool which are especially designed to make the process of weed-pulling easier and works efficiently. 
Is pulling weeds a waste of time?
In some cases, hand-pulling the weeds can be an effective solution for removing the weeds in a garden but it's not necessarily a permanent one. Most of the time, pulling weeds will just lead to weeds growing right back up. It's especially true when you don't remove the complete root system when you pull out the weeds. And for some, pulling out the roots doesn't always kill the entire weed. In short, different kinds of weeds require different control measures. For example, the yellow nutsedge and nimblewill wouldn't die off completely until special products are applied or sprayed in the garden. But irrespectively, pulling weeds is not a waste of time if you require a clear garden for yourself. You'd have to take all necessary precautions to make your garden soil and plants healthy, and pulling out unnecessary weed is one of them. 
Does Salt keep weeds away?
Yes, salt can help in killing weeds and keeping them away. But it's necessary to use salt in the right amount and right technique for it to work. You should always be cautious while using salt for killing weeds. It might seem strange, but it's very much possible and can even be highly effective when used correctly. Salt works by dehydrating the plants which disrupts the internal water balance of every plant cell. And it is best suited for small-scale gardening where it can be easily diluted with watering or through rain. However, if salt is used in a large quantity it can also create unsuitable soil conditions for growing plants in the long run. You can use a mixture of rock salt or table salt and dilute it with water. Start by mixing 3:1 ratio of water to salt, you can increase the amount of salt until it's working on your target weeds. But make sure you use a funnel or other things to direct the salt solution into the weed and to not splatter it near your vegetation. 
What kills weeds permanently?
There can be several effective ways to keep the weeds away from your garden for quite some time. However, it's not easy to kill weeds permanently. Because the larger issue is not killing weeds but making sure that their seeds don't spread and they don't get enough space to regrow. And typically that can't be done since most areas would get water and sunlight for the weeds to sprout. Nevertheless, you can try out some useful methods:
Herbicide/Chemicals: The first method is obviously using chemicals or herbicide to kill weeds. You'll have to occasionally spray these chemicals, typically 2 to 3 times in a year to keep weeds away. 
Spreading or Solarizing through Cardboard/Paper/Plastic: Another very effective method to kill weeds is by using a thick layer of paper, newspapers, cardboard or plastic. You'll first have to cut the existing weed as low as possible using a weeder, edger or mower. Then water the area to moisten it up and then lay down a thick layer (up to 6 to 10 layers) of papers, cardboard or plastic. And if you're using paper, make sure to water it again to soak it through. Now cover the entire area with mulch to hold up the cover and to trap the moisture and heat. You'd want to leave it like this for several weeks except occasionally watering it until the grass and weed have been smothered. 
Make your own solution: You'll need Brown vinegar (2 cups), Epsom/English salt or Table salt (1 Tablespoon) and Dish was liquid (1 Tablespoon). Now mix all of these without adding any water and stir it for some time. And you can directly spray this mixture on the weeds multiple times for better results. 
Is it better to pull weeds or spray?
The best method to kill weeds depends on the kind of weeds you're trying to remove and the location. For some weeds, it's better to pull them out by individually removing each one by their roots. This makes sure that you're not affecting the desirable vegetation. However, pulling out weeds in a large area can be a tough and labour intensive job. And then too, you can't be sure that the weed won't grow right back up. But if you use the right technique and the right tools to pull out the weeds with their roots and don't let them get any sunlight or water, then it might work. You just need to make sure that weeds don't get an environment to re-grow. On the other hand, there are several chemicals available in the market for spraying and killing undesirable weeds. These are most commonly classified into Pre-emergent herbicides and Post-emergent herbicides. The pre-emergent herbicides need to be sprayed before any weeds germinate and the post-emergent ones need to be sprayed after and they usually kill weeds within a week. However, if you're spraying chemicals on weeds it's crucial to be cautious. These chemicals include stuff which can highly damage your garden soil and plants and the entire nature. So it's important to read the labels carefully before spraying. And this process can be highly effective in large areas, where there's no other vegetation and you just have to get rid of the weeds. 
How do I get rid of weeds in a large area?
There are two essential methods for getting rid of weeds in a large area. These includes:
Spraying Chemicals: Though it can heavily damage the entire vegetation if not used in caution, it can be an effective method. You can get a highly effective herbicide and spray it all over the area that you want to clear. This will kill the weeds in nearly a week. 
Blocking The Sunlight/Solarizing: The most effective way to get rid of weeds is by not providing them enough exposure to grow. So you'll have to smother the weeds with a material that won't allow any sunlight to enter the area. You should use a sturdy material like a black tarp, or heavy layers of cardboard, plastic or landscape fabric and make sure to tightly seal around the edges using bricks or mulch. This will help in soaking up the heat and water which wouldn't reach the weeds and eventually kill them. 
Does vinegar kill weeds permanently?
Yes, vinegar does help in killing and preventing the weeds from growing back again. But you should know the right technique to use it. Vinegar contains substances like acid, sugar, water and salt which is mostly food-grade and safe to use. A few horticultural types of vinegar does contain some 20% or more acidic substance which can damage your vegetation. So you should use Food-grade vinegar while trying to kill weeds in your farm or garden. This type of vinegar contains a mixture of white vinegar and apple cider vinegar which can be found easily. The acidity levels in the vinegar will determine whether or not it'll be effective to kill weeds permanently. For using Vinegar, you'll have to use a mixture of Household white vinegar, white table salt and liquid dishwashing soap together to form a spraying substance. You would notice that vinegar will typically kill the weeds within 24 hours. But you shouldn't be satisfied as of yet and use the spraying mixture multiple times until the weed roots are damaged permanently. 
Will bleach kill weeds permanently?
Yes, using bleach can be an effective solution to kill weeds permanently. You can use undiluted bleach to kill weeds growing through cracks and crevices of your driveway, sidewalks and patio. It'll usually take up to 2 to 3 days to kill the weeds from their roots. But it's necessary to take precautions while working with bleach since it can highly damage your food/plants if it comes in contact with them. So you should use it in places where you're not growing any vegetation and just want to clear the area. 
Conclusion
There are a lot of Weed Pullers available in the market, but we've listed the top rated products of 2022 for you. They're built in a user-friendly manner for easier operation and hassle-free weed removal.
This makes up for a definite investment if you want to get rid of unwanted grass which most likely is damaging your plants and garden. You'd have a perfect-looking and aesthetically pleasing garden if you use these to cut the weeds in your garden. In addition, these are built with long-lasting material which can be useful for several seasons and they're typically under budget.