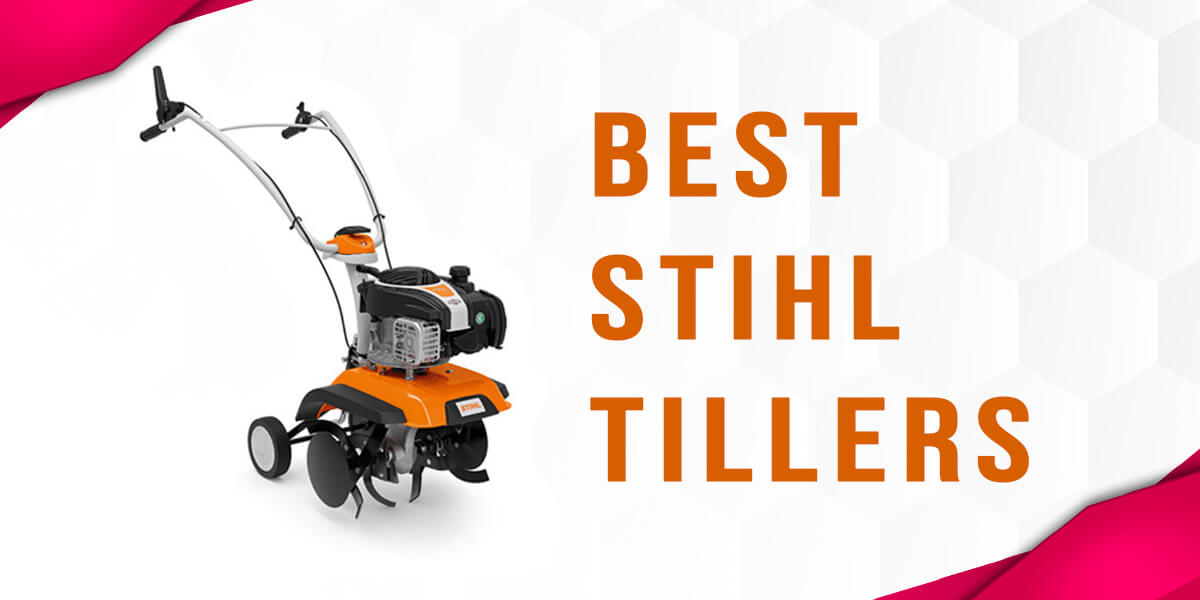 Although STIHL may not be the biggest power equipment brand, it definitely does play when it comes to high quality equipment and power tools. STIHL tillers are famous for their unique design and versatile features.
Their tiller series includes both light duty and heavy duty petrol tillers. You can even get a tiller which is the combination of the two. Given below are the best STIHL tillers of 2022.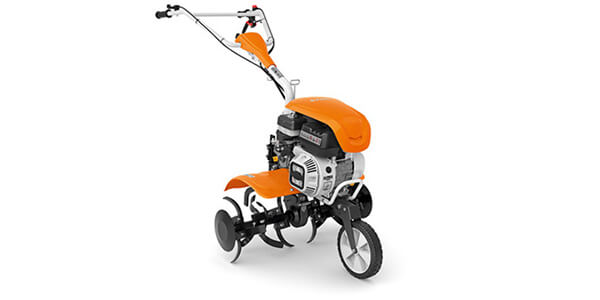 The STIHL MH 610 Robust Tiller For Heavy Duty Use is a very solid machine with heavy duty parts and an ergonomic design. It excels when it comes it to mechanical durability and can handle a lot of abuse. This tiller is designed for troublesome, tough and compact soils. It can also tear through clayey soils easily. It is easy to control and the functions are user friendly.
The throttle is easily accessible and positioned very conveniently on the handle. The handle is height adjustable to accommodate all heights. It is also foldable to enable hassle free storage and transportation. This tiller is also a time saver since it gets the job done very fast. It has a retractable wheel which you can flip up and down.
Pros
Can perform heavy tilling
Suitable for a wide variety of soils
Reverse feature
Adjustable handle
Easily accessible throttle
No matter how tough the soil is, this tiller will break through it.
The STIHL MH 445 R Manueverable Compact Tiller With Reverse Gear is a very handy tiller for small lawns and gardens. It has a compact and lightweight design but operates with decent power. This tiller has a reverse gear which is not very common for compact tiller designed for light tilling. It is very easy to assemble and does not have any complicated features.
This tiller features an anti vibration system which is quite unique and helpful. All the control levers are easy to use and respond well. It has a maximum tilling depth of 6 inches. The shape and position of the tines allow for maximum precision while tilling the ground. It even has a cleaning position where the tiller can be tilted backward and locked for a hassle free cleaning of the tines.
Pros
Reverse gear
Adjustable handle
Sharp and well positioned tines
Anti vibration feature
Compact and lightweight
Cons
Expensive for a light duty tiller
This tiller is very versatile and has many features one would not expect.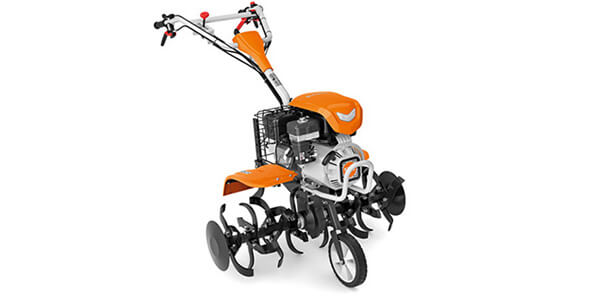 The STIHL MH 710 Powerful Tiller For Heavy Soils is one of the most powerful tiller by STIHL. No ground is too hard or stubborn to till for this tiller. This tiller is designed to handle abuse and can work through rough and tough soils which cannot be tilled by normal tillers. All the separate parts are positioned in such a way as to minimize stress and strain on your body.
You can till up to a maximum depth of 8 inches. You can add separate attachable parts to this tiller like ploughs and ridges. The handle can be adjusted both horizontally and vertically for maximum comfort. It even has a front light which you can use in low light conditions.
Pros
Adjustable handle
Suitable for large areas
Can handle tough soils
Durable construction
Good tilling depth
If you want to upgrade your tiller to a more heavy duty tiller, this is the perfect one for you.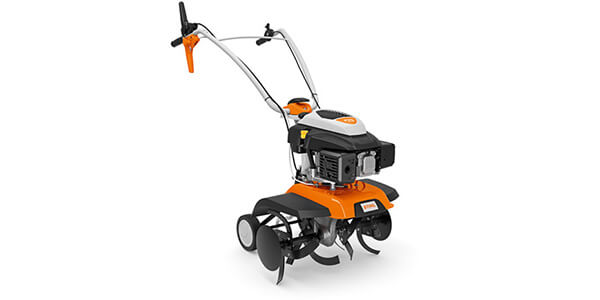 The STIHL MH 560 Powerful Manueverable Tiller is a well built tiller with good endurance. Just as its name suggests, it has excellent power and an ergonomic design which permits easy manuevering. You can safely till close to plants without worrying about damaging them. The reverse gear is functional and shifts very well. This tiller makes your garden work a whole lot easier.
The sharp, strong and heavy duty metal tines operate smoothly. You can easily tackle weeded areas and remove bits and pieces of established grass. It has a very versatile tilling width which can be adjusted according to the kind of work you want to do. The tilling speed can be easily adjusted using the controller on the handlebar.
Pros
Versatile tilling width
Good power
Easy to manuever
Adjustable handle
Easy to control
Cons
Not suitable for tough soils
This tiller is very smooth and easy to operate.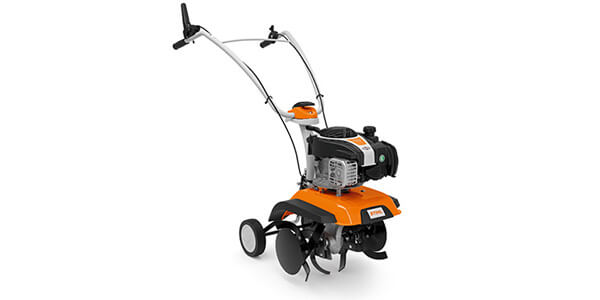 The STIHL MH 445 Manueverable Compact Tiller For Small Gardens is one of the more smaller tillers by STIHL. Although it is more expensive than standard compact tillers, it is more powerful and efficient. It is lightweight and easy to handle. The handlebars are ergonomic and enable easy manuevering. You get a maximum tilling depth of 6 inches with this tiller.
It is suitable for light to medium tilling tasks like prepping flower beds, aerating and loosening the soil. It has foldable wheels to make its transportation easy. You can add extra attachments like hoe extensions. The tines have good sharpness and durability and work through the ground effectively.
Pros
Lightweight
Easy to manuever
Foldable wheels
Durable construction
Sharp tines
Cons
Not suitable for all soil types
If you want a compact tiller which is powerful, this is the one for you.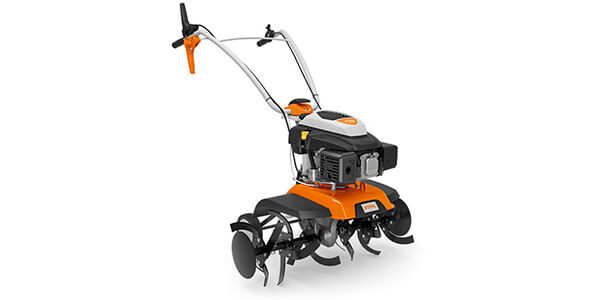 The STIHL MH 685 Powerful Tiller For Larger Plots Of Land is a very good tiller by STIHL which is part of their more powerful series. It is constructed from durable and heavy duty elements so you won't have to worry about replacing this tiller anytime soon. It has adjustable parts which allow it to be stored and transported easily.
It is not as lightweight as mini tillers or as heavy as rear tine tillers. It is capable of tilling untilled soils and large gardens. You get both forward and reverse gears with this tiller. It is user friendly and all the functions are easy to understand. It is a self propelling tiller and does not require too much of your upper body strength.
Pros
User friendly
Solid build
Adjustable features
Adjustable tilling width and depth
This is a very efficient and reliable tiller which can be used for large projects.
Frequently Asked Questions
Can STIHL Tillers be used for heavy tilling?
Yes, STIHL has many powerful tiller models which are specially designed for heavy tilling. Some of these models are the MH 610, MH 685, MH 700 and MH 710. They are more heavy duty and come with large working widths and depths for wider and deeper tilling. They are also suitable for a variety of soil types including tough, compact and dense clayey soils.
How do you change the tines of a tiller?
This is how you change the tines of a tiller,
First pull out the hitch pin and slide the existing tines off of the shaft. 
Slide the inner right hand tine onto the shaft with the arrow on the tine pointing forward. The inner tine has a larger hub than the outer tine. You want the tines to rotate forward in the direction of the arrow.
Slide the outer right hand tine onto the shaft with the arrow pointing forward. Insert the hitch pin. Repeat for the left hand tines.
Which STIHL Tiller should I get for my garden?
It depends on the size of your garden and the kind of soil your garden has. It also depends on whether the soil is pretilled or not. If your garden is small or the soil is loose and has been tilled before, you can go for the more compact and lightweight STIHL tiller models like,
1. STIHL MH 445
2. STIHL MH 445 R
3. STIHL MH 560
If you have a large garden which has tough, compact or clayey soils, you should go for the more powerful STIHL models like,
1. STIHL MH 710
2. STIHL MH 700
3. STIHL MH 685
Conclusion
You can always count on STIHL for providing good quality tillers for all sizes of gardens and all kinds of soils. In order to help you pick the best one for your garden, we have compiled a list of the best STIHL tillers of 2022.