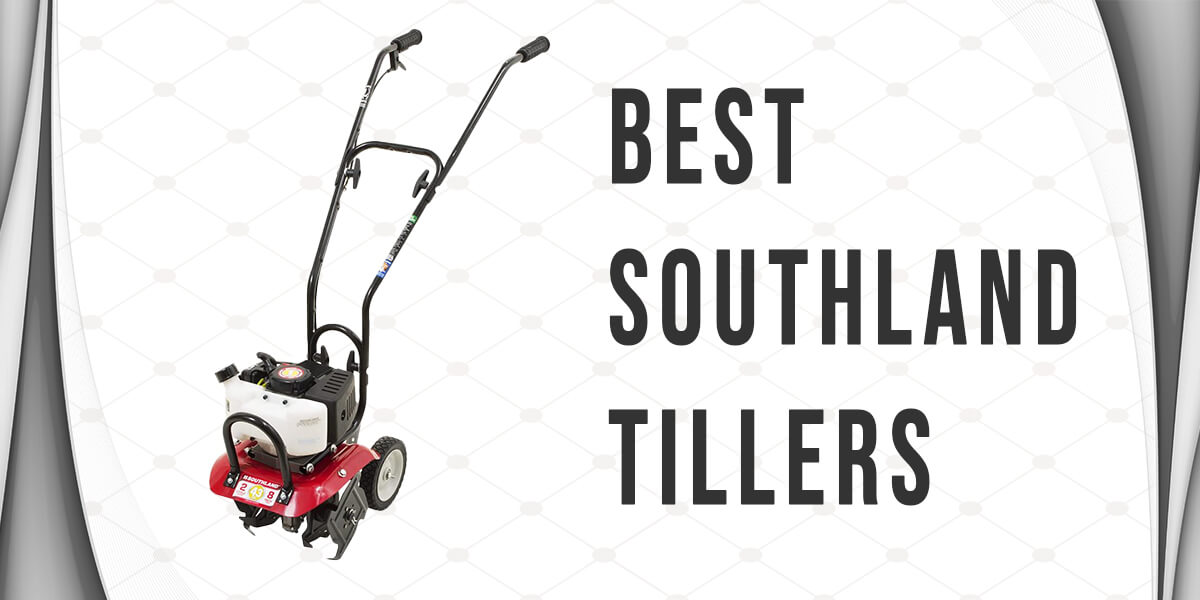 Southland has a wide variety of tillers which can be employed for different purposes. If you are looking for a specific kind of tiller for your garden, Southland is sure to have it.
The tillers have a good range of tilling widths and depths along with good tine configurations. Many of them also have counter rotating tines. Given below are the best Southland tillers of 2022.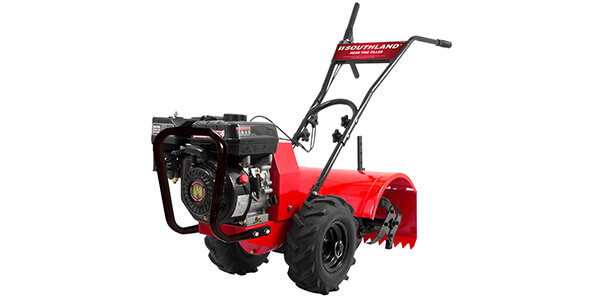 The Southland 18 Inches 212 CC Gas 4 Cycle Rear Tine Tiller is a popular Southland tiller which can be utilized for more than just light tilling. It runs on a 4 stroke engine which is more fuel efficient and has cleaner emissions. It is a direct drive unit and is quite easy to start.
This tiller has a sufficiently large tilling width of 18 inches and a maximum tilling depth of 8 inches. The pneumatic tyres help in combating the unevenness of rough terrains. You can till pretilled and untilled grounds with this tiller. The foldable handlebar allows for easy storage which does not take up much space.
Pros
Easy to start
Suitable for untilled soils
Foldable handle
Good tilling width
Solid build
Cons
Handle is too short for tall people
This is a solid rear tine tiller for tough tilling tasks.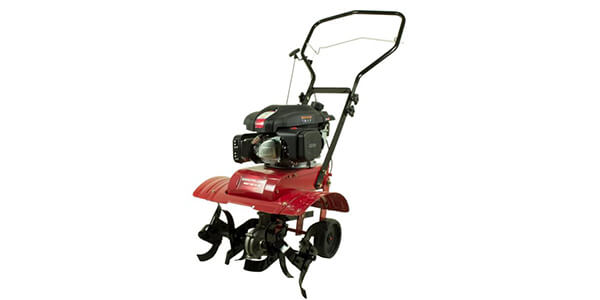 The Southland 11 Inches 150 CC Gas Front Tine Tiller is a very straightforward tiller which does its job perfectly. It has a gear drive system which is efficient, reliable and provides plenty of power. The assembly procedure is simple without any complications. The drag stake helps in regulating the tilling depth by slowing the tiller down when needed.
This tiller is not very heavy and is quite easy to manuever and operate. It has tough rear wheels which make it easy to move around. The handle is wide and has a big loop design for a comfortable grip. It is also foldable for hassle free transportation.
Pros
Easy to operate
Plenty of power
Wide looped handle
Affordable
Adjustable tilling width
Cons
No throttle to control speed
Not suitable for tall people
This is a very efficient tiller which can even be used for heavy tilling jobs.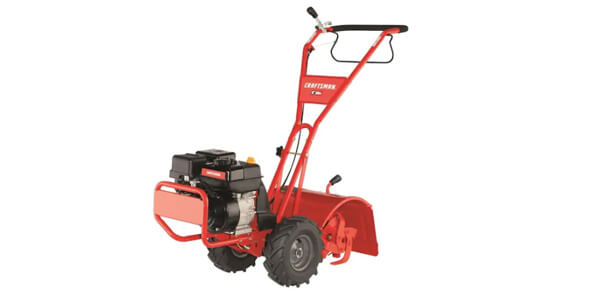 The Southland SRT2212 196 CC 4 Stroke 18 Inch Rear Tine Rotatory Tiller is a total powerhouse which can be employed for a wide variety of purposes. It has a good configuration of solidly build and heavy duty parts. You get a reverse feature and the counter rotating tines easily tear through the tough dirt.
The 4 stroke engine is protected by a metal engine guard. The long handle has individual grips for stress free turning and manuevering. The strong, durable tyres help in propelling the tiller smoothly on rough, bumpy grounds. You can easily replace the separate parts of the tiller if the need arises.
Pros
Suitable for untilled soils
Heavy duty construction
Tyres have a great traction
Easy to start
Reverse feature
Large and troublesome areas can be tilled in no time by this tiller.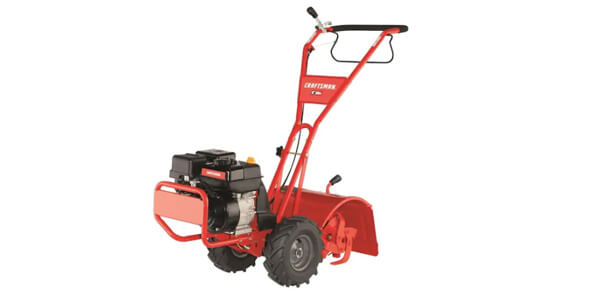 The Southland Rear Tine tiller – 494P16 is a very durable and powerful rear tine tiller with versatile features. This tiller is suitable for professional gardeners and landscapers. This heavy duty workhorse can break through any kind of soil thoroughly and quickly. It has a great coverage area capacity and can be used for tilling large plots of land.
You can create new beds for planting and churn soil very easily and quickly. There is a front pull bar for easy shifting or transportation. The drag stake helps in controlling the tiller depth. You get a maximum tilling depth of 8 inches with this tiller.
Pros
Can till all kinds of soils
Durable construction
Good tilling depth
Plenty of power
Reverse feature
This tiller is a big investment but will prove its worth in the long run.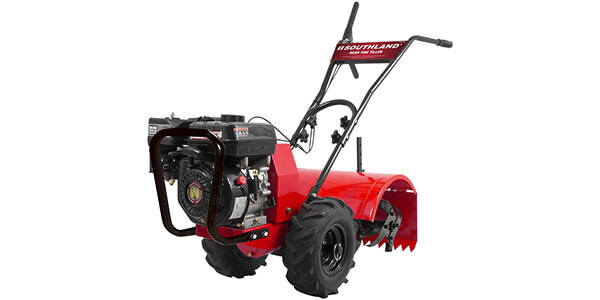 The Southland SRTT196E 196 CC 18 Inch Rear Tine Tiller is one of Southland's most heavy duty tillers. It has a well built transmission gearbox with a well working engine. It has easily accessible and belt driven forward and reverse gears on the handles. The rear flap guard works like a blade to turn the soil around in reverse.
It has a free – wheeling feature where you lock and unlock the wheels using pins on the axle. This tiller has a pretty easy and straightforward assembly procedure which includes attaching the handles, wheels and depth regulator. It can till up to a maximum of 10 inches which is more than standard tilling depths.
Pros
Suitable for tough soils
Solid construction
Good tilling depth
Easy assembly
Simple controls
Cons
Difficult to transport
Low handle
This tiller is everything a rear tine tiller should be.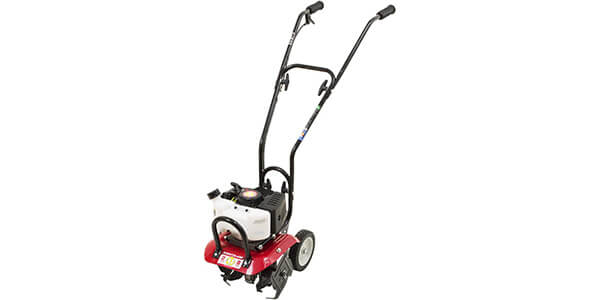 The Southland SVC43 Cultivator/Tiller is a very budget friendly cultivator which also doubles as a tiller. It has a lightweight design and is quite easy to operate and manuever. It is very easy to put together and starts very fast. It is best for tilling pretilled soils and small gardens.
The looped carry handle makes it very easy to shift the tiller from one position to another. The handle is also foldable which makes it quite compact and easy to store. This tiller runs best on ethanol free gas. It can be used for maintaining and revamping gardens or preparing seed beds.
Pros
Compact design
Front carry handle
Foldable handle
Portable and easy to transport
Easy assembly
Cons
Not suitable for untilled soils
No reverse feature
This tiller is small to the eye, but it is more powerful than it looks.
Frequently Asked Questions
What is the difference between a gear and chain driven tiller?
Gear drive tillers put more torque on the ground, so this makes it suitable for hard or untilled soils. Gear drive tillers also tend to weigh more than chain drive tillers.
Given below are a few features of gear drive tillers,
1. Gear drives are mechanically strong and have high weight capacity
2. They tend to have a longer life compared to chain or belt drives
3. They have a large and constant velocity ratio
4. They are capable of transmitting a lot of power
Given below are a few features of chain drive tillers,
1. Can be used for both small and large centre distances
2. They are compact and easy to install
3. They can operate in wet conditions
4. They have low maintenance cost
Do Southland tillers have a reverse feature?
Yes, many Southland tillers have a reverse feature. Most of the rear tine tiller models have this feature with counter rotating tines. The reverse feature helps in maintaining the balance of the tiller and aids in breaking up the soil more effectively. Some Southland tillers which have the reverse feature are,
1. Southland SRTT196E 196 CC 18 Inch Rear Tine Tiller
2. Southland  18 Inches 212 CC Gas 4 Cycle Rear Tine Tiller
3. Southland Rear Tine Tiller – 494P16
4. Southland SRTT196E 196 CC 18 Inch Rear Tine Tiller
How deep should I till my garden?
If you are creating a new garden area you should till about 8 to 10 inches deep. If you are doing light tilling tasks for the purpose of mixing in compost or fertilizer, you can till about 4 to 6 inches deep. This shallow tilling depth can also be employed for loosening and aerating the soil.
Conclusion
If you are planning on purchasing a Southland tiller, you are making the right choice. In order to give you the best available options, we have compiled a list of the best Southland Tillers of 2022.