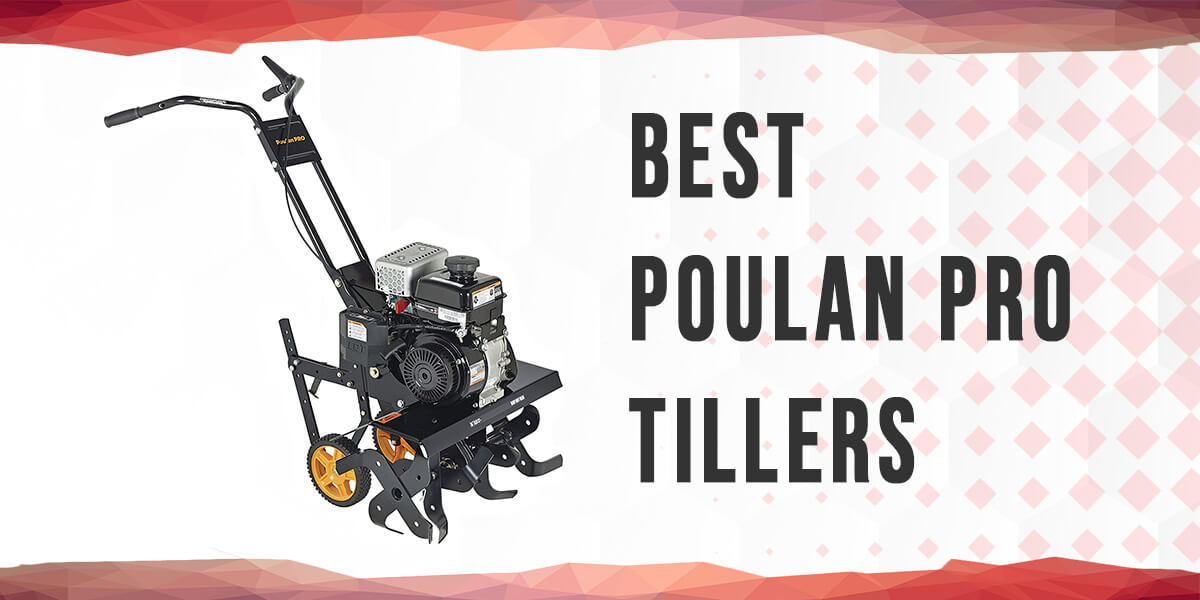 Poulan is one brand you should definitely keep in mind before buying a tiller. Poulan Pro tillers have gained recognition for their tough and resistant designs which can handle the toughest of soils.
Poulan Pro tillers can be used by both amateurs and professionals. Their tillers also cost less compared to other popular and well known brands. Given below are the best Poulan Pro tillers of 2022.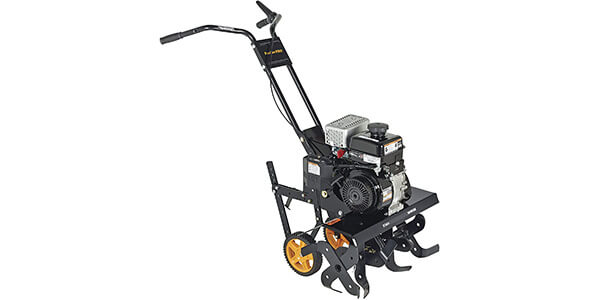 The Poulan Pro HDF900 208 CC Front Rotating Tine Tiller is an amazing tiller of the Poulan Pro tiller series. It is notable for its durable and heavy duty construction. It has a chain/gear transmission which gives the tiller a lot of power. You can till both long and short distances at wide or narrow tilling widths. You can set the tilling width at 12 inches, 24 inches or 26 inches.
This tiller has a long handle with individual handlebars for smooth manuevering. It is quite comfortable to use even for tall people. It has a maximum tilling depth of 6.5 inches which you can adjust using the depth stake. This tiller can easily propel itself through tough soils and the tyres have a great grip.
Pros
Sturdy and durable
Ergonomic handle
Good tilling width
Good power
Suitable for tall people
Cons
Not suitable for heavy tilling
This tiller is quite durable and is very comfortable to use.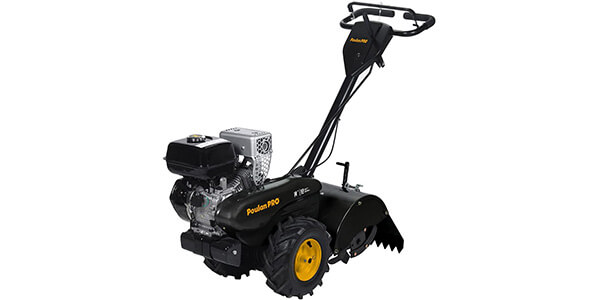 The Poulan Pro PPCRT14 14 Inches 208 CC Rear Tine Tiller is one of Poulan Pro's best tillers. It is a rear tine tiller which boasts a lot of useful and functional features. It has sharp and well configured tines which rotate in both directions. This tiller is manufactured and designed for tough soils which can even include dense clay.
The handle is neither thin nor flimsy. It is strong with a split loop design and is height adjustable to accommodate all heights. The heavy duty wheels help in propelling the heavy tiller forward. This tiller can be used for untilled and old soils which need breaking. You can control the tilling speed to suit the type of operation you are performing.
Pros
Suitable for tough soils
Strong handlebar
Well configured tines
Easily adjustable tilling width and depth
This tiller works like a beast and makes tilling seem very easy.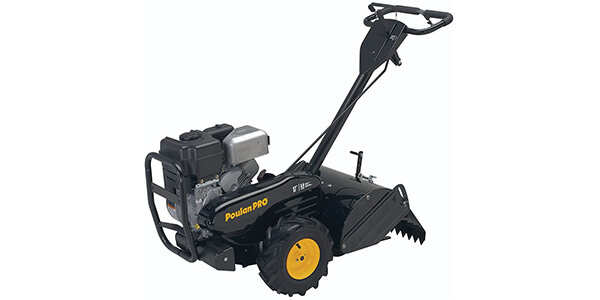 The Poulan Pro PPCRT17 17 Inch 208 CC Counter Rotating Rear Tine Tiller is similar to the PPCRT14 but has a larger working width for bigger operations. It is quite easy to start and serves its purpose really well. It has 12 tines with a maximum tilling depth of 6.5 inches. They can easily till through hard packed soils and even thick sods.
This tiller is very weather resistant and can handle a lot of abuse. The auto forward and reverse features work really well without any issues. This tiller is slightly less expensive than other heavy duty tillers of popular brands but works with the same amount of power.
Pros
Solid build
Durable tines
Suitable for tough soils
Sturdy handle
Reverse feature
Cons
Can be a little difficult to assemble
This tiller can transform labour intensive tilling into and easy task.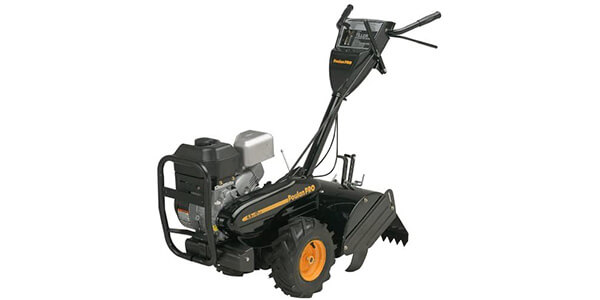 The Poulan pro 6.5 HP Rear Tine Tiller DRT875 is suitable for both professional and commercial use. You can use it for large gardens or large plots of land. It is very reasonably priced for its quality and the features it offers. It has a protective engine guard in the front for the engine and also a front weight to balance the tiller.
The adjustable depth bar allows you to control the tilling depth. This tiller makes tilling troublesome soils seem like a breeze. It has dual rotating tines which are very sharp and have good endurance. All the parts are well constructed and designed for tough working conditions.
Pros
Heavy duty construction
Plenty of power
Suitable for tough soils
Well balanced
Protective engine guard
If you want a tiller which is more professional than a standard tiller, then this is the one for you.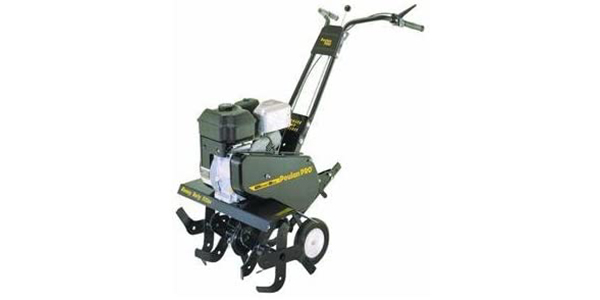 The Poulan Pro LCT 900 Series 26 Inch Front Tine Tiller is an efficient tiller with a ton of useful features. It has a good weight and size for being a front tine tiller. It also has sufficient power with a good transmission. You can use this tiller for light to medium duty tilling and cultivating tasks like aerating and loosening.
The reverse feature makes it easier to till harder and more compact soils. The tilling width and depth are easily adjustable making all kinds of jobs possible. The handle can comfortably accommodate people of all heights due to its good range of adjustability. It is also super simple to handle and operate.
Pros
Easy to operate
Height adjustable handle
Adjustable tilling width and depth
Good power
Reverse feature
Cons
Not suitable for untilled soils
This is a simple and functional tiller adequate enough to meet all your tilling needs.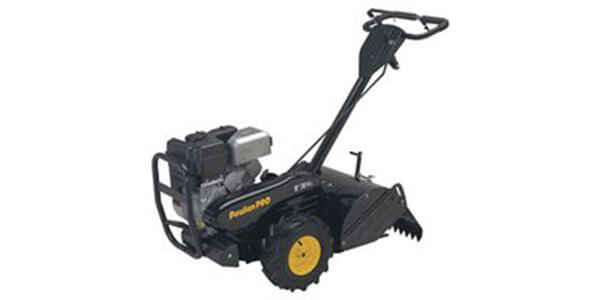 The Poulan Pro 17 Inch 208 CC 900 Rear Tine Garden Tiller is a very capable tiller with a user friendly design. You get a front guard for the engine and a front weight. The split loop design of the tiller handle makes it easy to turn and manuever. It is not very labour intensive and can be guided and worked without much effort.
The dual rotating tines till with great precision and do not make much of a mess. You can easily set your desired tilling width and depth according to the task at hand. The instructions for assembly and operation are very clear and easy to understand.
Pros
Solid build
Plenty of power
Suitable for all soils
Solid adjustable handle
Durable
Cons
Little expensive to maintain
It is not easy to find a heavy duty tiller like this at a reasonable price.
Frequently Asked Questions
How do you start a gas tiller?
1. Fill the tiller's fuel tank with gasoline.
2. Check the oil level in the tiller's crank case. Remove the oil cap and wipe the oil cap off with a piece of cloth. Regulate the engine oil level if it is too low or too high.
3. Prime the tiller's carburetor by pressing on the primer bulb or activate the choke on the tiller's carburetor. Set the throttle to about two thirds of the power.
4. Pull on the starter handle firmly till the engine starts. Allow the engine to warm up before tilling. 
Are Poulan Pro tillers durable?
Yes Poulan Pro tillers are quite durable and will last you a long time. Most of the tillers come with a 2 year warranty. You can also opt for a separate extended warranty if you are willing to pay for it. All the Poulan pro tillers are manufactured from good quality and heavy duty parts which can handle a lot of different conditions.
What is the use of the depth bar in a tiller?
The depth bar allows you to adjust the tilling depth. It does this by restricting the tiller to move forward. It slows the tiller down to enable deeper digging of the soil. This is useful especially when it comes to the case of breaking through hard, compact or untilled soils. 
Conclusion
There is no doubt Poulan manufactures good tillers which have sufficient power and efficiency. In order to help you choose the best Poulan Pro tiller we have compiled a list of the best Poulan Pro tillers of 2022.