Honda tillers have made a name for themselves in the market due to their functional design and durability. They have sufficient power and are capable of both light and heavy tilling. They make valuable additions to your garden tool collections.
They have both expensive and inexpensive options which you can choose according to your budget. They also sell separate attachable parts for their tillers. Given below are the best honda tillers of 2022.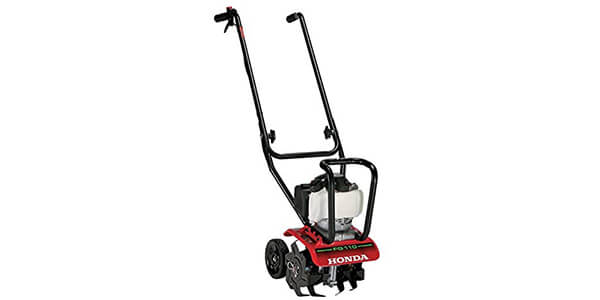 The Honda 649680 25 CC 9 Inches Front Tine Tiller is a high quality and premium front tine tiller. It is more expensive than standard front tine tillers but it is worth the price because of its efficient performance. It is a compact tiller which is very easy to set up and start. It is great for tilling areas which have already been tilled by a large tiller.
There is a metal engine guard in the front to protect the engine from bumps and knocks. The wheels can be easily dismounted to transport it from one place to another. The tiller has a pretty quiet engine and is less noisy compared to other tillers. It is not very messy and you can till close to plants without damaging them or spreading too much dirt.
Pros
Not noisy
Easy to transport
Easy to operate
Protective engine guard
Compact size
This tiller is a very good investment considering its efficient features.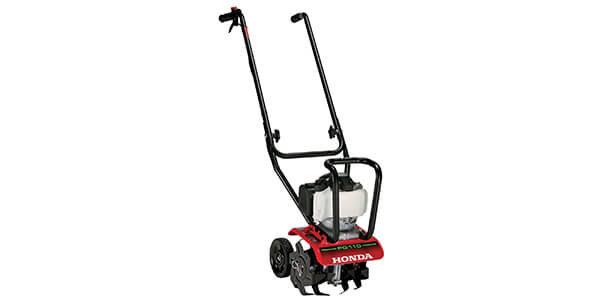 The Honda FG110 Mini Tiller Cultivator is one of the best 4 cycle mini tillers available in the market. It is very powerful for its size and can till through soils which have not been tilled before. The handle is foldable and the wheels are removable which contributes to its portability.
It does a great job at pulverizing soil and transforming it into a fine mix. It does not require any assembly and starts instantly. The 4 stroke engine eliminates the hassle of mixing oil with gas. You get the option of purchasing a larger set of tines in case you want to do heavier or wider tilling work. This tiller is also one of the most affordable tillers in Honda's tiller collections.
Pros
No assembly
Lifetime tine warranty
Powerful
Protective engine guard
Lightweight design
Cons
Standard tines could be bigger
This tiller has a lightweight design and offers customization options.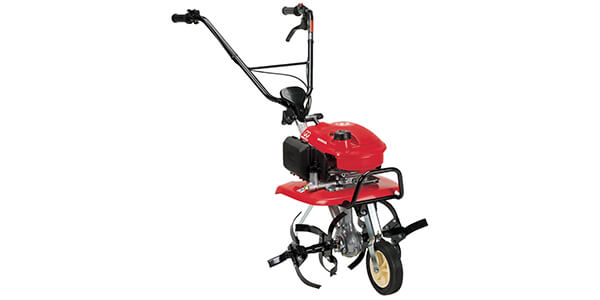 The Honda F220 Mid Tine Tiller is a well built tiller with plenty of useful features. It is a good investment for medium sized gardens and medium sized plots of lands. The tines are easy to position and remove according to the kind of tilling work. The adjustable handlebars come with a knob for tightening the handle.
The motor starts easily and does not generate much noise. This tiller can till through compact, tough and hard packed soils with ease. The tilling width is adjustable and the functional depth bar can be adjusted according to the tilling depth you want. You can purchase separate furrow attachments and side discs for this tiller.
Pros
Suitable for heavy tilling
Adjustable handle
Easily removable tines
Good tilling depth
Functional
Cons
Expensive
Labour intensive
This tiller has a functional design and will meet all your tilling requirements.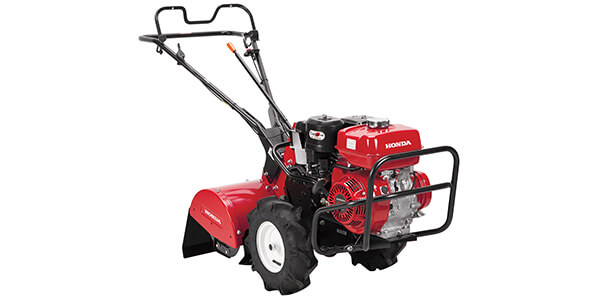 The Honda FRC800 Rear Tiller is an extremely powerful rear tine tiller with a heavy duty construction. It is designed for commercial and professional tilling. There are many gear options including 3 forward speeds and 1 reverse speed. This is useful for tilling at different intensities. The features are easy to understand and operate. The handle has a unique loop design which enables comfortable maneuvering.
This tiller has many protective features like side shields, reverse lock and an engine guard. It has a strong and firm rear debris shield which helps in cleaning up rough surfaces. You can easily tear through any kind of soil including tough, clayey soils. It is quite fuel efficient and can run for many hours continuously. This tiller will last you many years without the need of any kind of repair.
Pros
Fuel efficient
Protective features
Heavy duty tilling
Many gear options
Very powerful
This tiller is a beast and has more features compared to other rear tine tillers.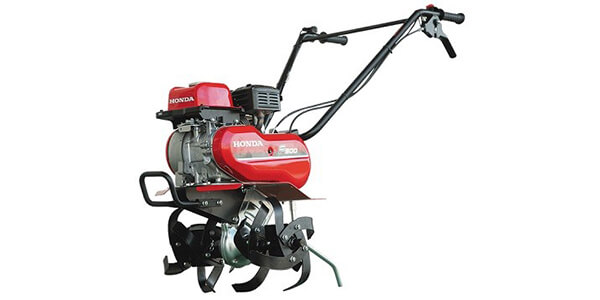 The Honda F300 Power Tiller is a well balanced tiller which can be utilized for multiple purposes. It has a lightweight design and has sufficient power. The tines are very sharp and cut easily through the ground. The tiller is easy to control and guide through the soil. It also starts easily without much delay.
This tiller is a great alternative to manual tilling tools. It is not very labour intensive and can even be used by elderly people. It turns hard and compact soils into loose and porous soils for planting. It has a very sturdy construction with an adjustable handle and depth stake. You can also use this tiller to mix in fertilizers and compost.
Pros
Lightweight
Sharp tines
Easy to operate
Functional design
Easy to maneuver
Cons
Not suitable for large scale tilling
You will be surprised at how easy it is to operate and maintain this tiller.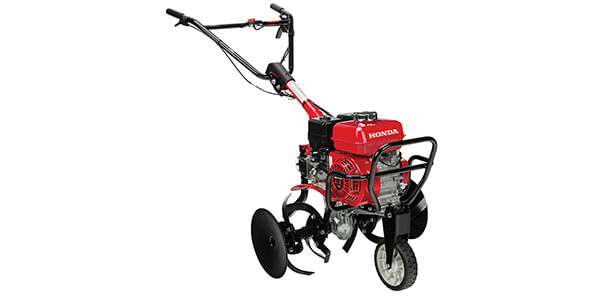 The Honda FC600 Mid Tine Tiller is very suitable for small to medium sized gardens. This tiller works surprisingly well at tilling untilled soils for being a medium sized tiller. It has a powerful engine and features a chain and gear drive transmission. The height of the handle is adjustable and the wheel can be easily flipped up and down for convenience.
You can easily adjust the speed and depth of this tiller to suit the specific work. This tiller has simple and functional features which are not complicated to understand. The tines and individual parts are well built and durable. You can do all kinds of jobs like prepping raised beds, aerating soil, mixing soil and much more.
Pros
Easy to operate
Adjustable handle
Retractable wheel
Solid build
Good tine configuration
Cons
Tine speed is a little slow
This tiller has many adjustable features which make it easy to maintain and handle.
Conclusion
Honda has many amazing tillers, so it can be a little confusing knowing which one to buy. In this article we have listed the 6 best Honda tillers considering price, tilling capacity, and build quality in mind. They make very good investments especially if you want to start tilling professionally.