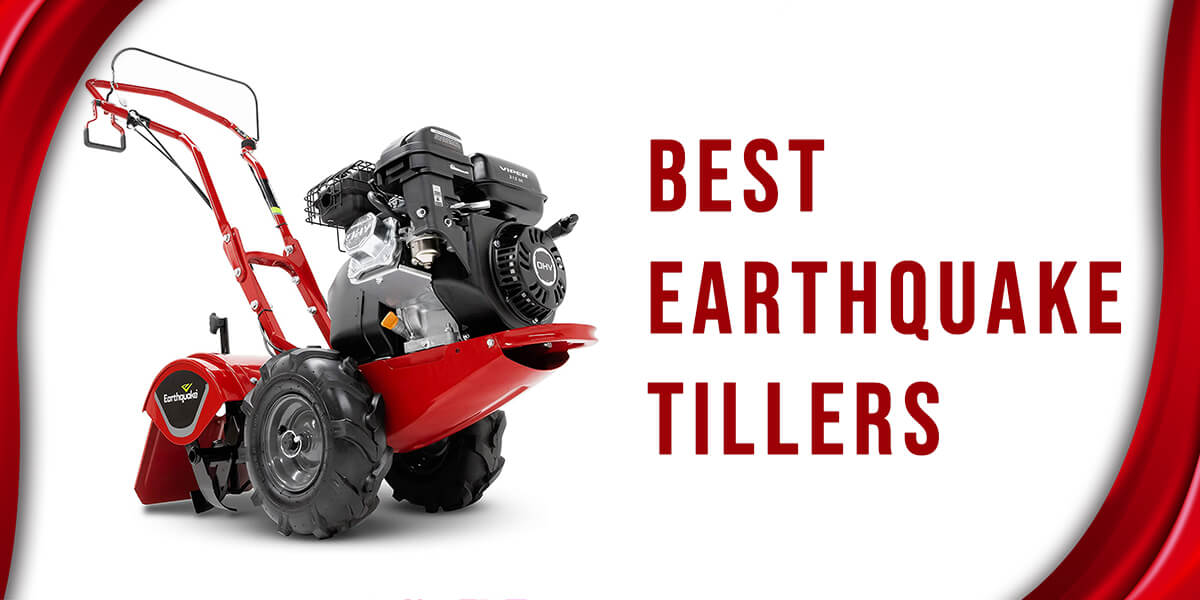 Earthquake is a well known and reputed brand which sells outdoor power equipment. They are popular for their wide range of tillers including mini tillers, front tine tillers and rear tine tillers.
Earthquake tillers are well built and constructed with plenty of functional features. They have proven to be very effective at all kinds of tilling works including light and heavy tilling. Given below are the best Earthquake tillers of 2022.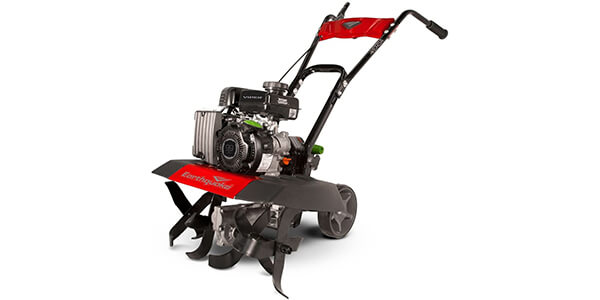 The Earthquake Versa Front Tine Tiller is a very functional tiller which works with plenty of power. Since this is a front tine tiller, it is designed to work with loose or previously tilled soils. It has a very wide handle and you can easily guide the tiller using both of your hands. This tiller has a throttle and you can easily regulate its power.
The tilling width is adjustable and can be set at 11'', 16'' or 21''. You get a maximum tilling width of 11 inches which is pretty great for a front tine tiller. The tiller has a plow lever in the back which can be adjusted according to the tilling depth you want. The motor starts very easily on the 2nd or 3rd pull.
Pros
Adjustable tilling width
Good power
Easy to operate
Starts quickly
Good tilling depth
Cons
Not suitable for heavy tilling
This is a very efficient tiller which is suitable for light to medium tilling tasks.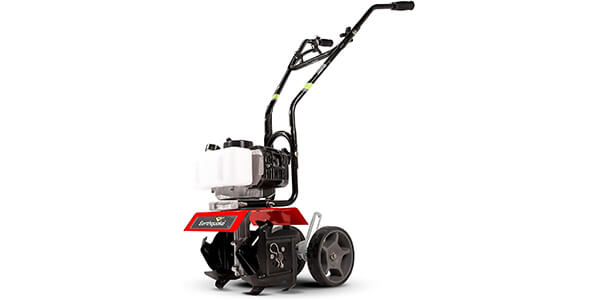 The Earthquake 31635 MC33 Mini Tiller is a great investment which you should make for your garden. It has a very functional design which eliminates unnecessary labour and strain. The handle is ergonomic and easy to maneuver. This tiller can move in both the forward and backward directions. It is lightweight and can be easily shifted from one position to another.
The depth bar allows you to adjust the tilling depth easily. You can remove and replace the tines according to the amount of area you want to till. You get both wheeled and non wheeled purchase options for this tiller. You start this tiller with the help of a toggle switch. The height of the wheels can be adjusted according to your convenience. This is also a very affordable tiller and can be chosen by people who are on a tight budget.
Pros
Functional design
Affordable design
Easy assembly
Easy to maneuver
Clear instructions
Cons
Not suitable for tilling large areas
This is a functional and budget friendly tiller for home gardens.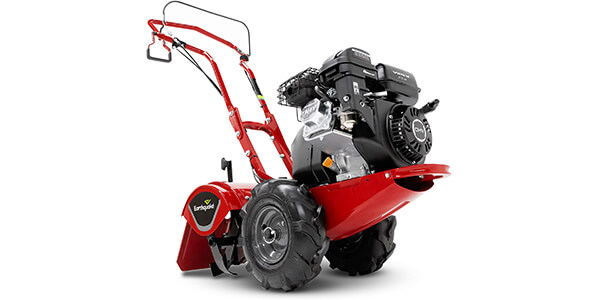 The Earthquake 33970 Victory Rear Tine Tiller is a very powerful tiller capable of performing heavy tilling tasks. It has a heavy duty construction with a solid frame. It requires very little assembly which includes attaching the wheels and the handle bar. You can set the height of the handle at 3 different positions. You get a maximum tilling width of 10 inches.
This tiller will till beyond your expectations. The tines are strong, heavy duty and rotate in dual directions. This tiller is capable of tilling through tough, compact and clayey soils. It makes labour intensive and heavy tilling jobs very easy. You can easily guide the tiller along without much effort or energy. It also cuts through small roots and weeds easily.
Pros
Heavy duty construction
Plenty of power
Suitable for heavy tilling
Adjustable features
This tiller has a powerful engine and great tilling depth.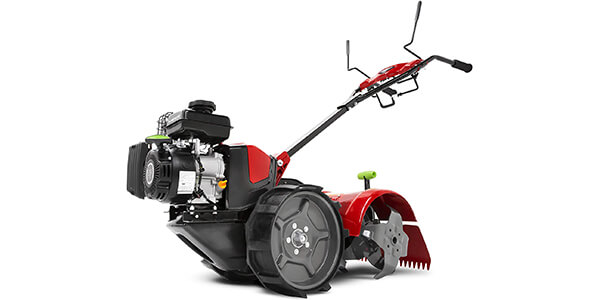 The Earthquake 31285 Pioneer Dual Direction Rear Tiller is a transmission driven rear tine tiller. It is a well designed tiller with many practical and functional features. It is easy to operate and control even though it is quite big. The wheels have a really good traction and propel themselves really well. The handle has two separate grips for efficient control.
This tiller makes tilling very effortless. The depth settings are easily adjustable. The shifting of the reverse feature takes place very smoothly. The thick and sharp tines can easily cut through hard soils. You can use this tiller for a wide variety of purposes including loosening flower beds and mixing in fertilizers.
Pros
Suitable for heavy tilling
Can till tough soils
Plenty of power
Starts easily
Will last you a long time
This tiller delivers a hassle free tilling experience with minimum effort.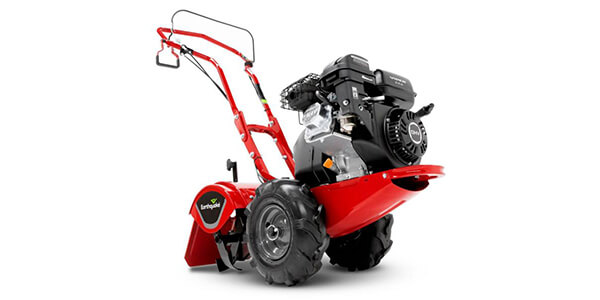 The 16 Inch Victory Rear Tine CRT 212 CC Gas Viper Tiller is another amazing rear tine tiller by Earthquake. It has a very solid build which is designed for endurance. It is quite well balanced and stable which ensures a hassle free tilling experience. It works great for agitating, turning and mixing the soil.
This tiller has many adjustable features which include height, tilling width and tilling depth. It has a very straightforward assembly procedure. This tiller is great at tilling large plots of land which cannot be easily accomplished by a mini tiller. It is also quite durable and is sure to last you a very long time.
Pros
Suitable for clayey soils
Solid construction
Reliable
Adjustable features
Straightforward assembly
Cons
Tilling depth could be better
If you are looking for a reliable rear tine tiller to invest in, this is a very good choice.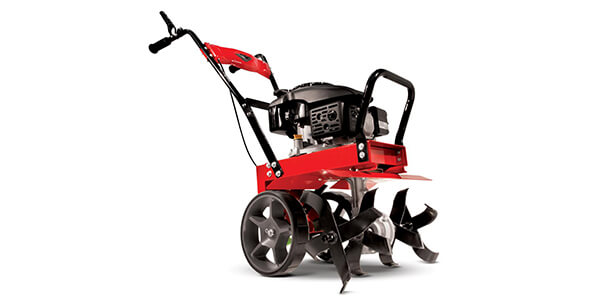 The Earthquake 149 CC Badger Front Tine Tiller is one of the best front tine tillers by Earthquake. It has an ergonomic design which makes the adjustment of different parts easy. The wheels are foldable which enables easy and hassle free transport. The tines are removable and you can set the tilling width at 11'', 16''' or 21''.
The individual handles have rubber grips which are not slippery. It is good for breaking up light and loamy soils which have been previously tilled. You can also use this tiller for preparing seed beds. This tiller is very suitable for people who cannot handle labour intensive tilling which demands a lot of their upper body strength.
Pros
Affordable
Easy to operate
Adjustable features
Foldable wheels
Cons
Not suitable for compact soils
This tiller makes tilling less labour intensive and tiring.
Conclusion
There is no doubt Earthquake has one of the best tiller collections in the market. You can go ahead and purchase an Earthquake tiller without thinking twice about its power or efficiency. In order to figure out the best tiller for your garden, we have compiled a list of the best Earthquake tillers to make your search easier.